A Nigerian content creator identified as Cassie Daves, recently got married to the love of her life in a beautiful outdoor wedding
In an Instagram reel, the lifestyle blogger shared some interesting unconventional things she did at her wedding
From her hair to her choice of outfit, Cassie's bold wedding choices have left many internet users talking
Sometimes, not going with the crowd often pays. And this is something Cassie Daves has left many people wondering about.
The lifestyle blogger became one with her beau and has taken to social media to share some amazing wedding content.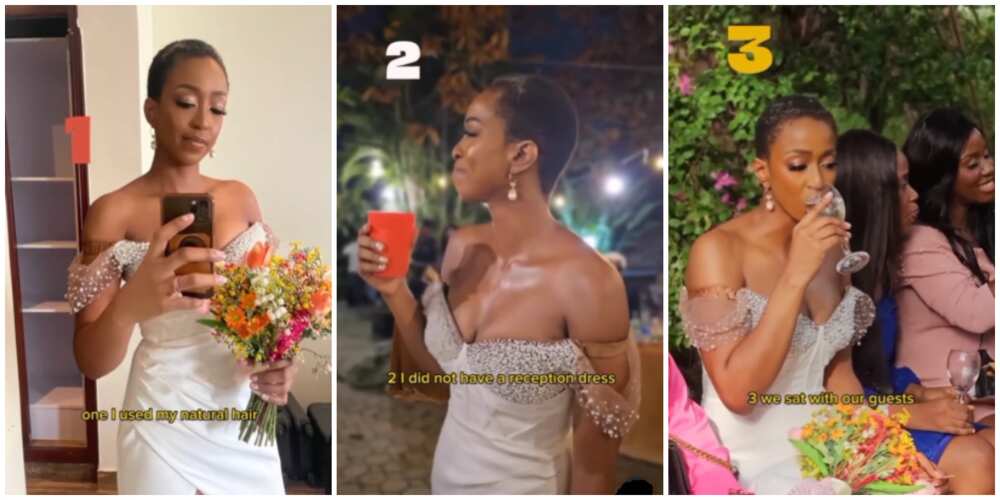 In a trending video, Cassie opened up about some unconventional things she did at her wedding.
Check them out below:
1. Bridal hair
Starting off with her hair, the blogger revealed she liked her hair the way it was and had no intentions of doing anything to it.
2. No reception dress
She went on to reveal that she had no reception dresses. However, she admitted that in hindsight, she should have gotten one.
3. No sweetheart table
Unlike at most weddings where the couple have their own special seat, Cassie and her groom sat with the guests rather than have a sweetheart table.
4. No dance entrance
She also revealed that they did not have any dramatic entrance. They simply walked into the reception and immediately had their first dance.
5. Small bridal party
For the train, they had only two bridesmaids and two groomsmen.
6. Menu
Popsicle with wine was served at the reception and according to Cassie, everyone loved it.
Watch the video below:
Social media users react to video
mayokunfeld:
"I love this. But I can't help but say Yoruba parents are screaming in dissatisfaction."
ugochituberem:
"Abeg tell us you were on a budget."
milea_connects:
"Love this I don't plan to wear makeup at my wedding, I would love to cry in peace "
divine_mbaya's profile picture
"Good for you. But don't shame people willing and able to go all out. Thanks."
marywhyte007:
"As a first child, first daughter and only girl, my mother will not allow me."
folaj:
"I will hear this for the rest of my life from my parents and of course they are Yoruba's that head tie must be tieing! That alagas must spend 4hrs+ introducing your hubby while patiently waiting, that Amala and ewedu must be served oh and your hubby must carry you feature."
ariza.ajuba:
"Did most of that as well and spent the money on good food. Life is simple, do you!"
temmyalade:
"This is a definition of getting married to sumone that understands your personalityWhy some men will not just allow you to be yourself Bcus they love it loud."
agboola_dammy:
"We all have unconventional things for our wedding but will Naija parent agree? The way my mom use tears to blackmail me lasan but mo stand strong. Eventually all of us compromised and it ended well."
Positive reactions trail video of bride and asoebi ladies showing off their outfits: "They tried to have fun"
Weddings are special for the bride and groom, and while the glitz and glamour add colours to the event, the most beautiful memories are born from the people in attendance.
A bride and her girls made sure to slay for her special day, and the video has since gone viral on social media.
In the video posted by @asoebibella, the bride, dressed in a striped black and white ensemble with gold gele, was seen in front.
Source: Hotnewsdrop.com