A TikToker identified as Michelle Edwards, has taken to social media to share a video in which she installed artificial nails on her little daughter
The video captures the process, with Michelle's caption stating she wanted to annoy her daughter's school by doing it
The video which ends with the little girl taking off her nails has sparked mixed reactions among netizens
A video of a little getting fake nails installed by her mum has gone viral on social media.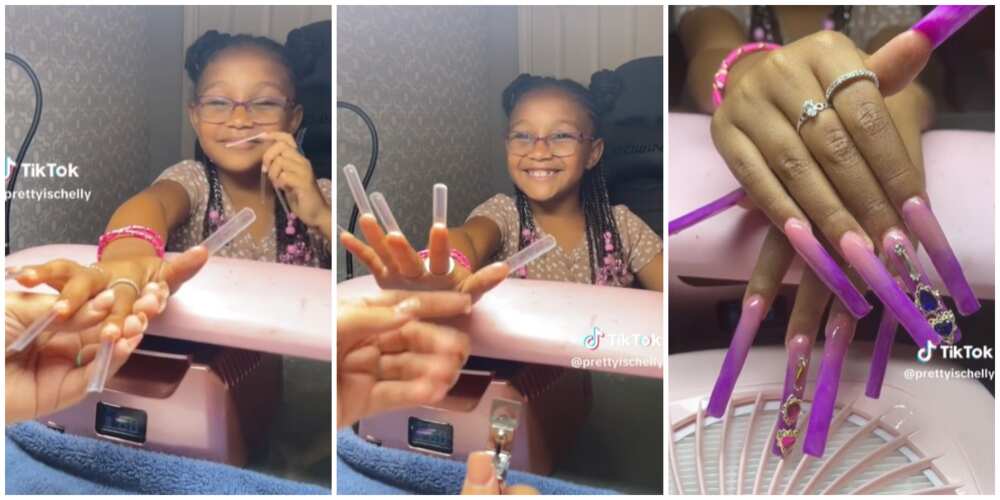 The mum, Michelle Edwards posted the video with the caption:
"Watch me do a XXL set to pi.ss off her school ."
The video captured the process of glueing the nails and painting them. However, by the end of the video, the little girl is seen smiling and taking off the nails which appear to be stick-on nails.
Check out the video below:
Mixed reactions trail fake nail prank
asharbee_ade:
"The fact that u need to go through series of training to earn a driver's license but anybody can just av a kid is appalling."
9jasingles_partner_connects:
"One million wrongs can't equal a single right. Allow kids be kids. At this moment, I'm very thankful to my parents that allows me to do all I did as a kid and have the experiences."
girl_named_koko:
"As the mother after allowing her to do this are you proud of yourself???? This generation mothers ehen it's God that will save these kids."
kinging_ellarh:
"Watch till the end o before you jump into conclusions… she said she'd never twas just a joke .. she took it off almost immediately plus it's fake."
ngozi_frankcess:
"I think she's just using the child to practice her craft."
Smittty50:
"I hope when these children turn on you all later in life you can deal with it. Let these children learn to follow rules. Lipgloss for what."
Criticism trails video of little girl with fake eyelashes and nails: "When a child gives birth to a child"
For many parents of today's era, there's nothing as 'too young to slay' and this is an ideology that is reflected in the fashion choices – or lack of – they make for their children.
A video which made waves on Instagram shows a little girl of not more than three years of age sporting a rather mature look.
Attached to her eyelashes are artificial extensions and as she moves her hands, two sets of manicured hands appear, nails painted in red and blue.
Source: Hotnewsdrop.com