Following the party's failed attempt at reconciliation following the election, the Peoples Democratic Party's (PDP) situation appears to be far from settled. The G5 governors of the main opposition party boycotted a planned meeting with the PDP presidential and vice-presidential candidates, Atiku Abubakar and Ifeanyi Okowa, in the presidential election on February 25. The Nation reported on this.
The party conducted a meeting on Thursday, May 11, at the Transcorp Hilton Hotel in Abuja, where the necessity for the main opposition party to reposition itself was emphasised. Rivers State Governor Nyesom Wike heads the disgruntled G5 governors.
Seyi Makinde of Oyo State, Ifeanyi Ugwuanyi of Enugu State, Samuel Ortom of Benue State, and Okezie Ikpeazu of Abia State are all members of the group. The governors were invited by the head of the PDP governors' forum, Aminu Tambuwal of Sokoto State, but they declined by failing to show up or send a representative.
The meeting's objective, according to CID Maduabum, the director general of the PDP governors' forum, was to bring PDP officials, stakeholders, and members together for the first time since the election.
The governor of Sokoto State had reportedly planned to bring together the PDP leadership, Atiku, Okowa, and the G5 governors, who had split up ahead of the 2023 general election.
The PDP has been dealing with a number of difficulties, including conflicts among party veterans and the recent defection of certain members to the ruling All Progressives Congress (APC). This latest event is a setback to the party's efforts to mend its wounds and regain its footing in preparation for future elections.
The failure of the reconciliation conference between the G5 governors and the PDP presidential and vice- presidential candidates represents a setback for the party' s efforts to clean house. The governors' absence shows that they are unwilling to back down from their grievances, which might exacerbate the party's predicament.
To make matters worse, the PDP has been losing members to the ruling APC, which may hurt its chances in future elections. To prevent more members from defecting and to improve its chances of winning future elections, the PDP must address the factors that are generating the party's difficulties.
Finally, the PDP's efforts to reconcile with its disgruntled members have been hampered by the failure of the G5 governors to attend a scheduled meeting. To prevent more members from defecting to the ruling party and to improve its chances in future elections, the party must address the issues that are producing the crisis inside its ranks.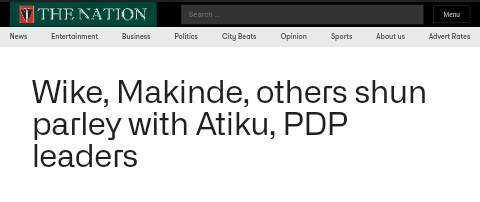 Fameman (
)