Hakeem Baba-Ahmed, the spokesperson for the Northern Elders Forum, revealed that during the most recent presidential election, the north supported all four major contenders.
He responded with this message after being called out on Twitter for holding conflicting opinions on a number of issues. A Twitter user called out Hakeem Baba-Ahmed as being a hypocrite for declaring the entire north to be one while intentionally separating it. Why do you think the south is not one, when you think the north is.
Hakeem Baba-Ahmed refuted his accusations by calling them untrue in his response to this statement on his Twitter account. The North, he claimed, pooled its votes for the four major candidates in the most recent general election whereas the South is one.
He remarked that while Peter Obi received a resounding majority of votes in the southeast, the Labour Party candidate did not have the same luck in other southern regions.
He claimed that despite splitting its votes among the four major contenders, the north was nevertheless able to learn how the south had voted while maintaining its unity.
According to him, "Let me mention the South is one too, if that gives you some solace.The North cast a single ballot for each of the four front-runners. SE largely supported PO. South of I did not.To split and influence how the South voted while yet remaining one North, the North must be extremely powerful.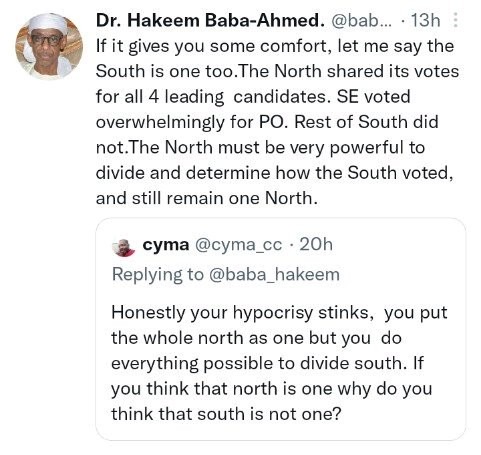 modulus123 (
)