Igbos must prepare for the worst, we won't be in opposition – Ohanaeze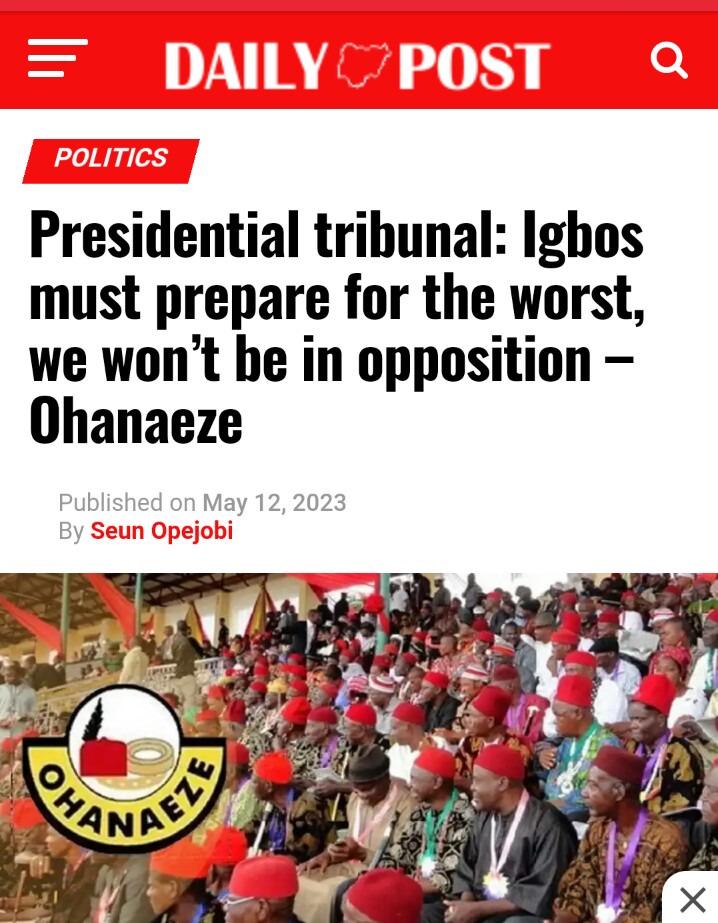 The Ohanaeze Ndigbo socio-cultural organization, has urged Igbos to prepare their minds for the worst, following the Labour Party, LP, Peter Obi's petition at the Presidential Election Tribunal.
This was as the body said Obi should be commended for fighting to ensure an Igbo man becomes Nigerian President.
Obi is currently challenging the victory of the President-elect, Bola Tinubu at the tribunal.
The LP presidential candidate came third during the 2023 presidential election, according to results announced by the Independent National Electoral Commission, INEC.
Despite the results declared by INEC, Obi had insisted that he won the 2023 presidential election.
However, Ohanaeze's Secretary-General, Okechukwu Isiguzoro, said Obi should be commended for his fight so far.
Speaking with DAILY POST, Isiguzoro, however, noted that Igbos are not ready to be in the opposition political parties.
According to Isiguzoro: "I want to use this opportunity to commend Peter Obi for fighting a good fight in the struggle to ensure that an Igbo man becomes the president of Nigeria, even though he never ran as an Igbo candidate, but as a Nigerian project.
I Must Be Nigeria's President, Says Peter Obi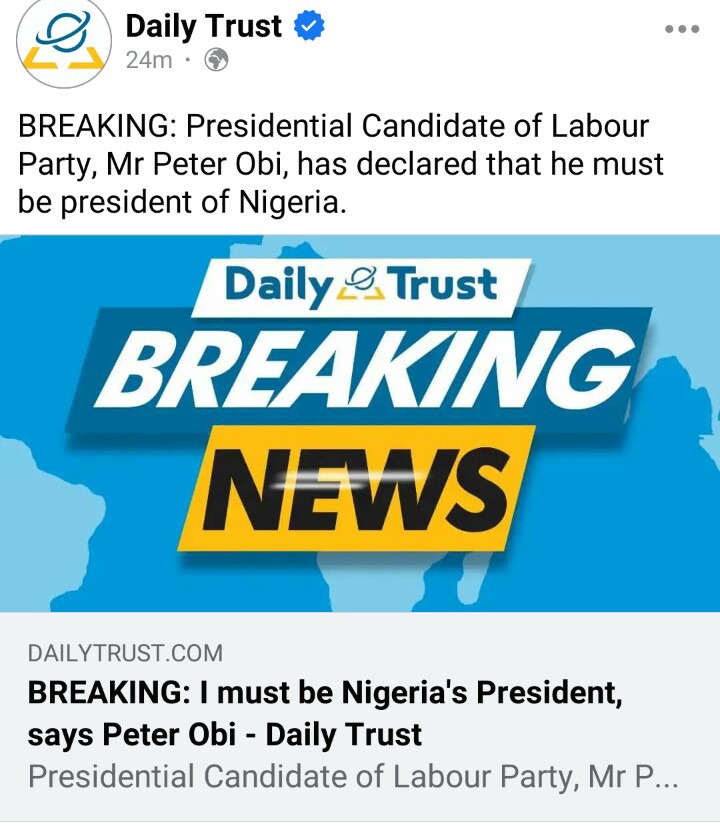 Presidential Candidate of Labour Party, Mr Peter Obi, has declared that he must be president of Nigeria.
Obi, who came third in the 2023 presidential election, said this at the presentation of a book entitled: "Peter Obi: Many voices, one Perspectives", in Awka, Anambra State capital, on Friday.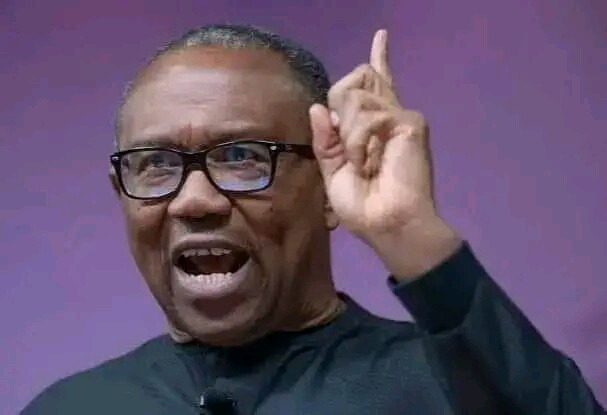 The book presentation was designed to raise fund to enable Mr Peter Obi pursue his ongoing election court case.
"Anyone who thinks I'm on transit is wasting his time. Let me tell you, I must be the president of this country. I'm sure of that. If it is not today, it must be tomorrow."
"Other people who want to be, should come and tell us what they want to do, and how to do it. This is my country, I don't have dual citizenship. If anyone thinks I am going to run away from Nigeria, they are lying.
"I have three engagements in Anambra and Lagos today. I will be speaking in Lagos tonight. We will not leave Nigeria. I am not in a hurry to become the president, but I know it must happen.
"For three years I was in court in Anambra to reclaim my governorship, just to challenge the process. Many people tried to discourage me, but I said even if the entire four years tenure elapsed for us to prove a point and correct the process, I will be fulfilled.
"I was in an event yesterday in Abuja, and it was World Food Organisation. I listened to report that stated that Nigeria will face intense hunger in years to come.
"It is Nigeria that will face hunger, not Peter Obi. The report listed Borno, Adamawa and Yobe as the states that will be worse hit, but those three states put together are five times larger in land mass of Israel, yet Egypt exports food, but Nigeria cannot feed itself.
Bauchi fatal crash claims 8 lives, 7 others injured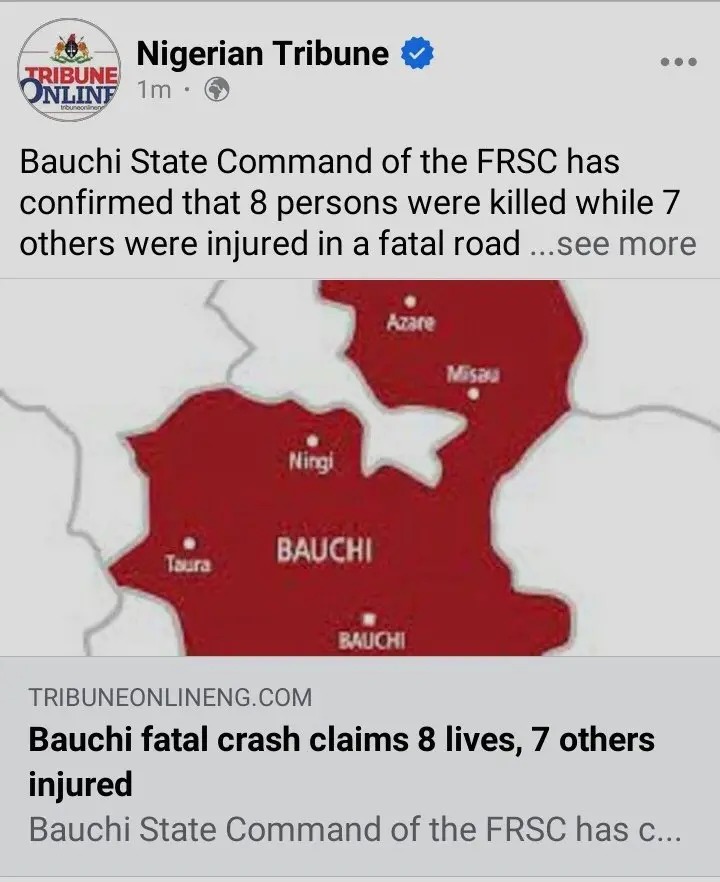 Photo credit: Nigerian Tribune
Bauchi State Command of the Federal Roads Safety Corps (FRSC) has confirmed that 8 persons were killed while 7 others were injured in a fatal road traffic crash.
The crash was reported by RS 12.12 Darazo/Zebra 45 in Darazo LGA of Bauchi State as contained in a FIR released to Journalists by the Sector Commander, Yusuf Abdullahi.
According to the RTC report, the fatal crash occurred at Kili village on the Darazo – Kari Federal Highway on Thursday, 11/5/2023 at 1203hrs, reported at 1205hrs while the time of arrival at the scene for rescue operation was 1210hrs giving a response time of 5 minutes.
It was a lone traffic crash involving a Gray VW Sharon mini bus with vehicle registration number, BCH 465 XA belonging to the fleet of NURTW, used for commercial purposes.
The FIR stated that "the total number of people involved in the crash were 15 made up of 4 male adults, 6 female adults , 2 male children and 3 female children."
The FIR further contained that the number of people injured was 7 comprising 1 male adult, 4 female adults and 2 female children while those killed were 8 made up of 3 male adults, 2 female adults, 2 male children and 1 female child.
I'm Sorry We Admitted Charlatans, Dubious People Into Labour Party – Abure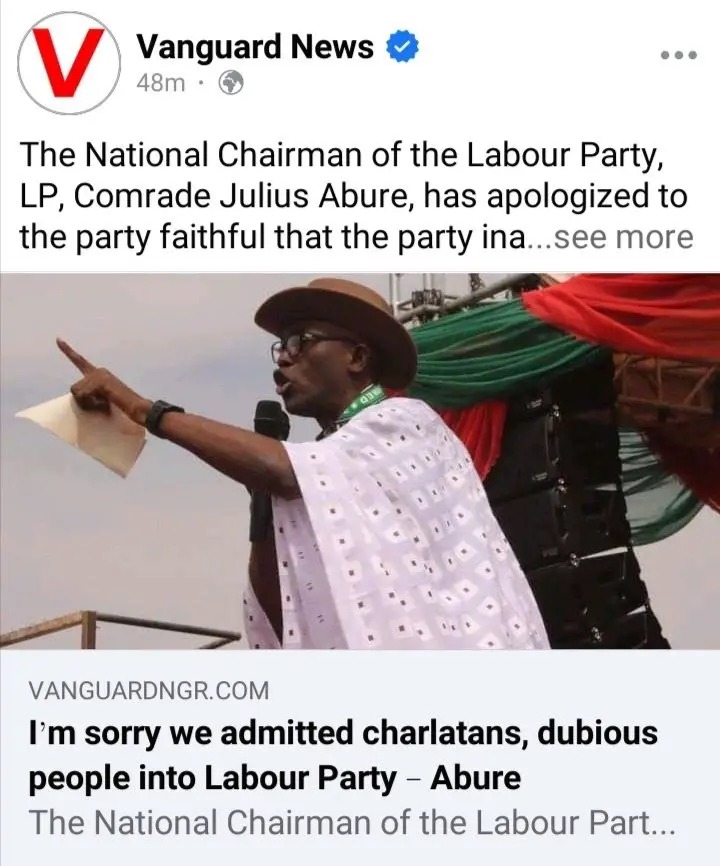 Photo credit: Vanguard
The National Chairman of the Labour Party, LP, Comrade Julius Abure, has apologized to the party faithful that the party inadvertently admitted those he referred to as charlatans and dubious persons into its fold in the hurry to grow its membership. Abure tendered the apology while receiving a group of party supporters and civil society groups at the party's National Secretariat, in Abuja, on Friday. He expressed sadness that this set of people were the ones who have placed themselves in the service of enemies of the party to cause chaos. 
Abure said, "The party was small and because we want to have numbers, we accommodated all forms of charlatans and dubious people into the party. These are people who didn't offer anything to the party. Apapa scored zero in Oyo state in the Presidential election. Arabambi who is claiming to be the Publicity Secretary scored zero in Ogun state in the presidential election. They even supported other candidates from other parties. In Edo, I scored 79 per cent of the votes in the presidential election. I ensured that APC and PDP did not get 25 per cent in that election."
Venomnews (
)