The traditional ruler of Onitsha in Anambra state, Obi Alfred Nnameka Achebe, has said that the presidential candidate of the Labour Party (LP) in the February 25, 2023 presidential election in Nigeria, Mr. Peter Obi, will reclaim his presidential mandate both at the tribunal and the apex court.
Hotnewsdrop.com's regional reporter in Anambra, Mokwugwo Solomon, quoted Achebe as saying this on Friday, May 12, during a book lunch in Awka, Anambra state capital.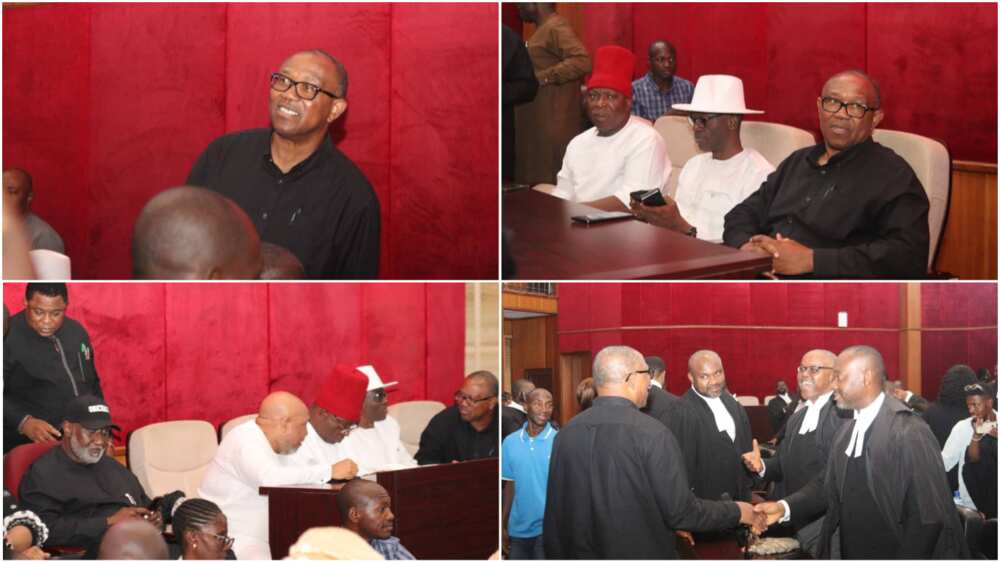 The book titled "Peter Obi: Many Voices, One Perspective," is edited by a former Commissioner for Economic Planning in Anambra state, Prof. Chinyere Okunna.
What Anambra Monarch says about Peter Obi reclaiming his alleged stolen mandate
Achebe gave instances of troubles that Peter Obi encountered in his political life, which he later surmounted, saying that as a new traditional ruler in Anambra state many years ago, he was invited to a meeting where some monarchs were trying to settle a matter between then Governor Chris Ngige of the People's Democratic Party (PDP), and Peter Obi of the All Progressive Grand Alliance (APGA), over the governorship tussle.
According to the revered monarch, Peter Obi spent three years in court, but his mandate was later restored.
He said:
"Peter Obi did not attend the meeting in person; but his representative told the royal fathers that Obi was only interested in unraveling the truth. Also, when he was impeached, he told everyone that he would return, and he returned.
"Later, there was an election, and Andy Uba replaced Obi. Peter Obi called me again, and said that politicians wanted to spoil Nigeria. He assured me that he was confident that he would return as governor, and he did. I'm saying this because, Peter Obi is a man I know very well. I choose to say that he is a man of destiny."
Peter Obi expressing confidence in winning through tribunal
Earlier in his remark, Obi said he was not new to challenging flawed elections.
The former Anambra governor said he would reclaim the presidential mandate freely given to him by majority of the Nigerian people; adding that he was more concerned about correcting the process of elections in Nigeria even more than the political office itself.
Obi said:
"For three years, I was in court in Anambra to reclaim my governorship mandate. I challenged the process, and many people tried to discourage me, but I said even if it would take the entire four years to prove a point and correct the process, I would be fulfilled.
"My argument is that the right thing must be done. I always say that I would not give people money to do the wrong thing. I was chairman of TETFUND committee, and Prof Mahmud Yakubu, present INEC chairman, was a member of that committee. We know ourselves very much, but I told him, you're an umpire, just do what is right.
"I told him, if you have the chance to do the right thing, and you insist on perpetuating anarchy, then, it will consume everybody one day, including you and your children. I insist that we must do the right thing. So, we must cultivate a habit of doing the right thing. If we don't do the right thing, it will consume all of us.
"So, anyone, who thinks I'm on transit on my quest to reclaim this mandate is wasting his time. Let me tell you, I must be the president of this country. I'm sure of that.
Anambra chieftain publish book to sponsor Peter Obi's case at tribunal
Earlier, Prof Chinyere Okunna said that the launching was to raise funds to finance Peter Obi's case before the Presidential Election Petition Tribunal (PEPT).
"We believe in Obi. He is not a saint, but among all the people who contested to become president, none comes close to him in humility, education, love for the people, experience and knowledge.
"Litigation is capital intensive, and we want to support him through this launching. It is very clear that Obi won the election. So, we call on the judiciary to be upright in its judgement."
"God chose Samuel as the king but Israel chose Saul": Abuja Pastor to Peter Obi
Hotnewsdrop.com earlier reported that Prophet Ikechukwu Samuel, the general overseer of the Shiloh Word Chapel in Abuja has told Peter Obi to retrace his step on the outcome of the 2023 presidential election.
The cleric, in a statement on Saturday, said that the Israelites Saul as King when God chose Samuel for them, adding that such is the case of Nigeria today.
Samuel wondered why Obi, who contested the last presidential election under the Labour Party, wondered why he was struggling with his mandate rather than looking back and retracing his steps.
Source: Hotnewsdrop.com