Hilda Baci, a Lagos-based restauranteur, is currently trending as she attempts to break the Guinness World Record for the longest cooking by an individual
The 27-year-old who is currently on day 3, has 24 more hours to go in order to break the record currently held by Indian chef Lata Tandon
In this article, Hotnewsdrop.com highlights ten important things to know as Baci and the cookathon
Nigerians continue to drum up support for Nigerian chef, Hilda Baci, as she continues on her attempt to break the Guinness World Record for the longest cooking by an person.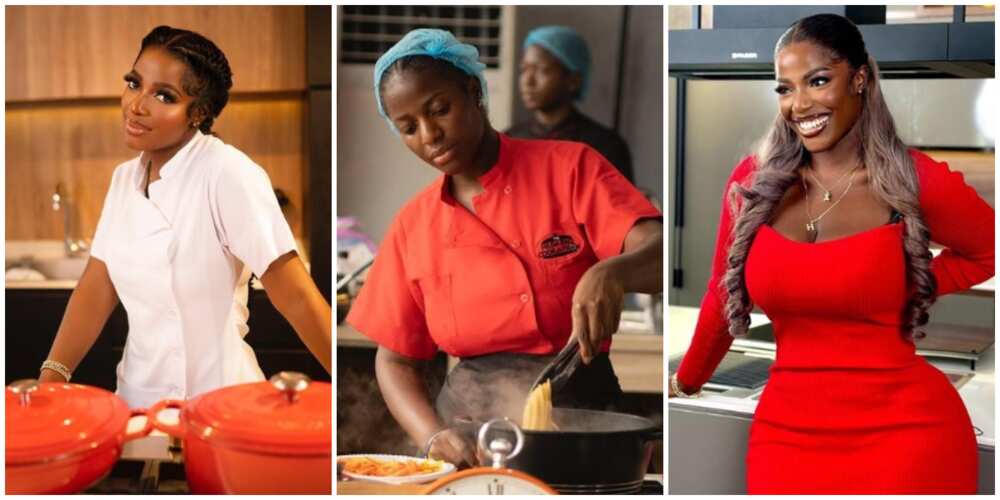 The chef who owns a restaurant in Lagos has been the talk of many on social media as she continues on the daring attempt to break the record which is currently held by Indian chef, Lata Tandon.
With Nigerians on social media cheering her on, interesting facts about Baci and the cook-a-thon have surfaced.
Check out ten things you need to know about Baci and the cooking challenge:
1. About Hilda Baci
Her real name is Hilda Bassey Effiong. She is a young Nigerian chef from Nsit Ubium LGA in Akwa Ibom State, She owns a food brand in Lagos called My Food by Hilda. She is 27 years of age.
2. Cooking duration
She will be cooking for 4 days non-stop. She cooks round the clock with no sleep. She must stand to cook, she is not permitted to sit while cooking.
She started the cooking on Thursday, May 11, and is expected to complete the target time frame by evening of Monday May 15, 2023 evening.
3. What she can eat
While she's allowed to eat food, drink water or fruit juice, Baci is not allowed to take coffee, stimulants, or any energy drink to artificially boost her energy and bodily strength while cooking. She, however, can take glucose.
4. What she cooks and who can eat
Whatever she cooks is distributed to the people at the venue for free. She is not selling the food. She cooks different meals simultaneously. She is at liberty to cook any meal she likes.
There are no restrictions as to what she can cook or not cook. The World Record title is about cooking within a time frame, not about what is cooked.
5. How many meals cooked so far
Every meal cooked and every plate served is recorded. She has cooked over 115 meals so far with over 3,000 portions served at the time you are reading this.
6. Current record holder
The current holder of the title Hilda seeks to break is an Indian chef Lata Tandon, who set a Guinness World Record for cooking for 87 hours and 45 minutes non-stop in 2019.
7. How many hours needed to break record
To break the record, Hilda Baci is attempting to cook for 96 hours, using extra 9 hours to break the world record as the first human on earth to spend such an amount of time cooking a marathon.
8. Food stuff for the challenge
Most of the food items, ingredients, utensils, etc she used for this project are provided by her sponsors. So, the money expended on this project is not 100% from Hilda or her food brand.
9. Location of event
The cooking is taking place at Amore Gardens, Lekki, Lagos State, Nigeria.
10. About Hilda's mum
Hilda's mum is also a chef. She owes a food brand called Calabar Pot.
"IDAN doesn't break": Tinubu backs Hilda Baci set to break Guinness World record for 'longest cooking time'
President-elect Bola Tinubu has encouraged Nigerian chef Hilda Baci as she attempts to break the Guinness World Record for the longest cooking time.
Encouraging Hilda, Tinubu joined her Instagram live video on Sunday, May 14, and commented:
"IDAN doesn't break, she breaks records. We're rooting for you, Hilda."
Source: Hotnewsdrop.com