Popular Yoruba movie actor, Murphy Afolabi, has reportedly passed away after a tragic fall in his bathroom
The news of the actor's death has shocked many people with several stars taking to social media to mourn him
The tragic news comes barely a few hours after the news of the death of veteran movie star, Saint Obi, broke out
The death of Murphy Afolabi has sent shockwaves across the internet in the Nigerian community.
The actor is reported to have fallen in his bathroom, suffering a head injury which led to his death.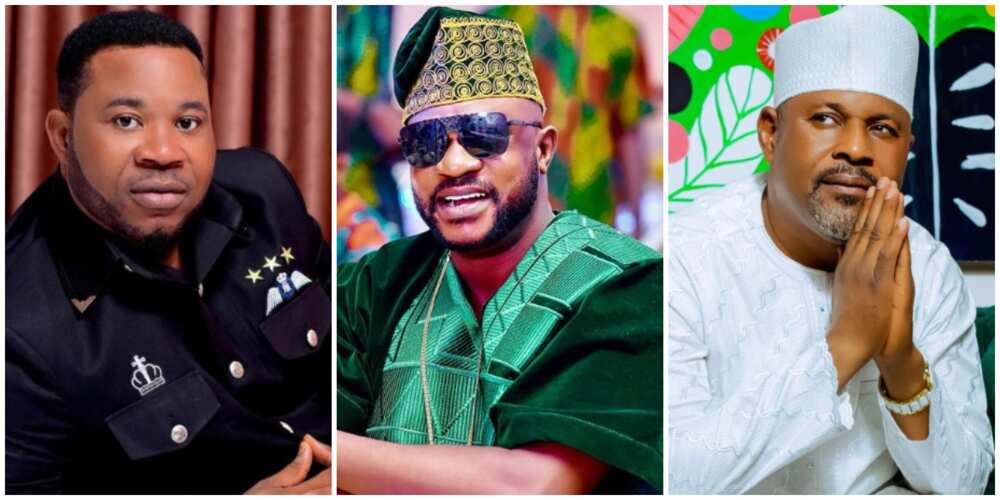 Following the news reaching the internet, several stars including Odunlade Adekola, have taken to social media to react to the sad news.
Odunlade Adekola
The popular actor shared a photo of pitch black darkness as he reacted to the tragic news.
Only a few days ago, Odunlade was one of those who celebrated Murphy on his birthday.
Wale Sanusi
The filmmaker also shared a similar post with Odunlade, describing Murphy as a prominent actor, producer and director.
For Sanusi, it is a black Friday.
Saidi Balogun
The popular actor shared a photo of Murphy dressed in Yoruba regalia and accompanied it with caption expressing sadness over the news.
He bade Murphy farewell and prayed for his soul to rest in peace.
Damola Olatunji
The actor posted a phoyo of Murphy and expressed sorrow at the heartbreaking news of his death.
Olatunji talked about celebrating the actor on his barely which was five days ago, and prayed for the repose of his soul.
Abiola Ayomide Adebayo
The actress and producer took to her page to describe the day as a 'Black Sunday' over Murphy's tragic passing.
Saint Obi: Reports of tragic death of Nollywood actor after prolonged illness leaves Nigerians in shock
Reports of the tragic passing of one of Nollywood's veteran stars, Saint Obi, has left social media users in shock.
The actor, 57, reportedly passed away after a prolonged illness. Reports claim that the movie star died since Sunday, May 6, in the home of one of his siblings.
Born on November 16, 1965, Saint Obi made significant contributions to the Nigerian film industry, after shooting into the limelight in the year 1996.
Source: Hotnewsdrop.com