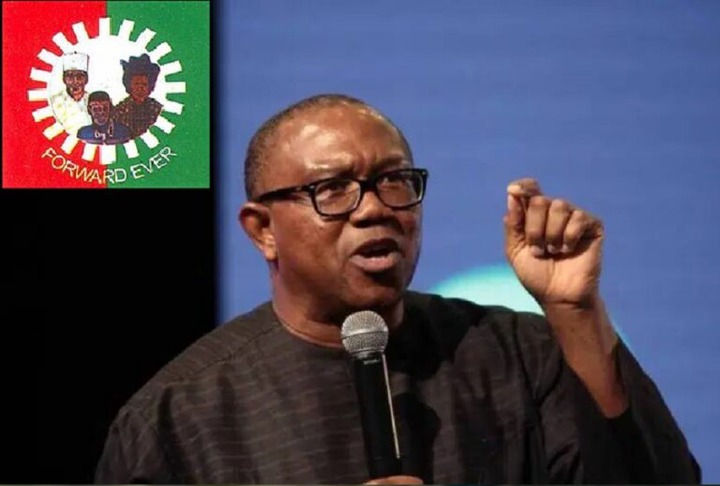 The Lamidi Apampa faction has accused Peter Obi of attempting to deceive the public with his election petition, questioning why he did not challenge the Peoples Democratic Party (PDP), which secured second place in the election.
According to reports by The Guardian, Following the Federal High Court's ruling to uphold the suspension of the party's National Chairman, Julius Abure, the factional National Publicity Secretary, Abayomi Arabambi, spoke to journalists in Abuja. Arabambi clarified that the Apapa-led faction had no intention of withdrawing the party's lawsuit filed at the Presidential Election Petition Tribunal. However, he criticized Obi and the Abure faction, suggesting that their case against Bola Ahmed Tinubu and the All Progressives Congress (APC) lacked sincerity.
Arabambi pointed out that their party had come in third place, behind the PDP, and they were not challenging the PDP's results in the tribunal. He argued that by excluding the PDP from their suit, Obi and Abure seemed to accept the accuracy of the votes allocated to the PDP. Arabambi criticized Obi, asserting that he was merely attempting to deceive the public and not genuinely pursuing justice through the election petition.
Regarding Apapa's directive for the party's lawyers handling the election petition to provide a briefing within 48 hours, Arabambi cautioned that failure to comply would result in a change of legal representation. He emphasized that the Apapa-led executive had no intention of withdrawing any matters, and their chairman had the right to be informed. Arabambi stressed that Obi, who is not a member of the LP, should not be involved in managing the affairs of their party.
Arabambi assured Nigerians that the Apapa-led executive was committed to continuing with the case. However, he warned that if the lawyers did not honor the 48-hour ultimatum, they would appoint their own legal representatives to work alongside Obi on the LP matter.
The controversy surrounding Peter Obi's election petition continues to unfold, leaving many Nigerians eager to observe further developments in the ongoing conflict within the party.
n (
)