Aisha Buhari, outgoing Nigeria's First Lady, has explained what the popular Glass House at the presidential villa in the Aso Rock really symbolised
The president's wife revealed the meaning of the Glass House after taking the wife of the incoming President rounds the presidential villa and disclosed that she and her husband are now in the Glass House
She said the Glass House is a transitional home of the outgoing president and urged that the tradition of the Glass House should be sustained
FCT, Abuja – Aisha Buhari, the Nigeria First Lady, has said that she and her husband, President Muhammadu Buhari, had moved from the main house in the Presidential Villa to the 'Glass House' in Aso Rock.
The president's wife disclosed this in a video shared on her verified Instagram page.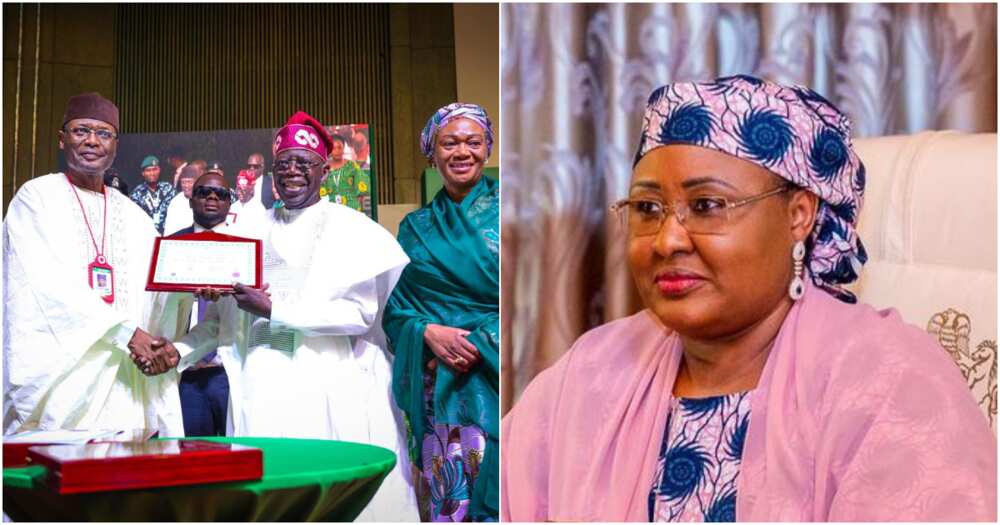 What is the relationship between Aisha Buhari and Oluremi Tinubu
In the video, the outgoing first lady was seen on a tour with the wife of the President-Elect, Bola Tinubu, Oluremi Tinubu, at the presidential villa.
"We Thank the Almighty Allah as He has shown us the end of our tenure. Today, I have taken the incoming First Lady, Oluremi Tinubu, to show her around.
"She has seen the main house, now, we are at the popular Glass House.
What Glass House symbolises?
The Glass House is a symbol of transition. According to Aisha Buhari in the video on her page:
"Glass House is the transitional home of the outgoing president."
The First Lady then advised that the tradition of the Glass House as a 'transitional' house of the outgoing president should be sustained.
Latest about Aisha Buhari, Remi Tinubu, Muhammadu Buhari, Bola Tinubu, May 29, APC
Aisha Buhari then added that she and her husband, Muhammadu Buhari, will now continue to stay in the Glass House till May 29, when Tinubu's administration would be sworn in.
The first lady said:
"As I am talking now, we are residing here, me and my husband, only two of us here, I think it has to remain so, as a norm for the institution and for the house."
See the video here:
Bola Tinubu: Knocks as pastor says Remi should have poisoned president-elect
Hotnewsdrop.com earlier reported that Nigerians have started expressing their anger over the trending video of Apostle Kassy Kachukwu of the Peniel Ministry against Bola Tinubu, the president-elect.
The cleric in the video said that if Remi Tinubu, the incoming first lady, had poisoned her husband, Nigerians would not be having controversies about the outcome of the 2023 election.
Some of the Nigerians who have reacted to the video are calling for his arrest, while others described it as a disgrace to the Body of Christ.
Source: Hotnewsdrop.com