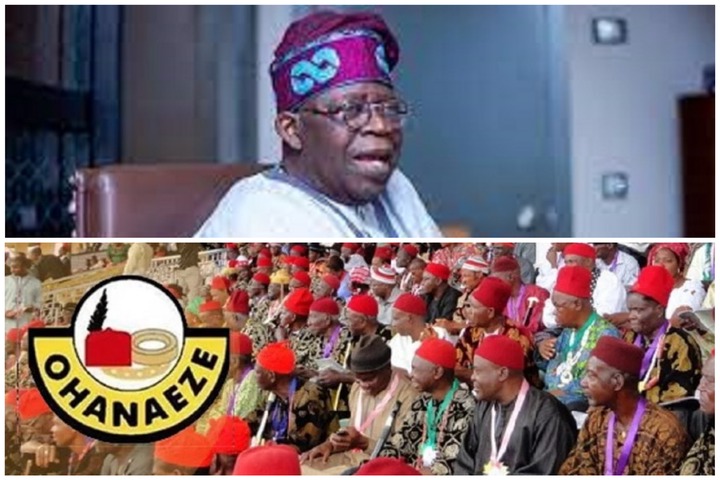 The apex Igbo socio-cultural organization, the Ohanaeze Ndi Igbo, has said that Igbos will support the incoming government of Bola Ahmed Tinubu, the Daily Post newspaper reports. The organization, therefore, urged the candidate of the Labour Party (LP) in the February 25 presidential election, Peter Obi, to accept the outcome of the election in good faith and move on.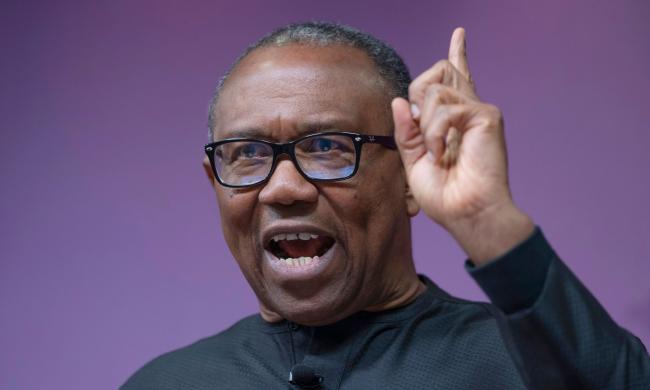 The group, through its Secretary-General, Okechukwu Isiguzoro, was reacting to a call against Tinubu's inauguration by a group known as Igbo Patriotic Forum and Elders Forum.
Isiguzoro, while speaking with the newspaper, condemned the call, noting that the Ime-Obi has decided that Igbos should support the Tinubu presidency until a court of competent jurisdiction makes a contrary pronouncement. He added that Obi is the candidate for the future.
He said in part:
"Ohanaeze, after due consultations with Southeast governors, Igbo elders, Ime-Obi, and the general assembly in Enugu decided to caution all stakeholders in the Igbo project to be careful of their utterances and not to portray Ndigbos as being against Tinubu because the consequences of such actions would fall back on our shoulders and Igbo populace who are mainly traders, living outside Igbo-speaking states. The majority of them are in the Southwest, particularly in Lagos State.
"The position of Ohanaeze is very clear; we will continue to support whoever INEC declares as the president, and with the full backing of the Igbo governors with Rivers State, Ohanaeze is calling on those agitating for an interim government to drop it, it's satanic.
"We are saying everybody should support Tinubu's inauguration, but that does not stop them from doing their work. We are calling on all our 52 affiliated bodies that the Ime-Obi has mandated that every agitation for the 2023 election should end because Ndigbo has moved on.
He also charged Obi to start building meaningful bridges across the country ahead of the next election.
However, the majority of those who reacted to the news story posted by the Daily Post its Twitter handle berated Ohanaeze for its stand.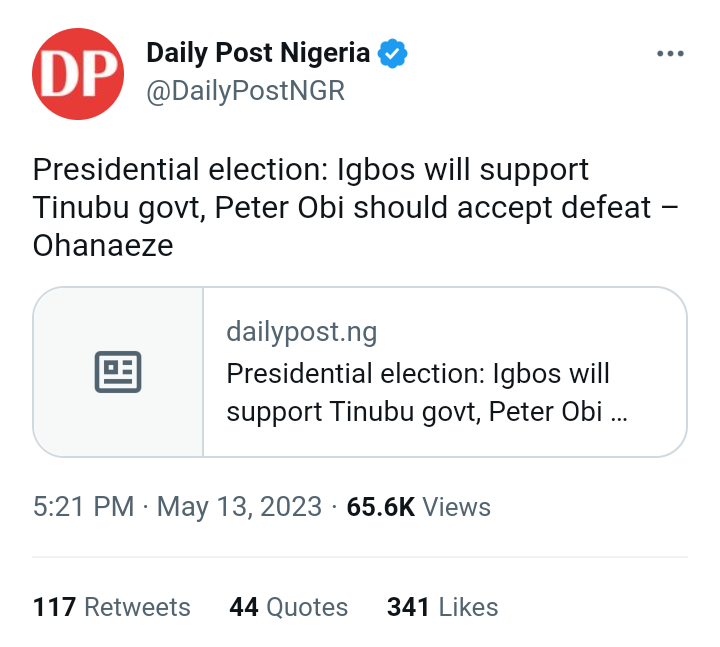 They roundly rejected Ohanaeze's position. Many of them chided the newspaper for reporting what they claimed was fake news.
Only a few persons, who are mostly not Igbos, said that the decision was good for the Igbos.
Read some selected reactions here: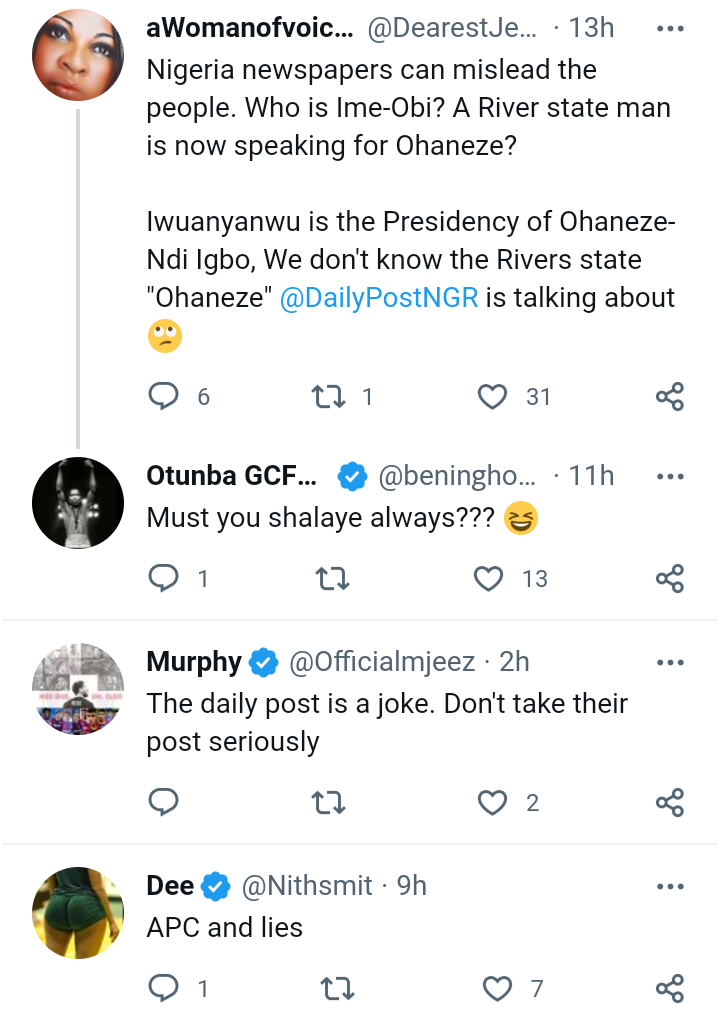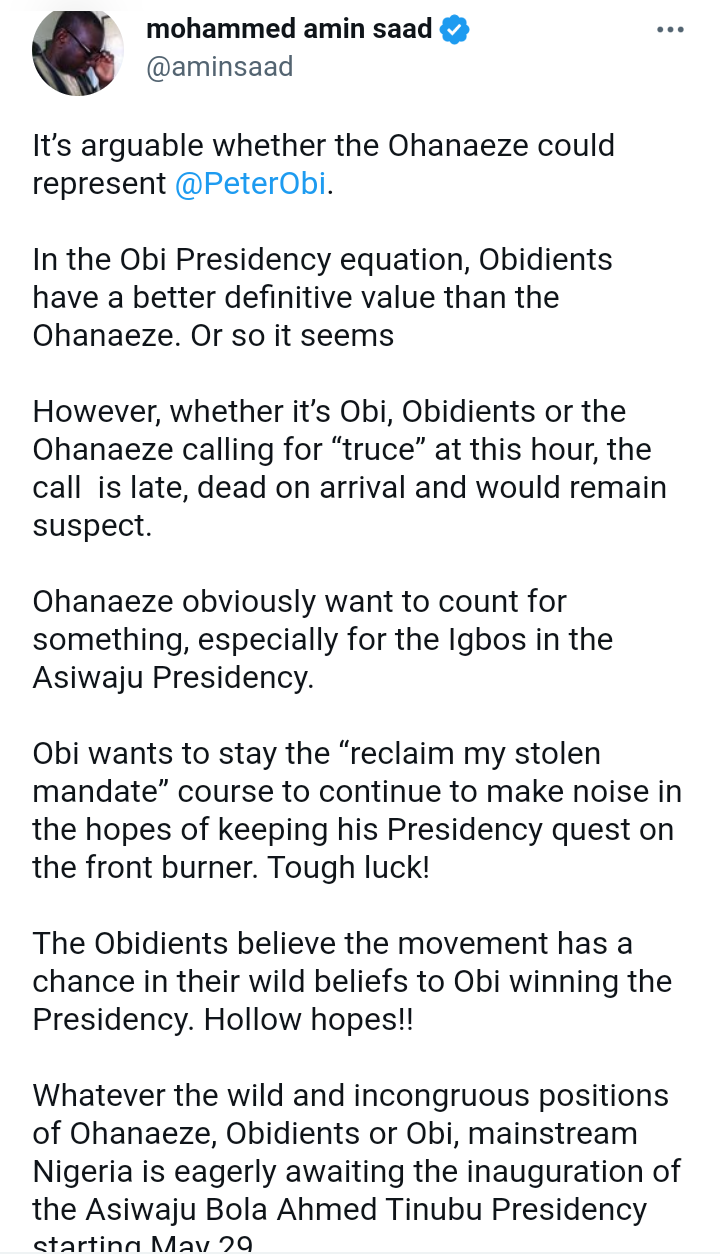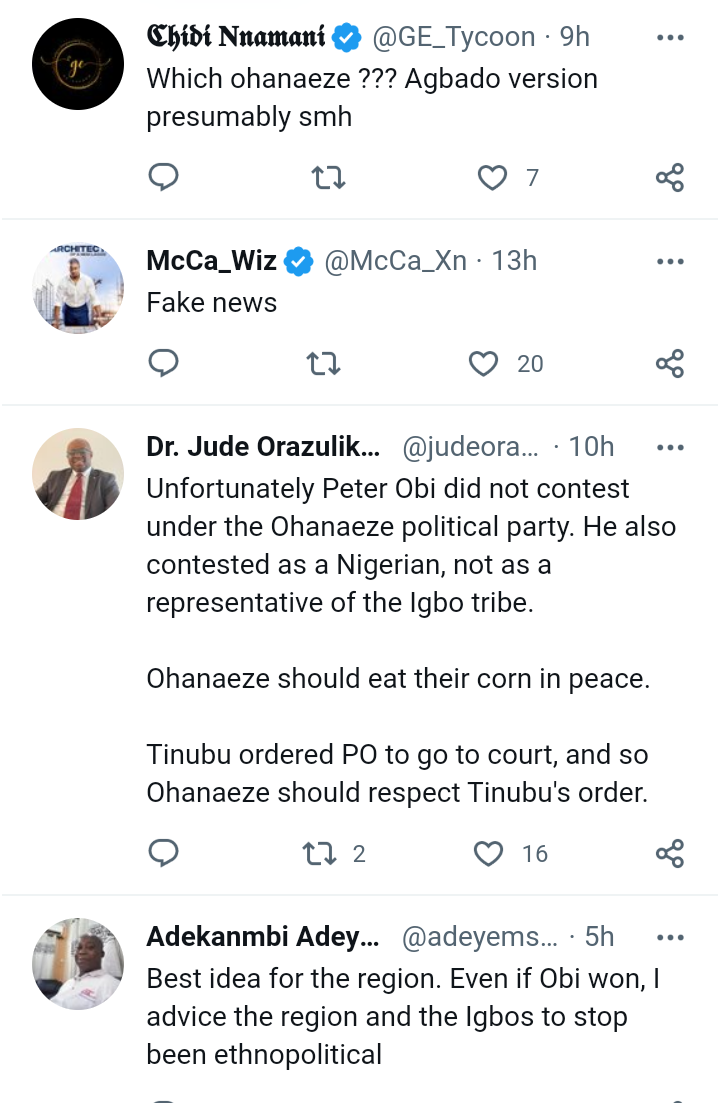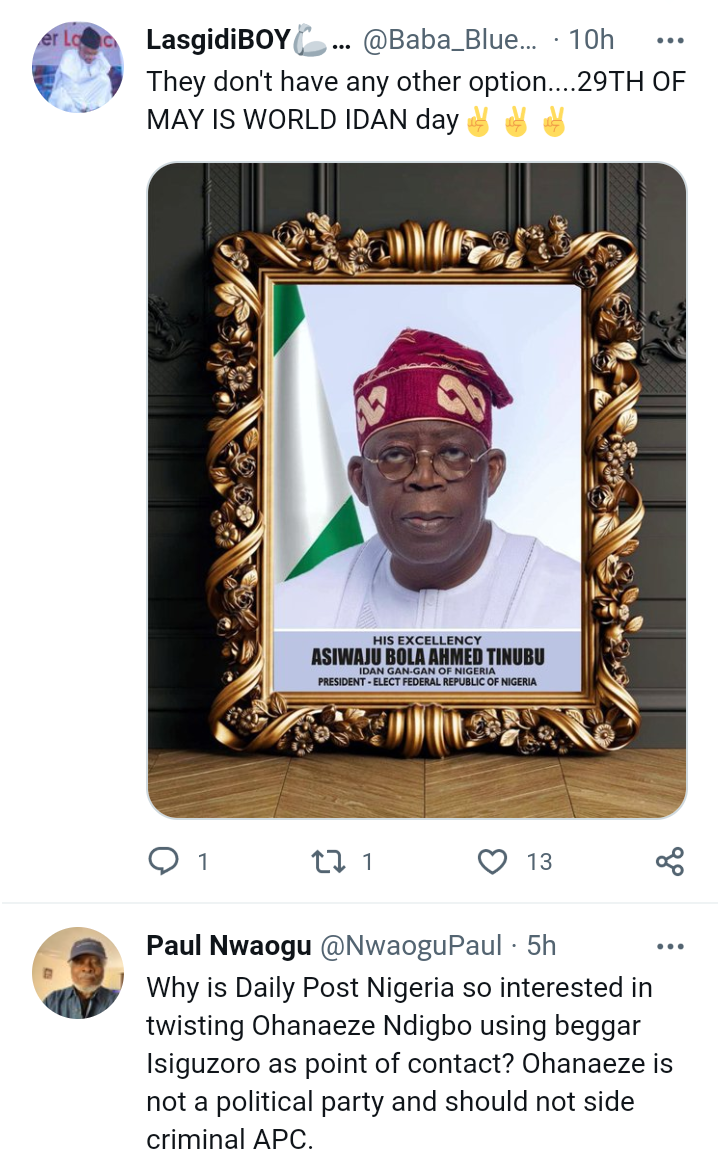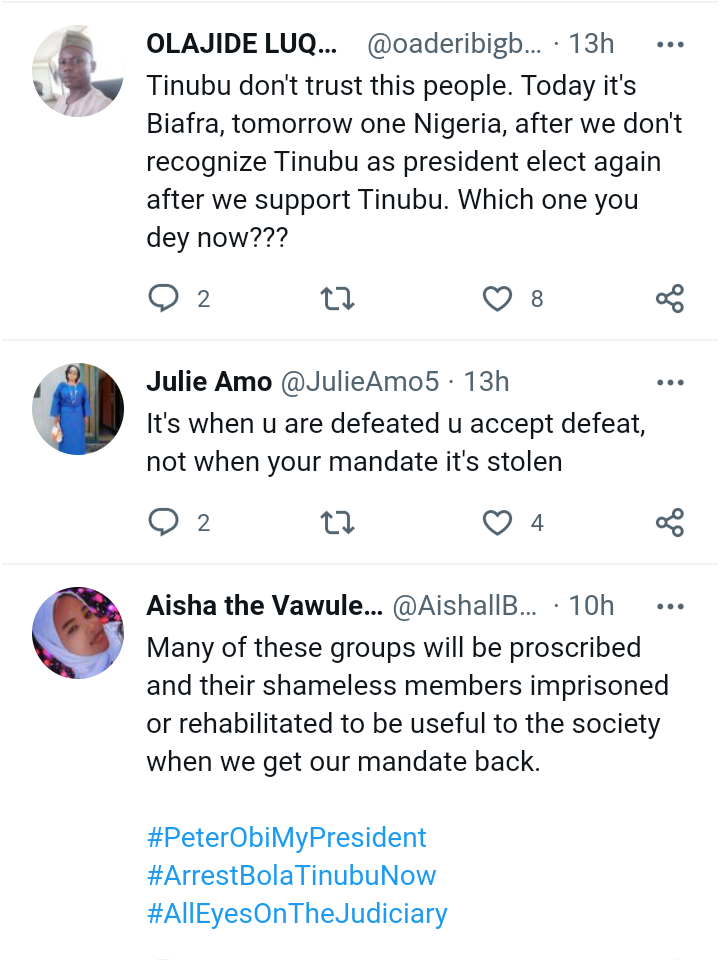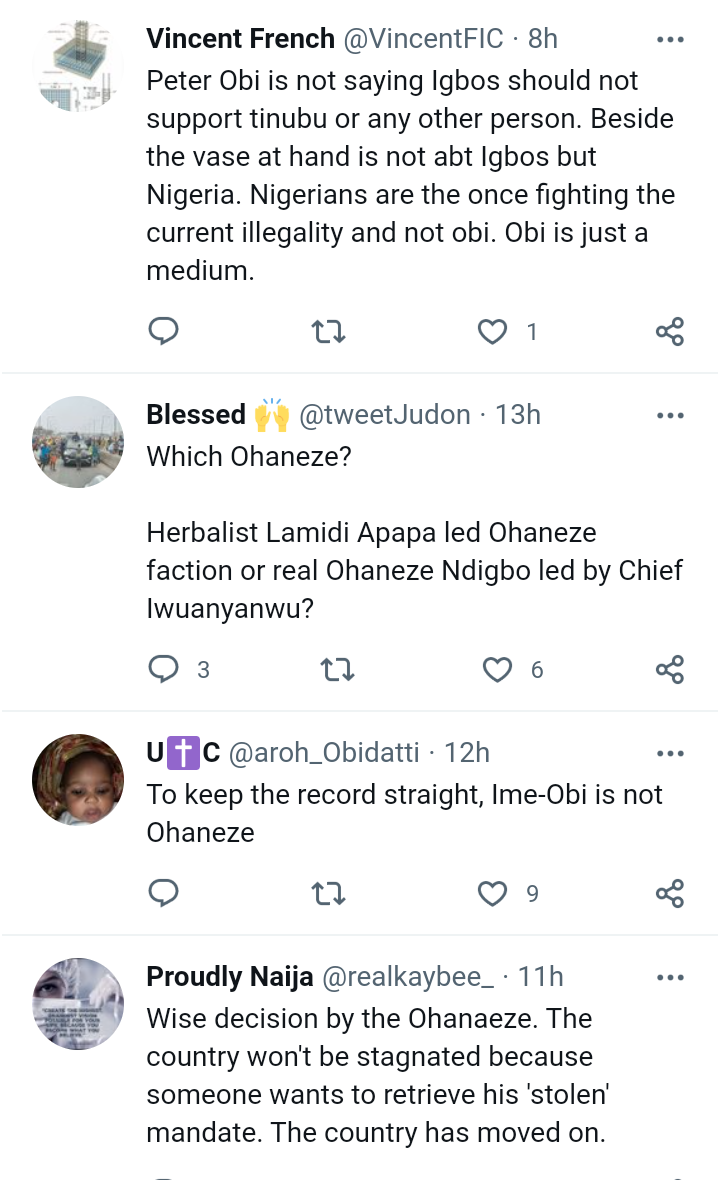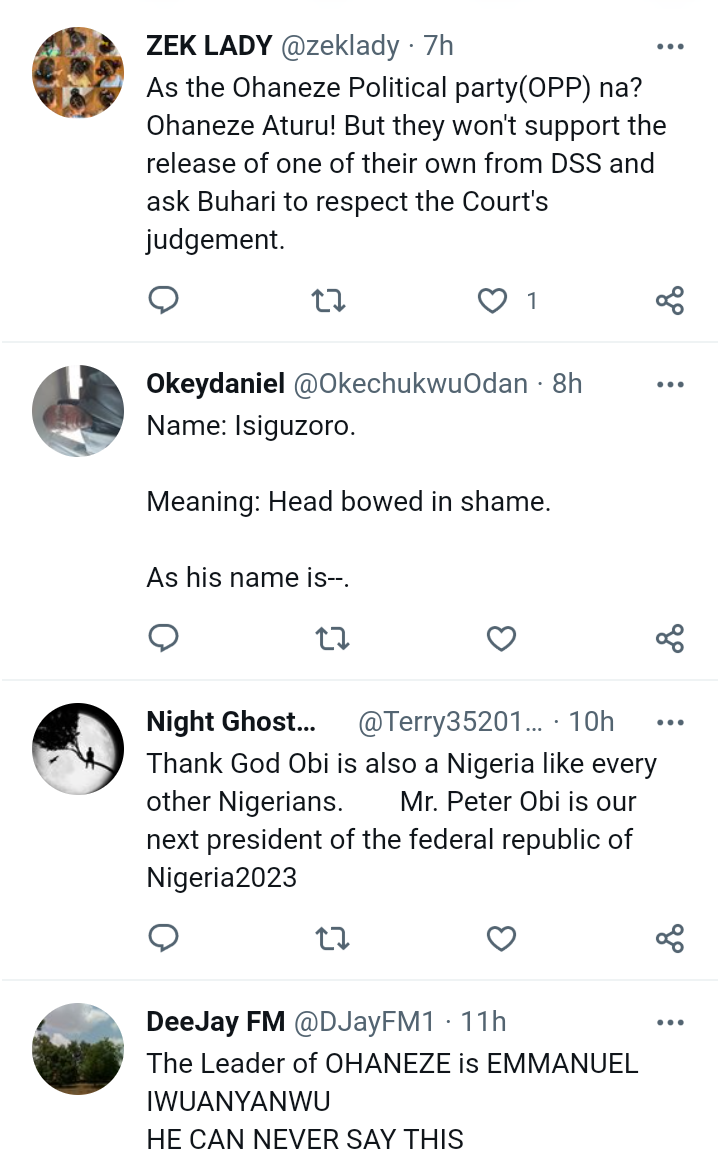 What is your take on the development?
Ifyafrica (
)