The former deputy national chairman of the PDP, Chief Olabode George, has revealed he has no issue with the president-elect, Bola Tinubu
The PDP stalwart made this known after his meeting with the leaders of the ruling APC on Saturday, May 13
Meanwhile, George noted before the 2023 elections and after that, he would leave Nigeria if he isn't satisfied with the incoming administration of Tinubu
The former Deputy national chairman of the People's Democratic Party, (PDP), Chief Olabode George, has said that he bears no grudge against the former governor of Lagos state.
Over the years, George has been a major critic of the president-elect, Asiwaju Bola Ahmed Tinubu and has threatened to go on exile if Tinubu becomes Nigeria's president.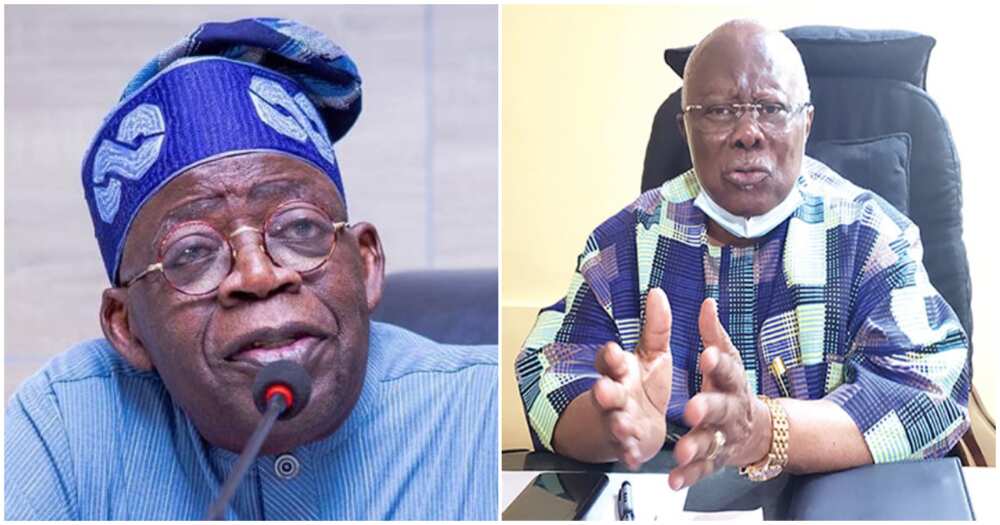 I've no running battle with Tinubu—Olabode George
Speaking after meeting with the leaders of the All Progressives Congress (APC), George commended the elders for the peace parley adding that it is a positive step towards a new Lagos.
On the request made by the APC leaders urging him to cease further fire against Tinubu, the PDP leader said he has nothing personal against the president-elect, Vanguard reported.
10th NASS: Shettima reveals why Tinubu chose Akpabio over Kalu, others
The vice-president-elect, Senator Kashim Shettima has revealed that Godswill Akpabio was nominated for the Senate Presidency by the President-elect, Bola Tinubu to avoid the "negative narrative of Islamization."
The former governor of Borno stated this on Friday, May 12 during a meeting with Hon Tajudeen Abbas, the anointed candidate of Tinubu for the speakership seat of the House of Representatives.
He stated that bringing Akpabio into the fold will automatically stop a situation where all four major seats in the country are being held under the control of Muslims.
May 29: APC stalwarts lobby Bode George ahead of Tinubu's inauguration
An emerging report has confirmed that some influential stalwarts of the Lagos state chapter of the All Progressive Congress (APC) are currently in a closed-door meeting with the former Deputy National Chairman of the People's Democratic Party (PDP), Chief Olabode George.
Some APC members in a meeting with Chief George include Prince Tajudeen Olusi, chairman of the Lagos state APC Governance Advisory Council (GAC), and Mrs Adejoke Orelope-Adefulire, the former Deputy Governor of Lagos State.
Chief George has been a long-term rival of the president-elect Bola Tinubu who vowed to relocate to Ghana if the former Lagos state governor emerges victorious at the just-concluded 2023 presidential polls.
Source: Hotnewsdrop.com