Adamu Garba, who was previously a presidential aspirant for the Young Progressives Party (YPP) and is now a member of the ruling All Progressives Congress (APC) Chieftain, has shared surprising information regarding Orji Uzor Kalu's bid for the position of Senate President.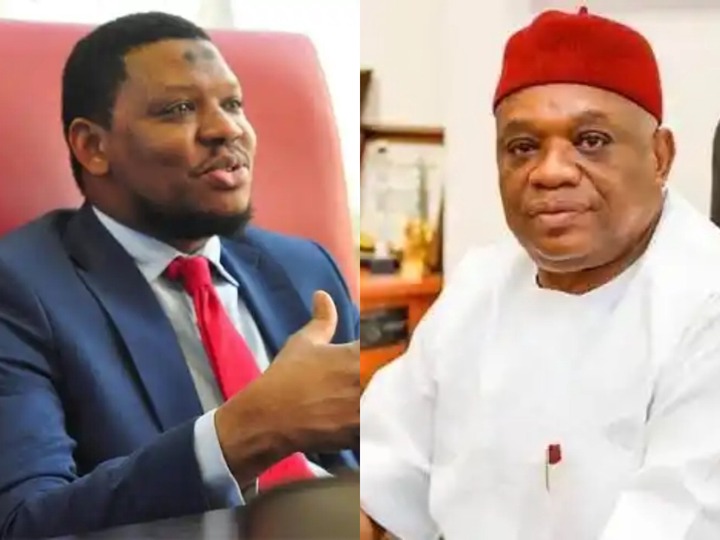 According to the APC chieftain, while Kalu may possess the necessary qualifications, it is unlikely that he will become the president of the 10th senate due to the party's poor performance in the South-East during the recent 2023 general elections.
Senator Orji Uzor Kalu and Adamu Garba, both members of the All Progressives Congress (APC), are potential candidates for the 2023 election in the South-East region of Nigeria, specifically in Abia state.
Adamu Garba has revealed the actual reason why Kalu is unlikely to win the senate presidency seat. During an interview on Arise Television's morning show on Monday, May 15, Adamu expressed his belief that the Chief Whip of the senate would withdraw from the race for the senate presidency.
"I am hundred percent confident that Senator Orji Uzor Kalu will withdraw from the race of the senate presidency. He's qualified but the performance from the South-east is considerably very low. He should find a way to organize the southeast so that they can mainstream with the APC strongly."
According to Adamu, Tinubu has already made his decision to choose Akpabio and Abass.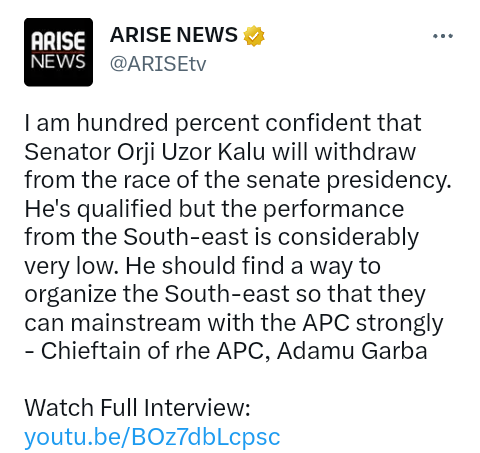 On Sunday, May 14th, Adamu Garba confirmed that Tinubu had made his decision regarding Godswill Akpabio and Tajudeen Abass.
He posted a tweet:
"President-Elect Asiwaju Bola Ahmed Tinubu's decision on the choice of the Senate President and Deputy Senate President is signed and sealed.
"So far, 69 senators have signed, endorsing the Joint Akpabio/Barau ticket. The list includes senators of LP, SDP, PDP and NNPP. We will leave no stone unturned to ensure that our leader's wisdom in his choice of 10th NASS leadership is successful."
Fameman (
)