Ex-Deputy National Chairman of the Peoples Democratic Party (PDP), Bode George, has said he bears no grudge against the President-elect, Bola Ahmed Tinubu
According to the 77-year-old PDP leader, the unity of purpose in Lagos supersedes political affiliation
George, a fierce critic of Tinubu, had vowed to go into exile if the former Lagos state governor emerged as Nigeria's president in the 2023 general election
Ikeja, Lagos State – A chieftain of the Peoples Democratic Party (PDP) in Lagos State, Bode George, has said he will only congratulate the president-elect, Bola Ahmed Tinubu, if the court cases against the incoming Nigerian leader turns in his (Tinubu) favour.
Prominent Lagos state individuals loyal to Tinubu are trying to mediate between the two top politicians, Vanguard reported.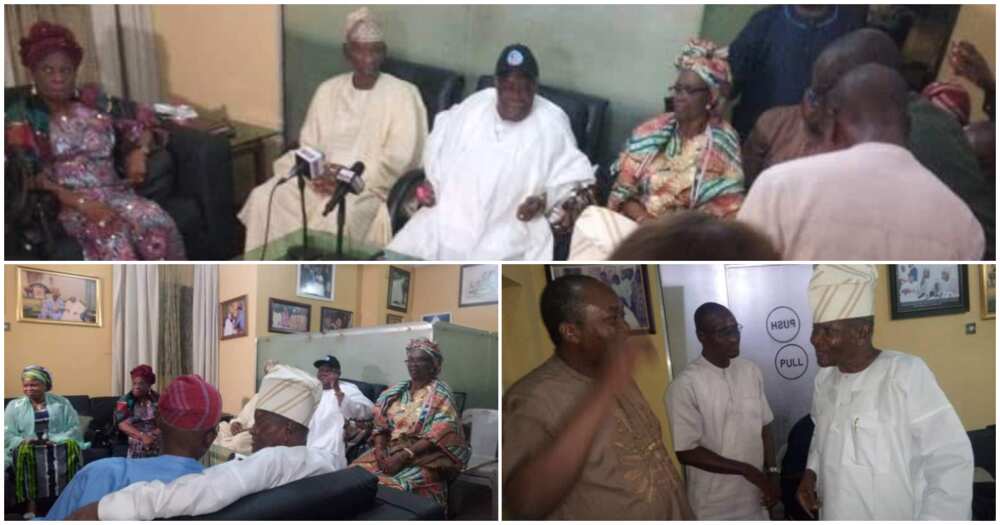 Those at a meeting held on Saturday, May 13, to resolve the differences between Messrs George and Tinubu encouraged the two men to unite ahead of the May 29 presidential inauguration of the former Lagos State governor, The Punch also reported.
George said:
"They made a request which we are all looking at. They requested that someday we should also congratulate Asiwaju and we said yes, but that I belong to a political party. They are all in the courts now.
"Let us finish the court cases. Whichever way that goes, the issue of congratulating him or not will come to fruition."
George reiterated that he has nothing personal against Tinubu, stressing that he has no problem working together with the incoming Nigerian leader.
Bode George's feud with Tinubu
Although George has repeatedly said he has no personal issue with Tinubu, the PDP chieftain has not ceased his jibes while also accusing the former Lagos governor of corruption during and after his tenure.
In 2015, ahead of the presidential election, George promised to "go on exile" if the then newly-formed APC gets into power because Tinubu "will just order that I should be picked up".
Fast forward to the lead up to the 2023 presidential election and Tinubu unveiling his ambition, George resumed attacks on his longtime political foe while repeatedly promising to leave Nigeria if he gets the seat of power in Aso Rock Villa.
Bode George vs Tinubu: APC chieftain reacts
A chieftain of the All Progressives Congress (APC), Abubakar Sidiq Usman, has reacted to the development.
In a tweet on his known Twitter handle on Sunday, May 14, 2023, Usman mocked George for breaching his vow.
He wrote:
"So this is how Bode George is no longer going on exile. He said the rift between him and Tinubu is gone and that he has nothing against him."
Tinubu's spokesman sends strong message to DSS as Emefiele allegedly plans to flee Nigeria
Meanwhile, Hotnewsdrop.com earlier reported that a chieftain of the ruling All Progressives Congress (APC) and the president-elect, Asiwaju Bola Ahmed Tinubu's spokesman in the southeast, Josef Onoh, has urged the country's secret police to keep an eye on the Governor of Central Bank of Nigeria, (CBN).
Onoh charged the Department for State Security (DSS) to ensure that Godwin Emefiele does not leave Nigeria for any study leave abroad.
What APC should do before Tinubu's inauguration, Top political analyst speaks
Hotnewsdrop.com also reported that Barrister Oluwole Olukunle Moses sent a word of wisdom to the nation's ruling APC, a few weeks before the inauguration of the president-elect, Asiwaju Bola Ahmed Tinubu.
The top Nigerian lawyer and political analyst in a chat with Hotnewsdrop.com on Sunday, May 14, urged the ruling party to focus on the court cases and make sure they emerge victorious before Tinubu's inauguration slated for Monday, May 29, 2023.
Source: Hotnewsdrop.com