It is officially the fourth day into Hilda Baci's Guinness Book of Records Cook-a-thon challenge, and one of her biggest supporters is former Presidential candidate Peter Obi's wife, Margret
The former first lady of Anambra State took many by surprise when she arrived at the venue of the cook-a-thon as she joined a legion of young Nigerians who had come out to support Hilda
Margret socialised with young Nigerians at the venue and showed her support for Baci, encouraging her to push past the pain barrier and write her name into immortality
It has been an incredible last few days for Nigerian celebrity chef Hilda Baci as she embarks on a feat to smash the Guinness Book of Records as the person with the longest cooking record.
Hilda's challenge is to beat the record held by Indian chef Lata Tandon of going on a cooking spree for 87 hours non-stop.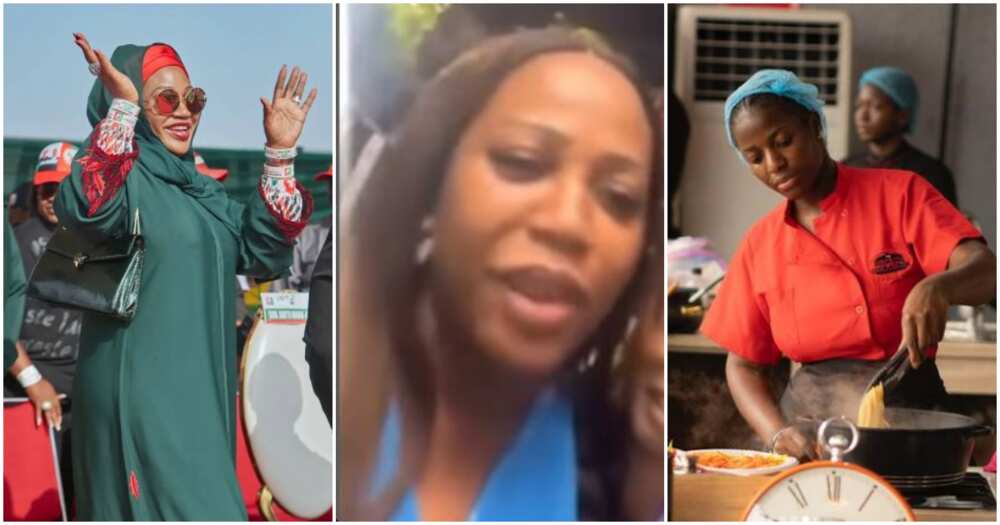 The Nigerian chef has gotten tremendous support from different celebrities. One of the latest to join the long queue of people who had stepped out to throw their weight behind Hilda is the former first lady of Anambra state, Margret Brownson Usen.
She caught many by surprise when she entered the venue where the Cook-a-thon was taking place.
Margret is from Akwa-Ibom same state as Hilda Baci
Peter Obi's wife further shocked many when she spoke Ibibio, the local dialect of Akwa-Ibom natives.
It was here many found out that Margret is from Akwa-Ibom state.
At our last check-in with Hilda, she was currently at her 85th hour and had at least 3 hours to set a new record.
See the clip of Peter Obi's wife at the venue of Hilda Baci's cook-a-thon:
See how netizens reacted to clips of Margret supporting Hilda Baci at her cook-a-thon
@pharmfinder:
"Wow! Never seen her up and close like this! She's beautiful and speaks so well! chai! My first lady that would have been."
@paintmeprettymakeovers:
"What manner of beauty is this? This woman is fine for 2 people."
@iamsusan_love:
"Akpan iko."
@zeeeknow:
"See First Lady na Young Babe like us."
@xx_arayzi:
"Omo this Hilda girl has gone far."
@francesspeters:
"Wow, she is from Akwa Ibom. Never knew!!! Omo Akwa Ibom women dey fine die and they can cook for Africa. Super proud abeg. Rooting for u Hilda."
@adetobikool:
"So Peter Obi sef sabi good thing."
@cacosahair:
"Just look at my Queen oh @margaret_obi1 sweetest of them all. you are a true support system Queen."
Hilda Baci: 10 Things to know about Chef and her Guinness World Record Cook-a-thon
Meanwhile, Hotnewsdrop.com recalls reporting that Nigerians continue to drum up support for Nigerian chef Hilda Baci as she continues on her attempt to break the Guinness World Record for the longest cooking by a person.
The chef, who owns a restaurant in Lagos, has been the talk of many on social media as she continues on the daring attempt to break the record currently held by Indian chef Lata Tandon.
With Nigerians on social media cheering her on, interesting facts about Baci and the cook-a-thon have surfaced.
Source: Hotnewsdrop.com