The court sitting in Delta state has sacked 18 personal assistants of the NDDC Chairman Ms. Lauretta Onochie
Onochie's aides were sacked by the Federal High Court in Warri over an illegal appointment carried out by the chairman
The court in its fresh ruling also urged the NDDC chairman not to interfere with the functions of the commission's managing director
About 18 aides appointed by the chairperson of the Niger Delta Development Commission (NDDC), Ms. Lauretta Onochie have been sacked
Onochie's assistants were sacked by the Federal High Court in Warri, Delta state.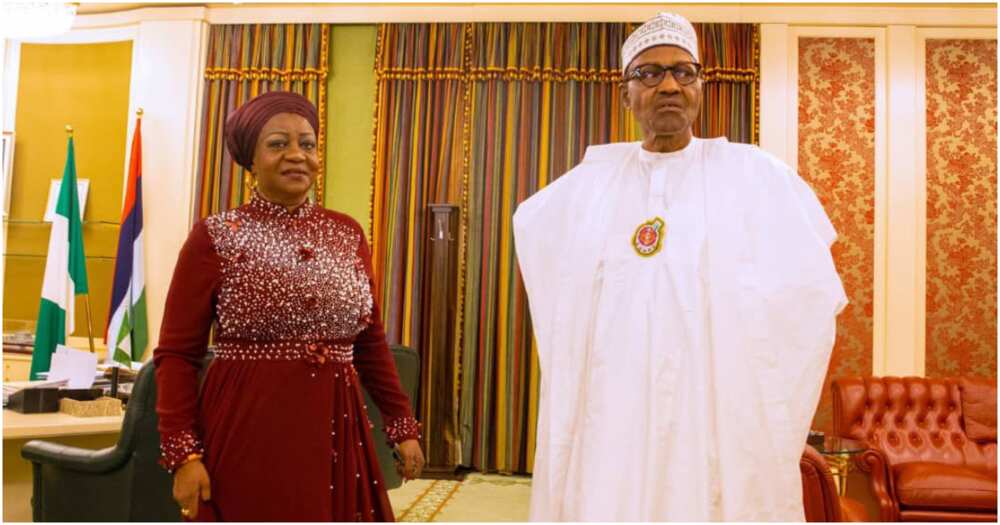 Onochie gets further directive after the sack of her 18 aides
Delivering its judgement, Justice Okon Abang held that she acted outside her powers in appointing them.
To further relieve her of her show of supremacy as NDDC chairman, the court barred Onochie from interfering with the functions of the commission's managing director, Dr. Samuel Ogbuku, The Nation report added.
The declaration was made in a suit by Dr. Mike Oberabor, for himself and on behalf of the Oberabor Oreme-Egbede families of the Olomoro community of Isoko South Local Government, Delta state.
The NDDC, Onochie and Ogbuku are the first, second and third defendants.
Buhari has repositioned NDDC for adequate service, says Omehia
In another report, Nzerem Omehia, a public affairs analyst, stated that President Buhari's administration's scorecard in the Niger Delta region has been successful.
Omehia said the recent comments of the minister of Niger Delta affairs, Umana Okon Umana, in Abuja at the 20th edition of Buhari Scorecard Series (2015-2023) indicates that the president has a particular interest in the development of the oil-rich region.
In an article seen by Hotnewsdrop.com on Monday, December 19, Omehia further stated that the president had repositioned the NDDC to discharge its core mandates effectively.
"You have dubious intentions": Diaspora group cautions NDDC chairman Ms Lauretta Onochie
The Niger Delta Diaspora Professionals Forum (NDDPF), a global platform of professionals from the Niger Delta region has reacted to the recent comments credited to the chairman of the Niger Delta Development Commission(NDDC) Ms Lauretta Onochie after the signing of a Memorandum of Understanding (MOU) with a company based in the United States of America.
The group described Ms Onochie as an individual who has dubious intentions but masquerades as a promoter of good governance.
Recall that Onochie has declared as "illegal, null and void," a $15 billion railway line agreement signed between the commission and a United States-based company.
Source: Hotnewsdrop.com