Famous Nigerian Sosoliso air plane survivor Kechi Okwuchi trends online as she celebrates graduating from the University of St. Thomas
Okwuchi shared a series of posts across her social media platforms to celebrate as she earned a post-graduate degree in Business Administration in the U.S
Okwuchi is one of the few survivors still alive from the unfortunate 2005 Sosoliso unfortunate aeroplane crash in a town called Lisa in Ogun state
A young Nigerian woman and a survivor of an aeroplane crash, Kechi Okwuchi, trends online as she celebrates earning a master's degree in Business Adminstration from an American catholic college, the University of St. Thomas.
Kechi took to her Twitter page with a statement where she praised God and thanked her loved ones for supporting her throughout her time studying to be a master's degree holder.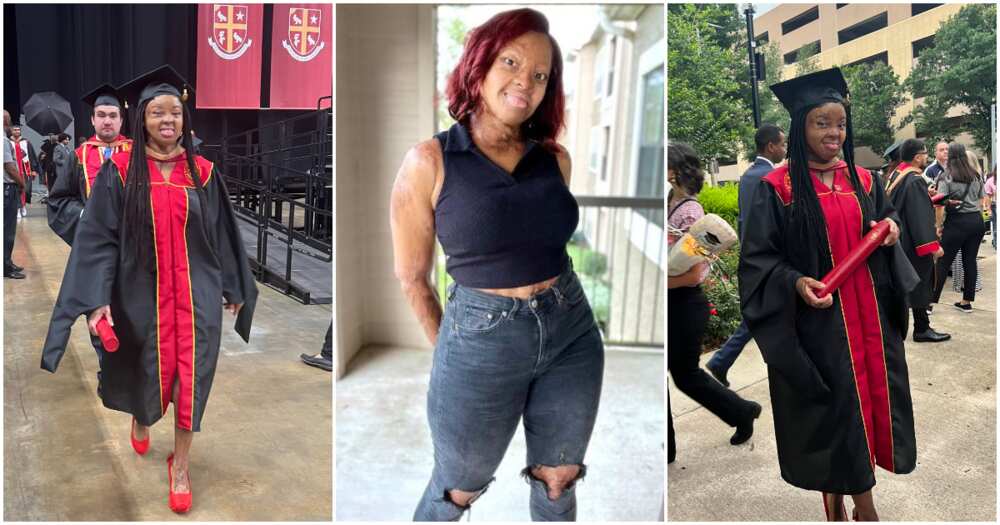 Read Okwuchi's touching statement:
"Look who finally walked!! Meet Kechi Okwuchi, official MBA graduate ‍ thank God and thank you, @stthomashouston ."
Many celebrities who are fans of Okwuchi took to her page to hail her dexterity to push herself to achieve despite what she's been through.
See Kechi Okwuchi's post celebrating as she earns an MBA degree below:
See Kechi Okwuchi's celebratory post on Twitter below:
See how netizens reacted to Kechi Okwuchi's as she earned an MBA
@BarrTailorson:
"Congratulations to you and yours. Your life has been an inspiring story of how it is not yet over until it is over. Life is indeed the greatest gift."
@stthomashouston:
"Congratulations!"
@nkaynnaji:
"May God keep blessing you always. I'm rooting for you gorgeous❤️."
@lpymu1:
"Waoooooo! Congratulations our golden voice . Your success in this life will have no limit. Mama Africa is proud of brave daughters like you."
@yemialade:
"Yaaaas!!!."
@omonioboli:
"Congratulations beautiful ."
@maize20009:
"Leaving her best life …. No limits No boundaries."
@realmabelmakun:
"Your are a strong lady. Congratulations."
@poshmamy:
"You're just a joy and inspiration to watch. Congratulations."
@kemiadetiba:
"Congratulations, Hun."
Plane crash survivor Kechi Okwuchi rocks stunning attire that gets social media talking
Meanwhile, plane crash survivor Kechi Okwuchi has continued to be an inspiration to Nigerians and people around the world.
Taking to her Twitter page on Tuesday, September 8, the young woman posted two stunning pictures of herself in a lovely top and a sit skirt, which got her followers talking.
Kechi asked if her followers liked the pictures, and many of them flooded the comment section to indicate their love for the style and how she rocked the attire.
Source: Hotnewsdrop.com