BBNaija star, Teddy A, has now caused a huge stir on social media over his reaction to the love Chef Hilda Baci has been getting
Recall that the 27-year-old chef set out to break the Guinness world record for longest cooking marathon by an individual
Teddy A questioned those who drove all the way to the venue to support Hilda and asked if they have ever done same for their friends
BBNaija star, Teddy A, has now made headlines over his controversial take on the love Guinness World Record contender, Hilda Baci, has been getting from Nigerians.
The 27-year-old chef became a social media sensation after she set out to break the Guinness World Record for the longest cooking marathon by an individual, a record previously held by Indian chef, Lata Tondon.
Hilda got a lot of love from Nigerians and many of them bombarded the venue of the cookathon on the third day when it had become a trending topic on social media.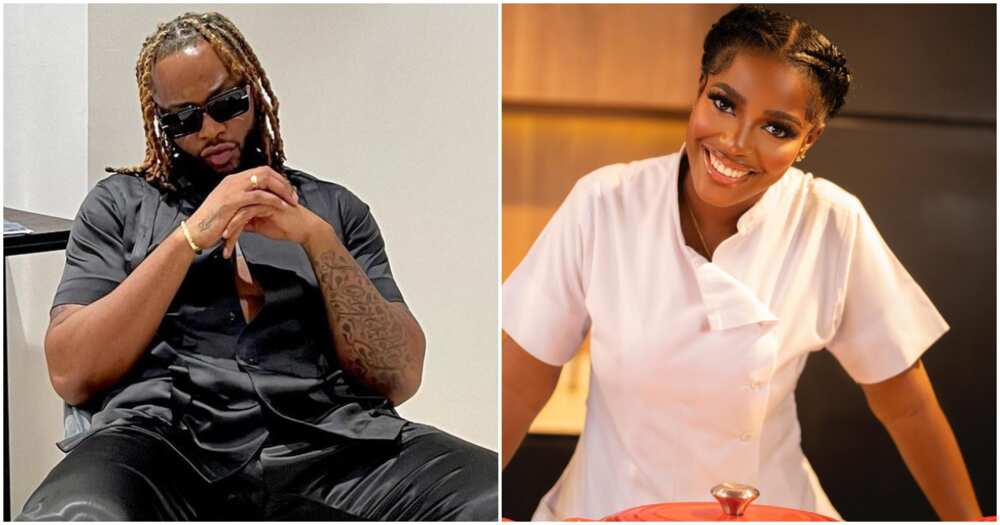 Taking to his official Instagram page, Teddy A shared his thoughts on the situation. The BBNaija star started out by saying how proud he was of Hilda even though he did not know her personally. He also added that it was a great thing that Nigerians were also supporting her.
Not stopping there, the BBNaija star went ahead to direct another question to 'clout chasers and fake souls'. He said that if they had left their homes and driven all the way to the location of Hilda's cookathon, have they ever done the same for their friend who cooks just to support their hustle?
Asking further Teddy A wanted to know if they had ever left the comforts of their home to support a friend's canteen or regular business but they were able to drive miles to take pictures at Hilda's cookathon. According to him, there's 'fakeness' in their blood.
See a screenshot of his now deleted post below:
Netizens react as Teddy A calls out clout chasers who left home to support Hilda Baci but did cannot do same for their friends
Teddy A's post on the love Hilda Baci had been getting soon went viral on social media and drew a series of mixed reactions. Many netizens did not seem pleased with the reality star's statement. A few others however noted that he was speaking facts.
Read some of the comments below:
precious_ibini:
"We don't need this kind of thinking and energy now…I can chose to support whoever I want."
liveluvejess:
"So unnecessary… congratulate her and move!"
bigg_juls:
"Someone finally said my mind, I support Hilda and root for her big time, but seeing some type of support and energy from certain people I know surprises me To help repost WhatsApp BC is a problem, post your business link and beg them to go to your page to show love the little way they can is a problem but these same people have been posting about Hilda from day1 left their houses to the venue, stayed under rain and sunshine, but when they need help they run back to people they would rather pick a complete stranger over OMO"
_scottygee:
"He should go and sleep people that supported him during BBN did they know him abeg shift"
unquiemonik:
"See he might be right or wrong, but trust none of this support people are showing here , I don't believe they really care , it's only to show face on social media. Since I moved abroad here and will see our fellow Nigerians will see you and pretend as if they don't know you. We don't really love ourselves abeg"
ineligible_bachelor:
"lol but e no lie na "
boss_mikelvickidennis:
"Only fake people won't support Teddy A's view.. let's be sincere… you have friends on your contact that do business, have you ever supported? Even this Hilda, she definitely had contacts who would patronize another chef instead of her… because she's now everywhere, they are shouting upandan "go Hilda go Hilda go" to you, Hilda, congrats ooo.. if my Indomie don dey take time to don I go dey nag. Talk more of who cooked for 96hrs… I dust cap."
Custom_made000:
"Stranger's are more inclined to support than friends that's circle of life,it's normal that doesn't make them fake,you might be my friend for year's I might not see a future in what you're doing that's why I might not support you ,why a complete stranger would see it that doesn't make me a bad friend it's circle of life, everyone has a purpose in life,you wouldn't find favour in every of your friend's eye this is life !!! That's why friends advice but not support."
rubii_ee:
"He spoke facts!!!!"
Politicians, Nigerian and international stars who have shown love to Hilda Baci
Meanwhile, Hotnewsdrop.com previously reported on some top celebrities who had shown love and support on her quest to break a Guinness World Record with cooking.
Hilda became a social media sensation on the third day of her four-day cooking marathon when many people started to give her more attention in her bid to break the record for the longest cooking marathon by an individual.
Bola Ahmed Tinubu, Babajide Sanwoolu, Kaffy Dance, Burna Boy, Tiwa Savage and more, were some of the top influential Nigerians who showed Hilda support either on social media or by visiting the cookathon venue.
Source: Hotnewsdrop.com