Hilda Baci has broken the Guinness World Record for the longest cooking by an individual and is set to create a new record
A video of the 27-year-old has surfaced online in which Baci talked about losing over 20kg
Nigerians continue to show support for the brave young lady as she strives to set a record of 96 hours of cooking
Nigerian chef and latest Guinness World Record holder, Hilda Baci, has made Nigeria proud as she recently broke the record for the longest cooking by an individual.
As she continues to trend across the internet, more interesting facts about the 27-year-old have resurfaced online.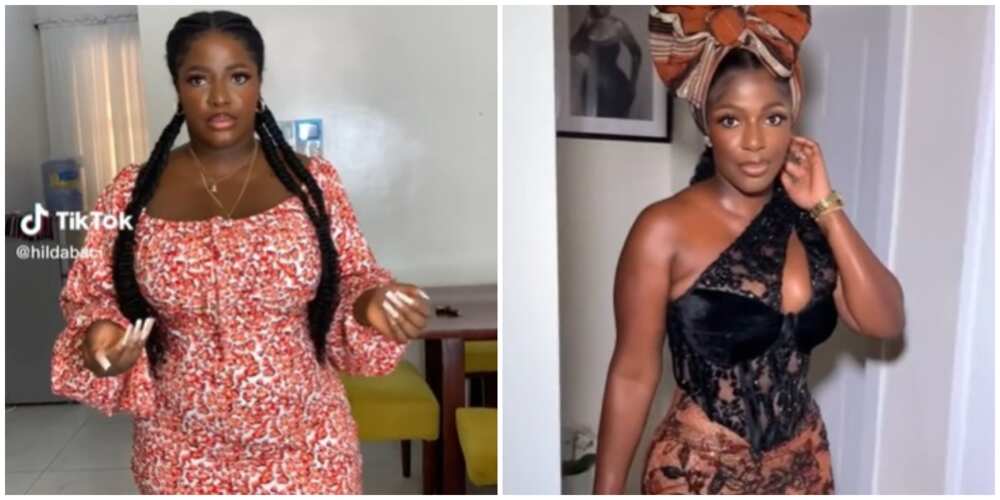 A video from her TikTok page has gone viral on social media as it shows her amazing weight loss transformation.
The ebony beauty revealed she used to weigh 110kg but after embarking on a weight loss journey that took two years, she was able to achieve her desired body at 80kg.
Check out the video below:
Stunning video of Hilda Baci's fitness training with BBN's Kemen before cooking challenge emerges
Hilda Baci on Thursday, May 11, took up a challenge to break the Guinness World Record for the longest cooking by an individual, which has seen Nigerians applauding her for her dedication.
As of the time of this report, she had been cooking for over 87 hours, which means aside from her excellent cooking skills, Hilda was physically prepared in terms of her fitness for the challenge.
It turns out she had embarked on personal training ahead of the challenge with Big Brother Naija (BBNaija) reality star and fitness trainer Kemen.
"From a champion to another": Hilda Baci excitedly gists with Kaffy as dancer shows up to support her
Ddancer Kaffy showed up to support her. A world record holder herself, the dancer drummed support for Hilda at the venue as well as online.
The pair gisted like friends as Kaffy marvelled over how many meals she had cooked and the number of people she had catered to since she kicked off the cooking challenge.
Hilda had a brief moment of fun as she danced while Kaffy recorded.
Source: Hotnewsdrop.com