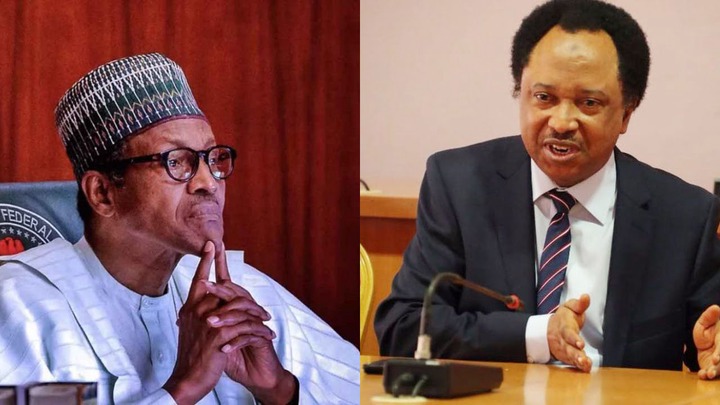 Calling on the incoming govt, Senator Shehu Sani requested that the departing Muhammadu Buhari administration must be probed.
Sani said this while expressing concern about the domestic and international debts the Buhari administration accumulated during its eight years in office.
Recall that the Debt Management Office (DMO) had revealed that the country' s rising debt profile is currently estimated to be around N77 trillion, if the N23 trillion in loans from the Central Bank of Nigeria (CBN) are securitized.
Sani stated that the first step in repaying the country' s debt is to fully investigate the cost of the projects they were allegedly used for.
Through his Twitter account, the senator issued a rallying cry to the incoming administration, urging them to look into all federal ministries, departments, and agencies operating under the Buhari administration.
According to him: " The first step towards servicing our billions of dollars of local and foreign debt is a full investigation of the cost of the projects they were purportedly used for. The incoming government must probe all the MDAs under this regime. "
President Muhammadu Buhari would transfer the N46. 25 trillion debt burden to the new administration.
Nigeria' s total stock of debt has reached 46 trillion dollars, according to the Debt Management Office (DMO).
The government announced that it had received World Bank approval for another N369 billion loan before the removal of fuel subsidies in June 2023, according to reports, despite the commotion already caused by the heavy existing debt burden.
Nigeria' s debt profile grew over the eight years of the Buhari administration, rising from N12. 6 trillion in 2015 to over N46 trillion in 2023.
Concerns about the country' s finances have persisted, particularly in light of the International Monetary Fund' s (IMF) assertion that in 2022, debt servicing almost emptied Nigeria' s treasury.
The 2023 budget is expected to have expenditures of N21. 83 trillion and deficits of N11. 34 trillion, according to the Federal Inland Revenue, which reported collecting N10 trillion in revenue in 2022.
Source: Twitter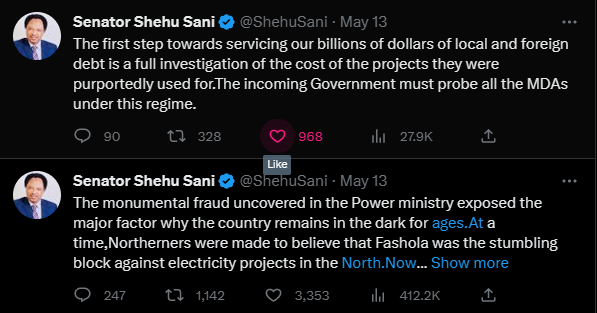 RoyDaWritter (
)