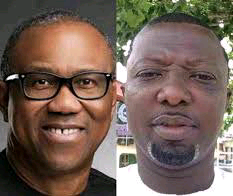 The People's Democratic Party (PDP) recently had a presidential election, and Dr. Abayomi Arabambi, the national spokesman for the Labour Party (LP), recently opined that Peter Obi, who claims to have won the poll, should also contest the results.
Mr. Arabambi told the media today that the Labour Party finished third, after the PDP and the APC. He thinks it makes no sense for the LP presidential candidate to disregard the PDP and turn to the APC, which won, instead of the PDP.
Even though we lost the election to the PDP, we are not challenging the results in court, he says in a recently released video. This suggests that the PDP's vote total was lawful and within the bounds of the law. The Labour Party has decided not to challenge the results since they are consistent with our beliefs even if the PDP claims to have earned a constitutional majority of the ballots.
Dr. Arabambi wonders why Peter Obi has deliberately left the PDP out of his petition and is only challenging the APC, which came in first place.
Watch the video below:
Source: Youtube
Thebrightnews (
)