May 29: IGP Usman Vows To Defend Democracy
The Inspector-General of Police (IGP), Usman Baba says the May 29 inauguration of former Lagos State Governor, Bola Tinubu as the President of Nigeria remains sacrosanct and can't be altered.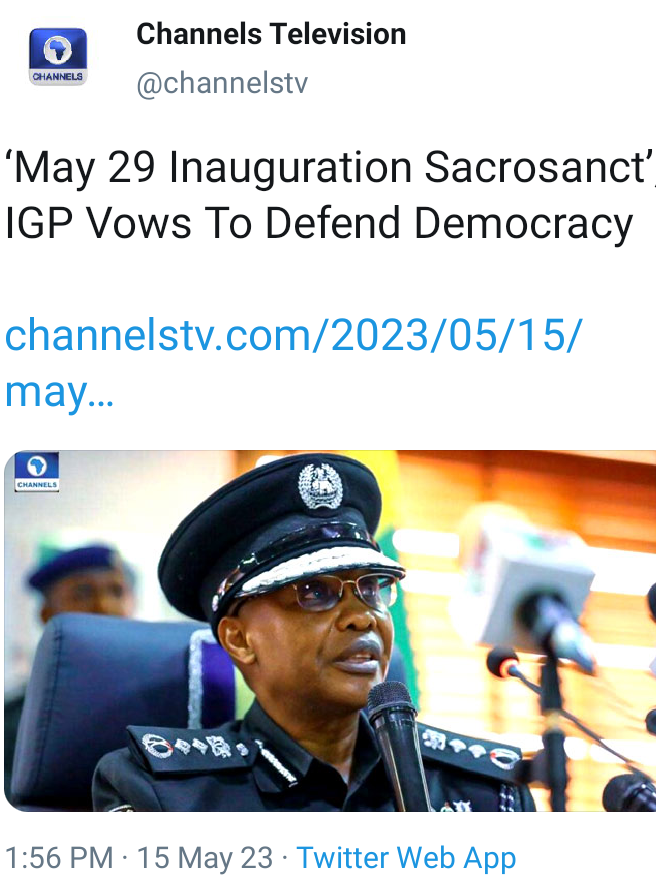 Source: Channels TV
"The 29th May, 2023 date for the swearing-in ceremony of the President-elect of the Federal Republic of Nigeria and indeed, other inauguration ceremonies at national and State levels is sacrosanct," the IGP said while briefing reporters in Abuja on Monday.
He vowed to do everything possible alongside other security operatives to defend democracy.
The police boss, therefore, warned political actors trying to foment trouble or frustrate the inauguration of newly elected leaders to desist from such plans.
He said that it is expected that true democrats would subsume their personal political ambition under overriding national security and democratic interests of the country.
Sanwo-Olu Pitches Support For Akpabio
Lagos State Governor Babajide Sanwo-Olu, on Sunday, pitched his support for Stability Group rooting for the emergence of Senator Goodswill Akpabio and Senator Barau Jibrin as President and Deputy President of the 10th Senate.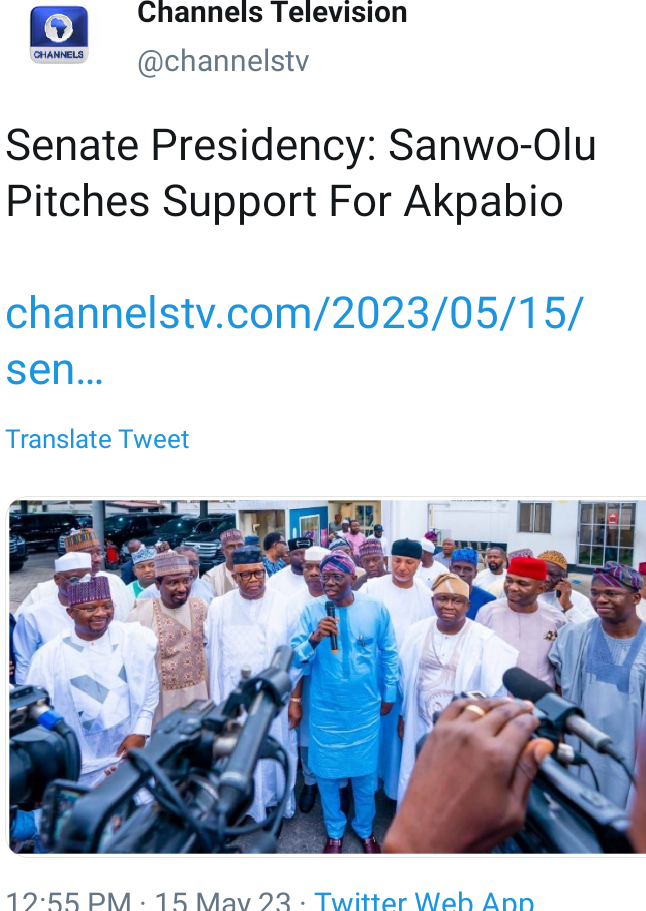 Source: Channels TV
The Governor said he aligned himself with All Progressives Congress (APC) zoning decision, having read the legislative agenda being pushed forward by the Akpabio-led team to raise the bar of lawmaking and readiness to collaborate with the incoming administration of the President-elect, Asiwaju Bola Ahmed Tinubu.
Sanwo-Olu openly endorsed Akpabio and Jibrin when he received members of the Stability Group in a consultative visit at the State House in Marina on Sunday.
Another Nollywood actor, Chikezie Uwazie dies in US
Nollywood actor, Chikezie Uwazie has died in the United States of America USA after a second brain surgery.
This is coming a few hours after the sudden death of two other popular Nigerian actors, Saint Obi and Murphy Afolabi.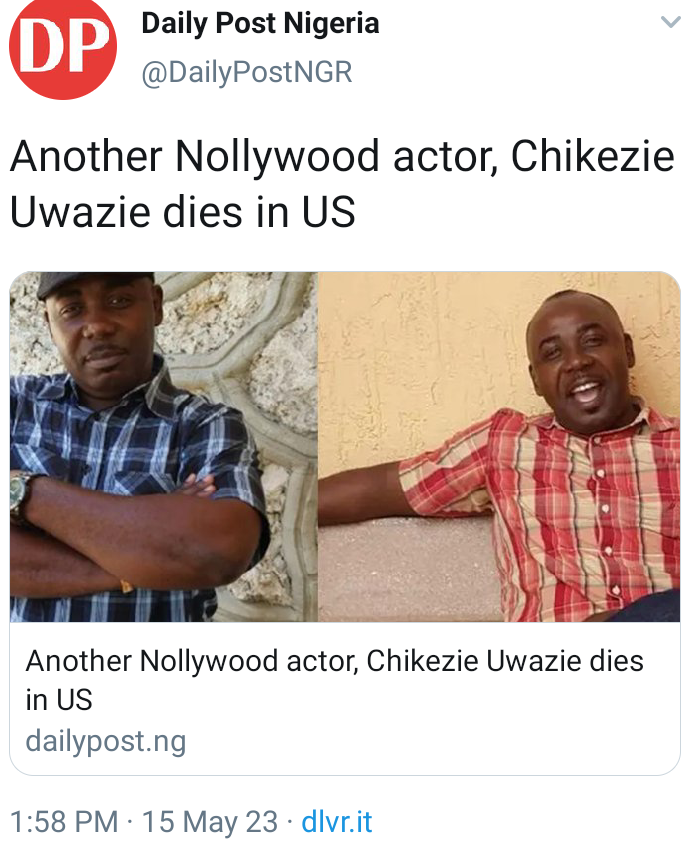 Source: Daily Post
Sharing the news of his passing on her Facebook page on Sunday, actress, Obey Etok Chima wrote, "I can't imagine I am posting this. Chikezie Uwazie goneeeee.
"After a 2nd brain surgery. Gini na emezi. I was so shocked to get this news this evening. Just got this from our IMSU alumni platform. I thought you told me you were going to the States for greener pastures. You promised to come back some years back, but I didn't see you. Can't believe you are gone, but God knows best. Rest on Chyko."
World Record: Buhari Hails Hilda Baci For Placing Nigeria On Global Spotlight
President Muhammadu Buhari has joined in sharing the joy of celebrations as 27-year-old gourmet chef, Hilda Bassey Effiong, aka Hilda Baci, makes history by breaking the world record of longest hours of cooking, finding her way into the Guinness Book of Records, and placing Nigeria on the global spotlight.
The president's felicitation was contained in a statement by his Special Adviser on Media & Publicity, Femi Adesina.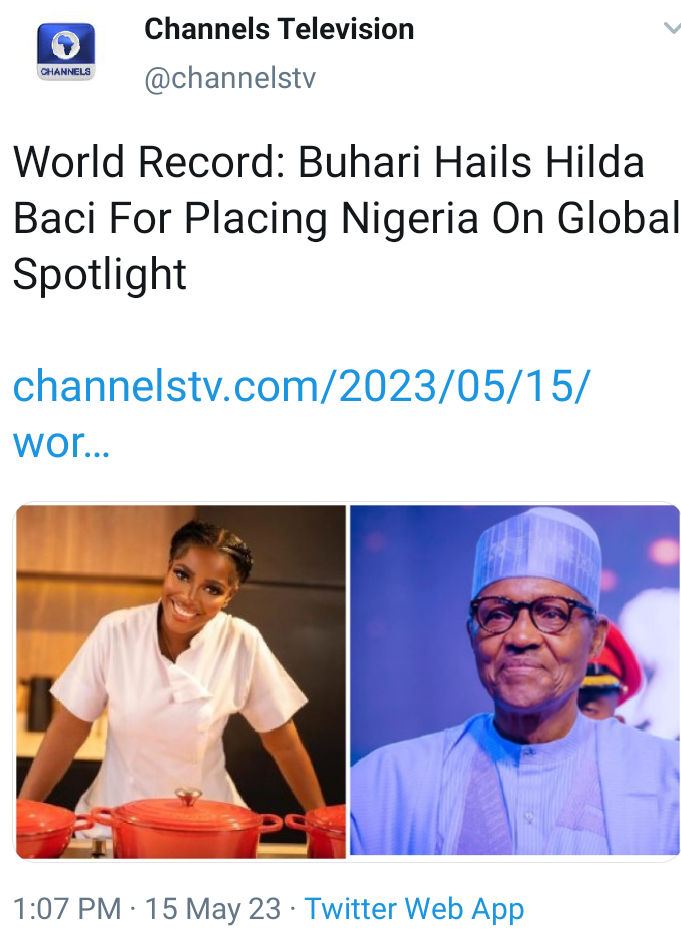 Source: Channels TV
President Buhari lauded the young culinary expert for turning her talent and passion into a career, with a rippling effect on the economy as she runs a restaurant in Lagos, and trains other talents on entrepreneurship, and now leads the world in resilience, perseverance, and consistency in cooking.
Murphy Afolabi was a good ambassador of Osun State – Gov Adeleke condoles family
Governor Ademola Adeleke of Osun State has described the late Nollywood actor, Maroof Afolabi aka Murphy Afolabi as a good ambassador of Osun State who dedicated his life through his acting prowess to upholding the ethos of Omoluabi.
Governor Adeleke also described the death of the late thespian as a great shock.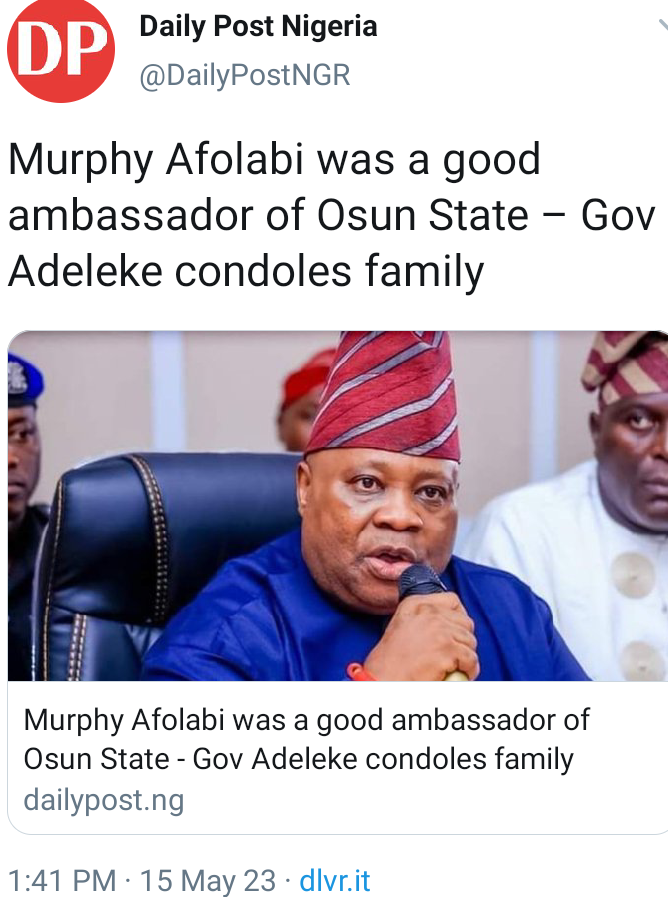 Source: Daily Post
Murphy Afolabi, a household name in the Yoruba-speaking Nollywood genre was reported to have died in the early hours of Sunday, May 14, 2023.
He hailed from Fetuata Compound, Isale-Osun, Osogbo, Osun State.
The Osun Governor's condolence message was released by his spokesperson, Olawale Rasheed on Monday in Osogbo.
Adeleke in the statement said, "I remember the last time he visited me at my country home. We discussed issues bordering on the development of the entertainment industry. We agreed on plans to make Osun Yorubaland's cultural and tourism centre.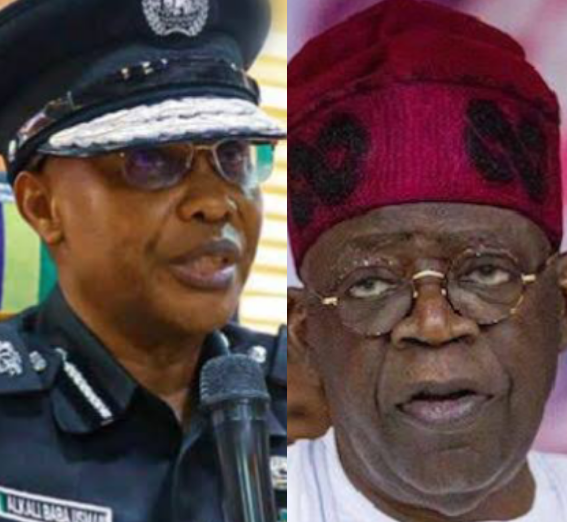 Photos Credits: Google
WaterGo (
)