FCT, Abuja – The anointed candidate for the Senate President seat, Senator Godswill Akpabio, says a collaboration with the president-elect, Bola Ahmed Tinubu will help wipe out Nigeria's debt profile.
Akpabio's statement is on the heels of the Debt Management Office (DMO) report that attributed Nigeria's debt profile to frequent budget deficits by successive governments.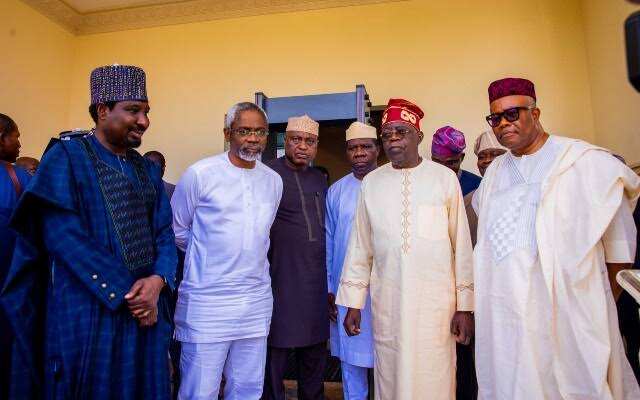 Reports have confirmed that Nigeria's debt profile stood at N46.25 trillion in Dec. 2022, recording an increase of about N7 trillion from the 2021 debt figures.
Meanwhile, Senator Akpabio, on Tuesday, May 16, while speaking at a meeting with the APC Non-Serving Senators Group in Abuja, pledged Nigeria's debt will be wiped out when he teams up with the president-elect.
At the meeting, Senator Akpabio expressed his gratitude to the ex-lawmakers for their endorsement and promised to justify their confidence in him upon election as Senate President.
He said:
"I am excited that God is keeping all of you alive. This is a family and I am very proud to belong to this family.
"I want to also appeal that you not only endorse us but support us with your prayers because what I am seeing out there is that it is a war. But I see it as a storm in a teacup."
Akpabio noted that the incoming 10th national assembly would be all-inclusive as he also called on Nigerians to support the incoming administration of Tinubu in clearing all the debts owed by Nigeria.
He said:
"For me, the priorities are very clear: an all-inclusive Senate that will work for Nigeria and that we will all be proud of.
"We must support the administration of Bola Ahmed Tinubu to pay our debts."
10th Senate: APC Ex-lawmakers back choice of Akpabio, Barau
Meanwhile, ex-lawmakers of the ruling All Progressives Congress (APC) said the nomination of Godswill Akpabio and his running mate was meritorious.
Leader of the ex-lawmakers and former deputy speaker of the House of Reps, Hon. Bababgida Nguroje, said their nomination was justified.
He noted that both lawmakers passed the fundamental criteria required to become President and Deputy in the House of Senate.
Source: Hotnewsdrop.com