FCT, Abuja – The national assembly minority caucus of members-elect in the House of Representatives has denied media reports alleging that the majority of them have abandoned Hon. Aliyu Muktah Betara for the anointed candidate of the All Progressives Congress (APC), Hon. Tajudeen Abbas.
Following a meeting held late at night at the Transcorp Hilton, Abuja on Monday, May 15, the minority caucus resorted to settling for the Betara ahead of Abbas.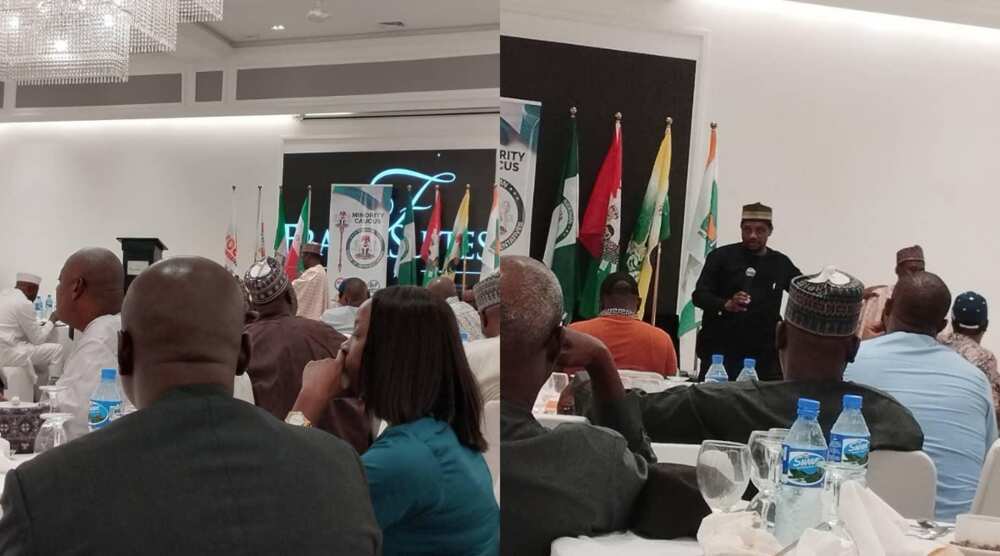 The minority caucus includes members-elect from the Peoples Democratic Party (PDP), Labour Party (LP), Social Democratic Party (SDP), New Nigeria People's Party (NNPP), All Nigeria's Peoples Party (APGA) and other political parties asides from the ruling party APC.
According to a statement obtained by Hotnewsdrop.com, on Tuesday, May 16, the minority caucus said:
"We unanimously agreed that the country needs someone with the ability and capacity to unify the country, the competence and skills to drive an effective and productive legislature, a bridge builder between the other arms of Government and above all, a man with serene humility, character and fear of God in discharging the duties associated with the office. That person is no other than Rt. Hon. Muktar Betara Aliyu (OON)."
As contained in their resolution, they said they would be reaching out to other members-elect of the incoming 10th national assembly to upstage the anointed candidate of the APC.
They said:
"The members-elect of the House minority caucus in the 10th Assembly unanimously resolved to mobilise support and reach out to more members from their zones, with detailed facts of Hon. Muktar Betara Aliyu's solid and intimidating antecedents with regards to his Legislative prowess over the years thus, singling him out as the suitable person over other contestants."
However, Hotnewsdrop.com observed that if the calculation of the minority members pans out as they have orchestrated it, there is a high possibility for a member of the minority party to be the next Speaker of the lower chamber.
This is because the camp of the APC is at present divided due to the disagreement over the selection of Abbas by the leadership of the APC and the president-elect, Bola Ahmed Tinubu.
Source: Hotnewsdrop.com