I'll never congratulate Tinubu, says Bode George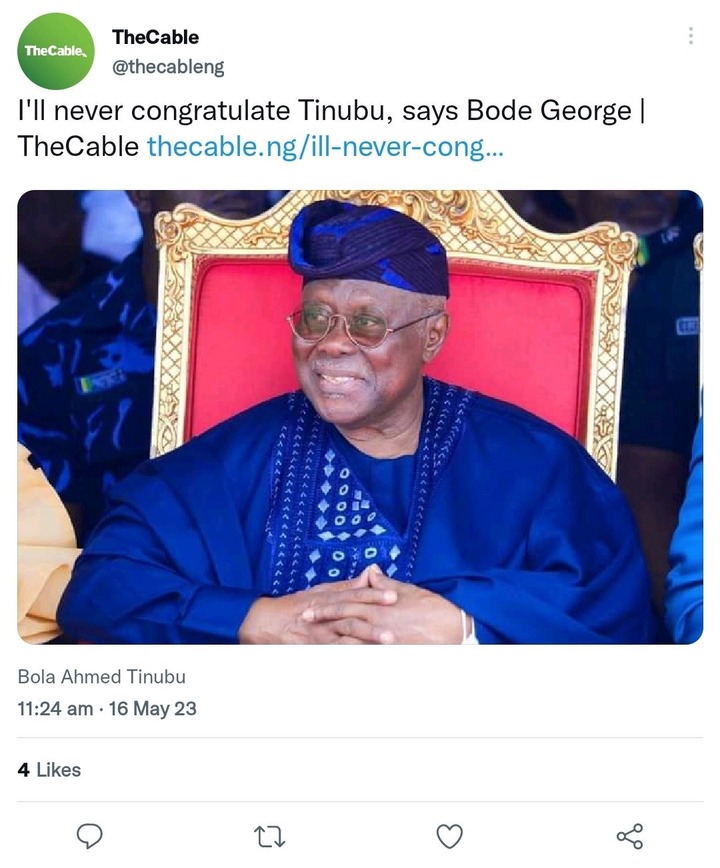 Photo credit: The Cable
Bode George, former deputy national chairman (south) of the Peoples Democratic Party (PDP), says he'll never congratulate Bola Tinubu, president-elect, on his victory.
Speaking on Arise Television on Monday, George said he has nothing personal against the former Lagos governor.
The PDP chieftain said he disagrees with Tinubu's "methodologies of governance, his own ways of managing the resources of the land for the benefit of the people".
"It's not impacting on the people. I'm a throughbred Lagosian. I was born and grew up here, there is so much degradation, go to my local government," George said.
First of all, Femi Gbajabiamila had been here, we had discussions, I told him all the things I would want them to do in Lagos. What matters to me is that let Lagos be like the best city in the world, make life more meaningful, impact on the minds of the people positively because the power rests with the people.
"But if there is nothing rather than that, the method of management, the financial management will be completely despicable. So, I said to them I have no objections and as far as I'm concerned there is nothing personal, sir. If whatever he had done to me in the past, as a Christian, vengeance is not mine.
Buhari Above Scandal, Has No Account With Corrupt Money – Garba Shehu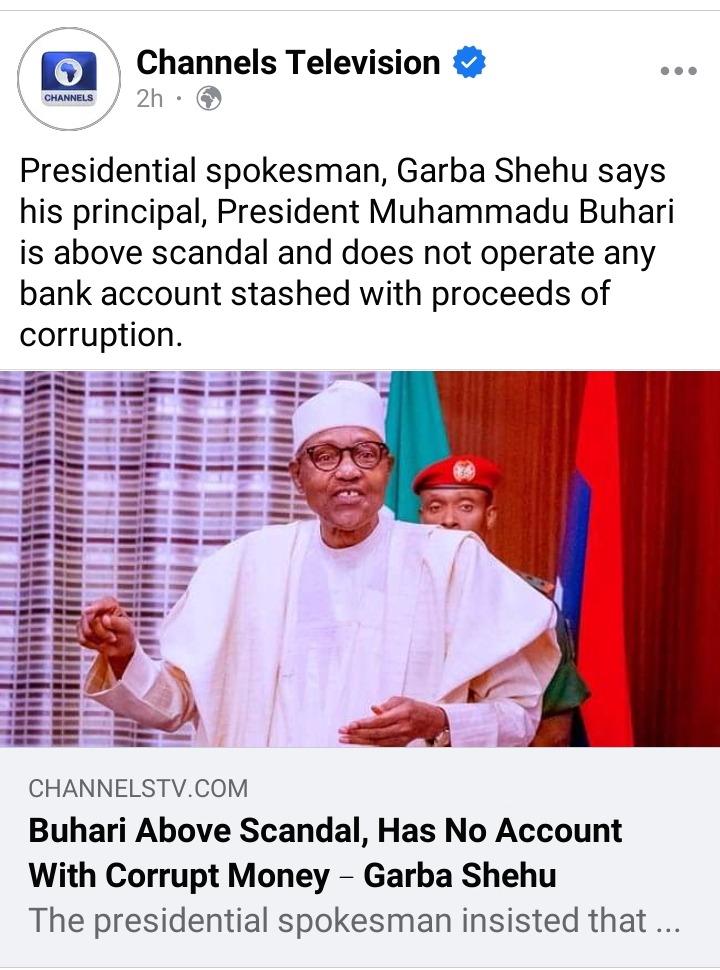 Photo credit: Channels Television
Presidential spokesman, Garba Shehu says his principal, President Muhammadu Buhari is above scandal and does not operate any bank account stashed with proceeds of corruption.
"The President is still what he is; he is still above board," Shehu said on Channels Television's Sunrise Daily programme on Tuesday whilst commenting on the outgoing administration's anti-graft fight.
Some Nigerian politicians are infamous for stashing stolen monies in local and foreign accounts through cronies and companies owned by third parties, especially towards the twilight of their administrations.
Former head of state, Sani Abacha; ex-Governor of Delta State, James Ibori; former Minister of Petroleum Resources, Diezani Alison-Madueke; amongst others had been indicted by the United Kingdom and the United States for allegedly stashing millions of dollars and pounds of stolen funds in accounts overseas, some of the loots which have been recovered and returned to the Nigerian Government.
Some former ministers and ex-governors had also been accused of corruption by the Economic and Financial Crimes Commission (EFCC) and the Independent Corrupt Practices Commission (ICPC).
However, Shehu said his principal does not operate any account with stolen government funds and fears no scandal or prosecution after office.
10th Senate Presidency: Yakasai lauds Tinubu for supporting Akpabio, Jubrin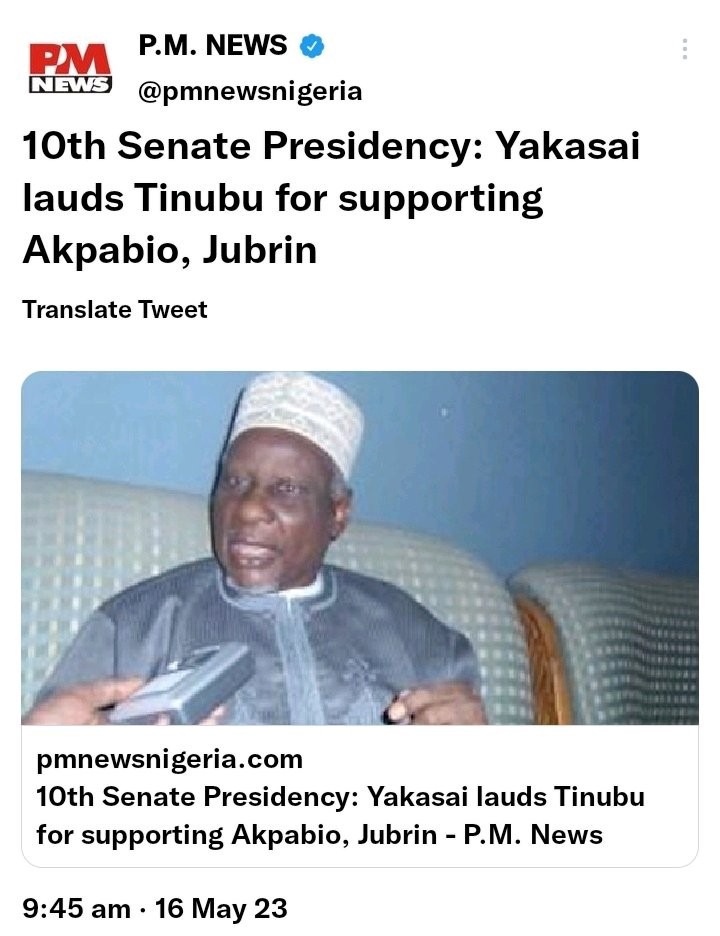 Photo credit: PM
Elder statesman, Alhaji Tanko Yakasai, on Monday in Kano, lauded the President-elect, Asiwaju Bola Ahmed Tinubu for declaring support for Senator Godwill Akpabio, over his ambition to emerge the president of the 10th Senate of the Federal Republic of Nigeria.
Yakasai, who was Adviser to Second Republic President, the late Alhaji Shehu Shagari on National Assembly Matters, spoke to PMNEWS that there "is nothing wrong with Tinubu showing interest in who and who should emerge leaders of the National Assembly."
I don't know about APC zoning formula, I want to be Senate President – Yari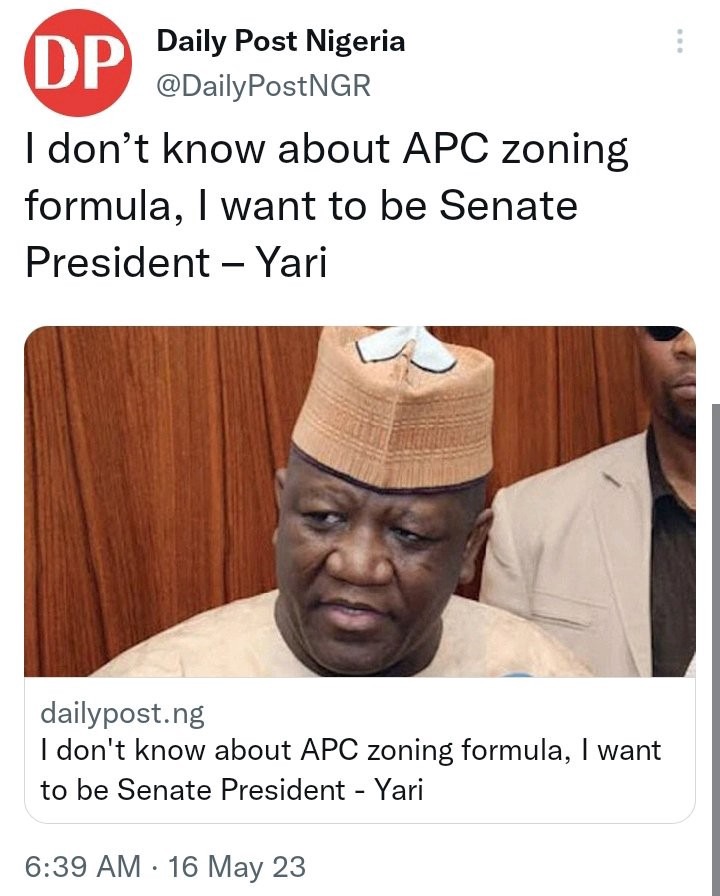 Photo credit: Daily Post
A former governor of Zamfara State, Abdulaziz Yari has insisted he's still in the race for Senate President.
Yari, who is now a Senator-elect, stated this on Monday while addressing reporters on the sidelines of the induction ceremony of new and returning members of the National Assembly.
The All Progressives Congress, APC, had nominated Godswill Akpabio and Jibrin Barau as Senate President and Deputy Senate President, respectively.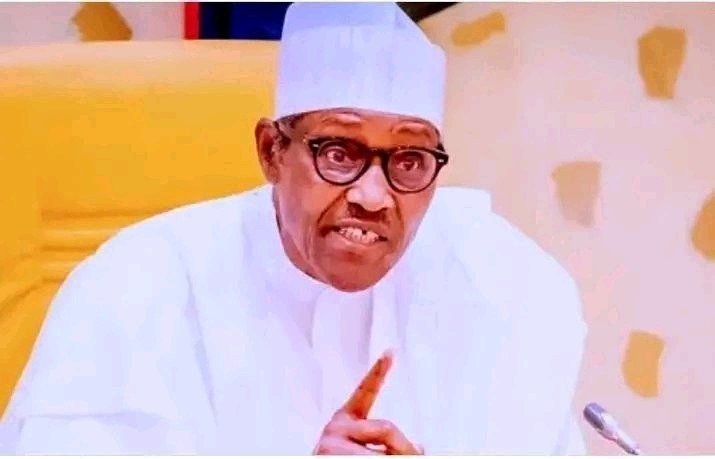 Photo credit || Google
avage (
)