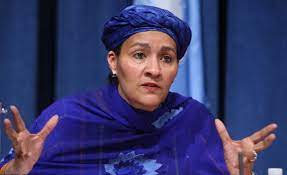 Photo: Amina Mohammed
According to Punch , Amina Mohammed, the Deputy Secretary General of the UN, has criticized Nigeria for moving too slowly toward achieving the Sustainable Development Goals.
She acknowledged that Nigeria is "off-track" but expressed confidence that things might be turned around.
Mohammed announced this at the Nigeria Governors' Forum's induction ceremony for newly elected and re-elected governors on Monday in Abuja.
She stated, "In 2015, nations from around the world, including Nigeria, gathered at the UN to approve the 2030 Agenda for Sustainable Development: a road map to a better future for all.
"We will be halfway to 2030 in September of this year. Unfortunately, we are lost but we can still save the SDGs.
If things continue as they have since 2015, it will take close to 30 years to put an end to the injustice and degrading effects of extreme poverty and 140 years before women enjoy equal opportunities in business and politics.
The governors were given the duty of concentrating on the electorate, and she added, "The only way to build a more cohesive nation and a more harmonious world is to deliver to people better services, better opportunities, better safety, better government, and a healthier environment."
Mohammed pledged to cooperate with the next administration, set to take office on May 29, 2023, on behalf of the UN.
Ochiboylatestnews (
)