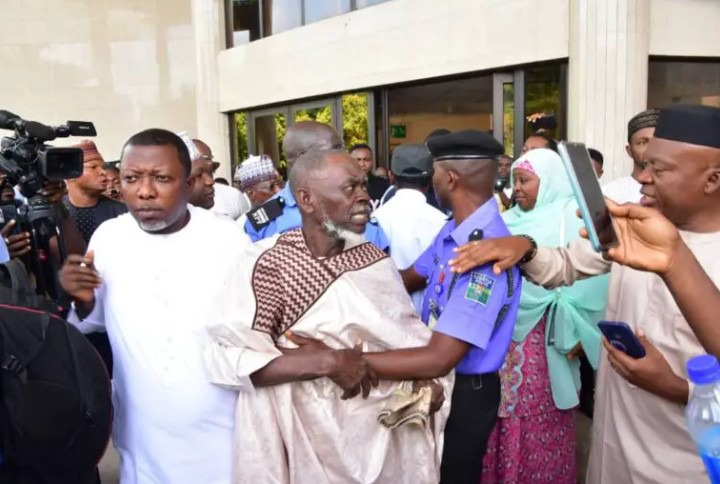 Source: Daily trust
As Lamidi Apapa, the chairman of the division of the Labour Party, left the Appeal Court on Wednesday, cries of "Ole," the Yoruba word for "thief," tore the air.
Apapa, who had earlier caused a commotion inside the court, was about to leave when he was mobbed by people.
After the proceedings, he tried to speak with a group of journalists, but the constant hubbub made it difficult.
Apapa ultimately made his way outside, but the mob blocked his view.
The crowd kept following the lawmaker as he struggled to get to his car while being guarded by police, filming the scene on their cell phones.
Tension increased when a person in the crowd removed Apapa's headgear and ran away.
Josephine Ekperobe, the secretary of the presidential election court, stepped in right away to restore order.
Obi and Dudu Manoga, the party's women's leaders, introduced themselves on the record of the court later, when the Labour Party issue was called.
However, Justice Haruna Tsammani, the court's presiding justice, asked Apapa to stop making his introduction when he got up to identify himself as the National Chairman since the court would not accept Apapa as the 'National Chairman' on official records.
However, Abure, who was seated next to Obi, made no effort to introduce himself.
Earlier, Apapa, who is locked in a battle with Julius Abure, suspended chairman of the party, had arrived the court for the case of a petition which Peter Obi, Presidential Candidate of the party, filed against the victory of President-elect Bola Tinubu.
He made attempted to sit where Labour Party officials were and a shouting match ensued.
"Who are you?" a party official had asked Apapa, who fired back saying, "You don't know me? Look at the way you are talking, who are you too?"
As the argument continued, Apapa raised his voice, saying, "Get up, you can not sit down here!"
 Dear esteem reader what are your opinion on this, kindly share your thoughts or comments in the comment section below as one Nigeria.
Khaleee (
)