The factional leader of the Labour Party (LP), Lamidi Apapa, was on Wednesday, May 17, booed outside the appeal court in Abuja, the venue for the presidential election petition tribunal
Some supporters of a faction of the LP outside the court shouted 'Ole' (a Yoruba word for thief) as Apapa's allies led him away
A man removed Apapa's cap and fled, as many verbal aggressions against the Labour Party leader continued
FCT, Abuja – An unidentified man on Wednesday, May 17, removed the cap of the factional chairman of the Labour Party (LP), Lamidi Apapa, and fled.
The man removed Apapa's cap while the factional Labour Party was making his way out of the Appeal Court in Abuja following the hearing of the case of the presidential candidate of the Labour Party, Peter Obi, against the president-elect, Bola Ahmed Tinubu.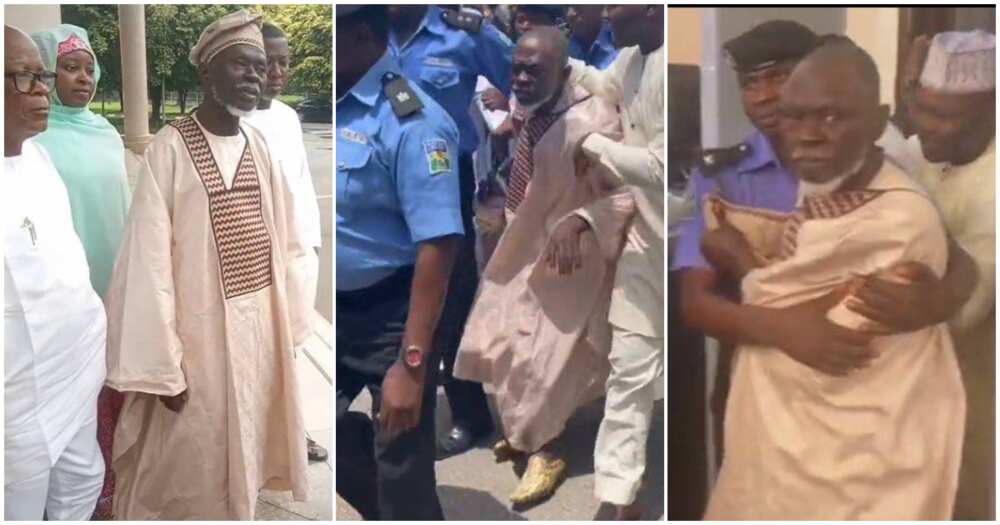 Antagonists disgrace Lamidi Apapa, call him 'Ole'
Shouts of 'Ole' (which means thief in Yoruba), rented the air as Apapa made his way out of the Appeal Court.
Apapa, who had earlier created a scene inside the court, was leaving when a crowd surrounded him.
The Labour Party chieftain, who was being shielded by policemen, struggled to get to where his car was parked, but the crowd kept trailing him.
The scene became more dramatic when a man among the crowd removed Apapa's cap, dropped it on the ground and fleeing.
The factional Labour Party leader had attempted to speak to newsmen after the proceedings, however, the ceaseless noise disrupted the process.
Court drama involving Lamidi Apapa
Hotnewsdrop.com earlier reported that there was a mild altercation on Wednesday, May 17, at the presidential election court over who is the authentic representative of the Labour Party in the petition against the election of Asiwaju Bola Ahmed Tinubu.
Recall that at last week's pre-hearing proceedings, the Labour Party was represented by the national publicity secretary, Obiora Ifoh, although the suspended National Chairman, Julius Abure, has always been in court but has never announced appearance.
However, at Wednesday's proceedings, Apapa, for the first time came to court in company of his allies.
Citing each other, the Lamidi Apapa-led faction of the LP questioned why members of the party loyal to Julius Abure were in the court.
They insisted that the ruling of a High Court of the FCT, suspending the Abure-led faction remains in force, consequently, they have no business being in Court.
Apapa was then asked to leave the courtroom following an argument with some rivals, which he obliged.
Tribunal: Apapa gives Peter Obi's lawyers 48 hours to report to him
In a piece of related news, Apapa gave lawyers representing the Labour Party and Obi a fresh order.
Apapa directed Obi's legal representatives at the presidential election tribunal 48 hours ultimatum to report to him.
Source: Hotnewsdrop.com