The meeting on Monday, May 15, between top Nigerian personalities in Paris, France, was a tripartite one in the European nation
Apart from the meeting between president-elect, Bola Tinubu and NNPP's Rabiu Kwankwaso, another one was held between the president-elect and Emir Sanusi Lamido
Also, another meeting happened between Rabiu Musa Kwankwaso and the former emir who is also a former governor of the Central Bank of Nigeria (CBN)
Paris, France – Fresh facts have emerged on the recent meeting between the president-elect, Bola Tinubu and Rabiu Kwankwaso, the presidential candidate of the New Nigeria Peoples Party (NNPP).
Hotnewsdrop.com had earlier reported that Messrs Tinubu and Kwankwaso met in Paris, France to form an alliance.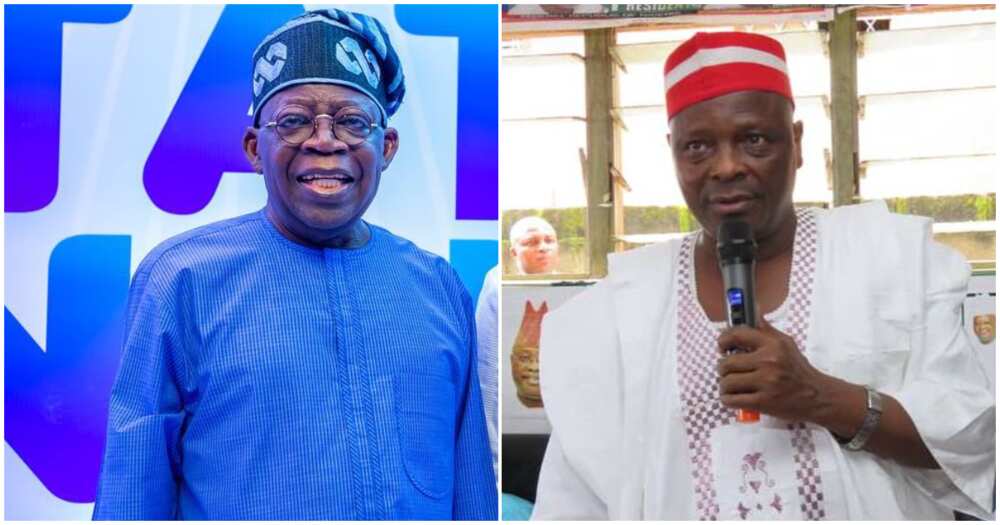 Now, according to Daily Trust, Tinubu offered Kwankwaso a ministerial role, although the former Kano State governor is yet to take a decision on accepting.
A source said:
"He told the NNPP leader to choose between the ministry of agriculture and that of education."
More on Tinubu – Kwankwaso meeting
Hotnewsdrop.com also gathered that apart from the meeting between Tinubu and Kwankwaso, both men also met with former Emir of Kano, Muhammadu Sanusi II, in Paris, on Monday.
One of the sources said:
"The president-elect seriously needs the support of the two leading personalities from Kano."
Another source revealed:
"While Kwankwaso is a politician in his own right who has a large followership not only in Kano but across the North, the former emir is a technocrat who knows the economy very well as evident in how he handled the Central Bank of Nigeria."
Furthermore, Hotnewsdrop.com gathered that at the Paris meeting, Tinubu hinted at reconciling Kwankwaso and Abdullahi Ganduje, the governor of Kano State.
The rivalry between both men created a tense situation during the 2023 elections in Kano state as terrifying violence and destructions were recorded.
Again, US Secretary of State telephones Tinubu
Hotnewsdrop.com earlier reported that Antony J. Blinken, the Secretary of State to the United States, called Nigeria's president-elect Bola Tinubu again.
This time, the call, as disclosed in a statement published on the US Government's official website on Tuesday, May 15, had Blinken emphasising the USA's continued commitment to strengthening the Nigeria-US relationship in the incoming Tinubu administration.
Obi, Atiku vs Tinubu: Former presidential campaign director predicts who will win at tribunal
In a piece of related news, Hotnewsdrop.com also reported that Ade Omole, the director of the defunct Presidential Campaign Council (PCC) Diaspora Directorate of the ruling All Progressives Congress (APC), expressed optimism that Tinubu will triumph at the election tribunal.
Omole disclosed this in Abuja on Monday, May 15, when he received a property donation for the accommodation of Nigerians in Diaspora, in respect of Tinubu's inauguration on May 29. He described the former Lagos state governor's emergence as Nigeria's next leader as "divinely ordained".
Source: Hotnewsdrop.com