The presidential candidate of the Labour Party, Peter Obi, has revealed how he confronted the All Progressive Congress (APC) leaders to consider the candidacy of Vice President Yemi Osinbajo for the presidency.
As reported by Punch, the former Anambra state governor stated this in London at the 63rd birthday ceremony of Chief Dele Momodu.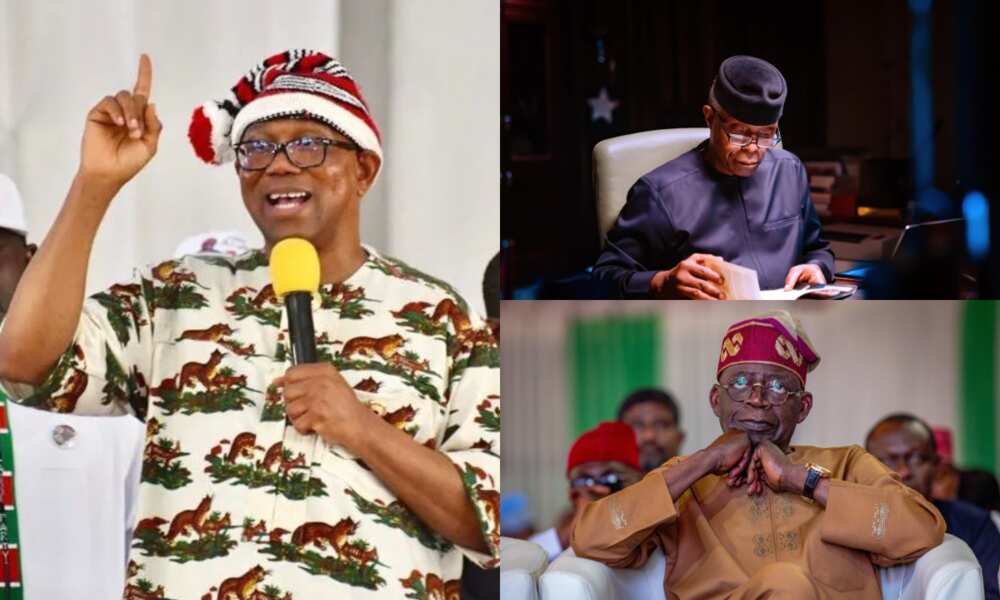 Obi stated that Nigeria would move forward under the leadership of Osinbajo if given the mandate.
Obi said:
"I am desperate to see Nigeria working, I can't hide it. I even confronted them if you want it, why didn't you bring Osinbajo so that we can have people who want to work for the country?
"Nigeria needs a healthy person and someone like him working 24 hours. Let's have the place working for everyone."
Reacting to Obi's perspective, Reno Omokori, the former aide to ex-President Goodluck Jonathan said Tinubu is by far a better candidate than Obi and Vice President Osinbajo combined.
He noted that despite Tinubu's history of corruption allegations and other speculations, his track record has proven beyond reasonable doubt that he is a better candidate.
Reno via his official Twitter handle, wrote:
"Tinubu may be a drug lord, and I will never have anything to do with such a vile person.
"However, put Osinbajo and Obi together and multiply them by 10, and Tinubu is still better than them in managing men and resources.
"Peter Obi is very wrong to say Osinbajo is better than Tinubu. You don't have to like somebody before you say the truth about them."
Obi's Petition Against Tinubu Stalls as Tribunal Adjourns Proceedings
Earlier, Hotnewsdrop.com reported that the petition filed by the presidential candidate of the Labour Party, Peter Obi, against President-elect Bola Tinubu has stalled again.
The presidential election petition tribunal on Wednesday, May 17, did not hear the petition as earlier scheduled.
According to the election tribunal, the hearing will resume Obi's petition on Friday, May 19.
Source: Hotnewsdrop.com