Step onto the red carpet and prepare to be captivated by the impeccable style of Priscilla Ojo. With an undeniable flair for fashion, Priscilla has emerged as the ultimate baddie, effortlessly commanding attention and setting trends with her stunning looks.
From glamorous gowns to edgy ensembles, she has curated a collection of red carpet moments that are nothing short of awe-inspiring.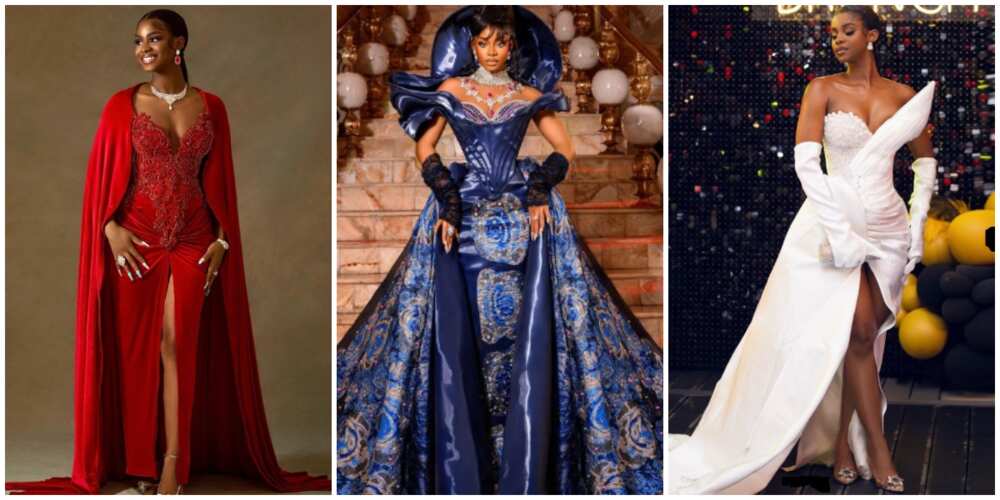 In this article, Hotnewsdrop.com takes a closer look at Ojo's seven show-stopping looks, each one a testament to her unrivaled sense of style and unapologetic confidence.
Check them out below:
Look 1: Priscilla rocks white ensemble
Here, the brown beauty stepped out for a brunch event rocking a gorgeous strapless dress.
The look featured a dramatic design in the front with a sweetheart neckline. She paired the look with gloves, keeping her use of jewelry minimum.
Look 2: Priscilla slays in see-through looks
If there is one thing the fashion influencer is not afraid of, it is daring loosk.
Here, she sports a see-through lace dress featured a corset bodice and pearls. Like the previous look, she dons elbow-length gloves with this look too.
Look 3: Priscilla rocks elegant look by Xtrabrides
The Nigerian influencer certainly commanded attention in this regalia for the premiere of Queen Charlotte.
What is more royal than the colour blue! She donned a stunning dress featuring a high-back collar, a corset bodice, gloves, and an overskirt.
The masterpiece was designed by Xtrabrides Lagos.
Look 4: Priscilla emits class in red regalia
The beautiful and stylish daughter of Iyabo Ojo always understands the assignment when it comes to regal looks.
Here, she donned a caped velvet dress with a low-cut neckline and a bedazzled bodice with a fabulous drape feature.
She sported a soft glam makeup look, pulling her hair to the back in a low bun, and accessorising with beautiful jewellery. The gold pointies were the perfect shoes!
Look 5: Priscilla in patchwork ankara dress
For the premiere of Battle On Buka Street, Priscilla sported a strapless sweetheart neckline dress.
She paired the look with an elegantly style gele headgear made from the ankara patchwork dress.
Look 5: Priscilla shows off legs in red look
Sporting a blonde look, Priscilla served it hot in this gorgeous red dress with a shimmery bodice.
The look featured an opening in the front and differently styled sleeves.
Look 6: Priscilla in see-through dress
The fashionista may just have a penchant for designs with gloves.
Here, she sports yet another see-through lace dress, pairing it with gloves and a furry wraparound.
Look 7: Priscilla in this beautiful birthday dress
For her birthday, Priscilla was a glowing princess in a stunning dress by celebrity designer, Veekee James.
The mono strap illusion sleeve dress featured a corset bodice and a floor-length mermaid skirt.
With a golden makeup look, she wore her hair in a low ponytail.
Birthday glamour: BBNaija star Nini makes strong case for mini skirts in 6 looks
Prepare to be captivated by the undeniable style and fashion prowess of BBNaija star Nini as she takes centre stage, making a strong case for the timeless allure of mini dresses.
With her impeccable taste and a keen eye for fashion, the Big Brother Naija star effortlessly showcases the versatility and elegance of these shorter garments in six jaw-dropping looks.
Get ready to be inspired and embrace the sartorial magic of Nini's six unforgettable looks.
Source: Hotnewsdrop.com