Four men captured at a wedding left social media users cracking up with their display at a wedding
The men were made to model in gele headgears and each man delivered their best model walk
The video which was captured by the MC has since gone viral on social media, cracking many netizens up
Beyong the glitz and glamour witnessed at weddings, there tend to be some pretty hilarious and rib-cracking moments where MCs put people on the spot and have them perform.
Such is the case witnessed in a viral video which saw men giving their best impression of a catwalk.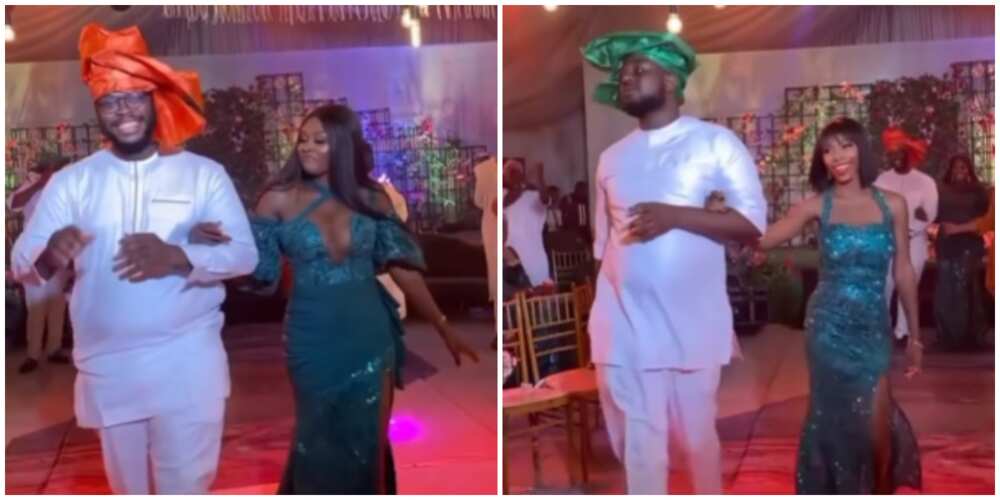 More interestingly, they were made to rock gele headgears supposedly styled by their female partners.
In the video posted by the MC, @aloydspeaker, the men who sport white kaftans are seen catwalking in hilarious manners, with their female partners by their side.
One of the men leaves the crowd cracking up after he does an imaginary hair flip.
Watch the video below:
Social media users react as men model gele headgear
uwazurum:
"It's the hair flip for me."
houseoftanima_:
"Number 1 and 3 that number 3na transformer gele it had to loose."
the_real_pearl1:
"3rd guy is the winner."
melin.daj:
"My gender wetin una no go use these guys do."
captean_lilien:
"Na this kind thing I dey find for party."
_.nan_cy_'s profile picture
"1 and 3the dedication is dedicating."
Wedding fashion: Bride's breathtaking dress by Nigerian designer wows netizens
Alonuko continues to ensure that black brides shine in exquisite designs that flatter their skin tone, and it is beautiful to see!
The UK brand owned by Nigerian designer, Oluwagbemisola Okunlola, made a bride a vision to behold on her special day.
Identified as Toni, a video of the gorgeous bride dressed in one of their breathtaking custom designs has gone viral on social media.
Fashionable kaftan outfit on viral model attracts attention and admiration from women online
Kaftans are unarguably a top-tier look when it comes to men's fashion, and reactions to a viral video serve as yet another reminder of why this is true.
Menswear fashion brand, Wamball, recently had, who is presumably the owner, model one of its designs.
The video sees the light-skinned gentleman in a deep green kaftan ensemble which he paired with a kube cap. While the design appeared neatly executed, the fine features of the model seem to have caught the attention of ladies more.
Source: Hotnewsdrop.com