On March 1, Arsenal defeated Everton 4-0 at the Emirates Stadium in the Premier League. With the victory, they move five points ahead of Manchester City in the standings. In their previous five games in all competitions, the Gunners had recorded two victories, two losses, and a draw.
After losing heartbreakingly to Manchester City 3-1, Mikel Arteta's team recovered with victories over Aston Villa (4-2) and Leicester City (1-0).
Prior to kickoff, Arsenal had a two-point lead over City in the standings thanks to their game in hand. In an effort to increase his team's lead at the top, Arteta started the game with the same lineup.
Both Everton and Arsenal presented a well-organized first impression due to their effective use of numbers and team form maintenance. The visitors put players high up the field, giving them a few scoring opportunities.
In the opening frame, they took four shots, two of which found their intended target. Unfortunately, their chances were few with only 34% possession. Arsenal, on the other hand, controlled the ball and took use of their opportunities.
In the 40th minute, they took their first chance at goal, and Oleksandr Zinchenko made a beautiful ball to Bukayo Saka on the edge of the box. To make it 1-0, the winger turned and sent the ball past Jordan Pickford and into the net's roof.
The Gunners were rewarded for their high press late in the first period as Saka picked the ball off Idrissa Gueye, with Gabriel Martinelli in the right position to receive the ball. He then drove forward and slotted it into the goal as Arsenal led 2-0 over Everton at half-time.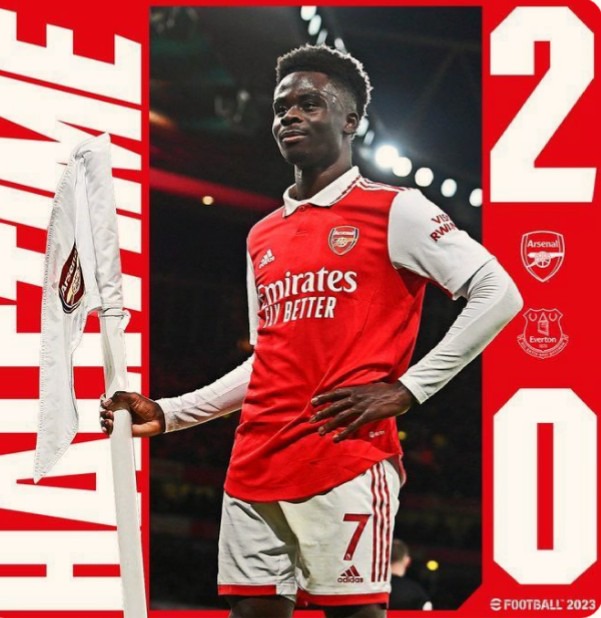 Jorginho was replaced by Thomas Partey, who had been out for a few games due to injury, was Arteta's only change at the half.
The Gunners had a good start to the second half, controlling possession and trying to increase their lead. In the second half, Dyche made three substitutions in rapid succession in an effort to get Everton back into the contest.
Leandro Trossard assisted captain Martin Odegaard in scoring Arsenal's third goal midway through the second half. Odegaard finished from close range.
As the home audience cheered "ole" after each pass, the hosts then played with more confidence. Martinelli then added a second goal to his tally by guiding a cut-back from replacement Edward Nketiah into the near post to make it 4-0.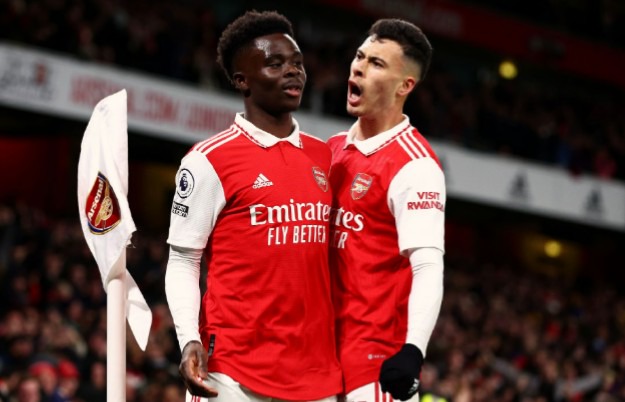 The Gunners held onto their lead and shut Everton out successfully to see out the remainder of the game as they secured a resounding result. On that note, let's take a look at their player ratings.
Arsenal Player Ratings
Aaron Ramsdale – 8/10
Benjamin White – 7/10
William Saliba – 7/10
Granit Xhaka – 6.5/10
Jorginho – 6.5/10
Gabriel Magalhaes – 7/10
Oleksandr Zincheko – 7.5/10
Martin Odegaard- 7/10
Gabriel Martinelli – 8.5/10
Leandro Trossard – 7/10
Bukayo Saka – 8/10
Substitutes
Thomas Partey – 7.5/10
Edward Nketiah – 6.5/10
Fabio Vieira – 6.5/10
SportzMedia (
)