The Court of Appeal, however, ordered INEC to upload the data on the BVAS machines to the back-end server and make certified true copies of the data to the respondents.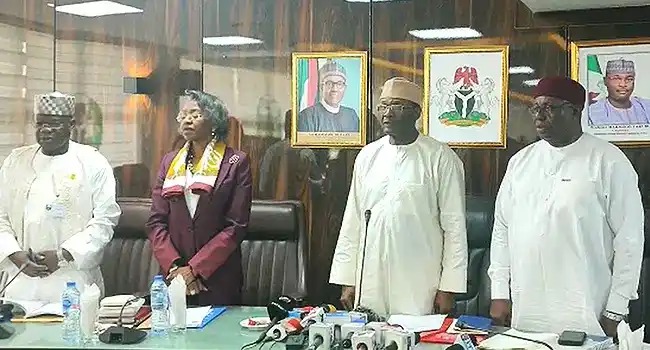 Accoding to Nigeria news agency, On Wednesday, the Bimodal Voter Accreditation System (BVAS) devices used for the 25 February presidential and National Assembly elections nationwide received clearance from the Court of Appeal in Abuja to be reconfigured.
Prior to Saturday's gubernatorial and House of Assembly elections across the 36 states of the federation, the electoral board was given permission to alter the voting equipment by a three-member panel of the appellate court chaired by Joseph Ikyegh.
But the tribunal did require the Independent National Electoral Commission (INEC) to make certified true copies of the data for the respondents and upload the data from the BVAS devices to the back-end server.
The court had already issued an injunction allowing Peter Obi of the Labour Party and Abubakar Atiku of the Peoples Democratic Party (PDP) to check the BVAS machines and other crucial election materials.
Before submitting their applications to contest the results of the 25 presidential elections in court, the opposition candidates who finished second and third behind the president-elect Bola Tinubu of the All Progressives Congress (APC) had asked access to the electoral materials.
In addition to giving them access to the documents, the court had, in its decision on March 3, prohibited INEC from altering the BVAS devices until the candidates completed their own inspection.
Nevertheless, on March 4, INEC submitted an ex parte plea asking the Court of Appeal to overturn the ex parte ruling in favor of the candidates from the PDP and Labour Party.
INEC's demand
According to the Agency of Nigeria (NAN), INEC requested a change in the court's decision so it may reconfigure the BVAS machines for the gubernatorial and state house of assembly elections on March 11.
The application was essential, according to INEC's attorney Tanimu Inuwa, a Senior Advocate of Nigeria (SAN), because INEC was forbidden from altering the data stored on the BVAS machines until the proper inspection had been carried out and was certified.
He continued by saying that the commission would need enough time to adjust the BVAS required to hold the poll on Saturday.
INEC would upload from the back end, he informed the court.
In his argument, Mr. Obi's attorney, Onyechi Ikpeazu, a SAN, pleaded with the court not to approve INEC's request because doing so would result in the loss of the data they sought.
All that we are asking for, he informed the court, is a physical check of the BVAS so that the evidence can be gathered before it is configured.
He argued against the INEC application as a result and urged the court not to approve it.
After hearing their arguments, the three-person panel of the appellate court postponed making a decision until Wednesday.
Goldenguy (
)