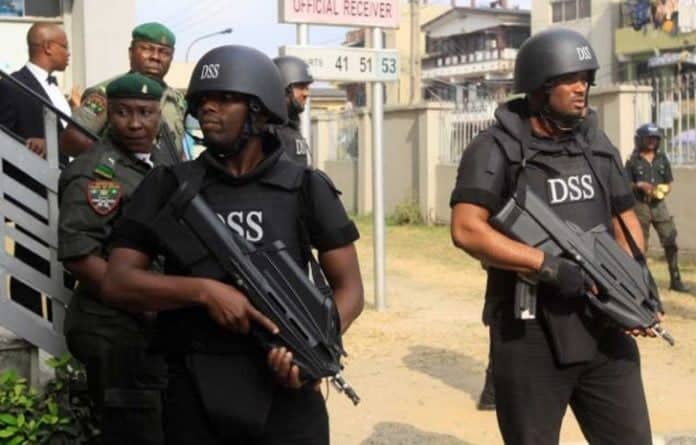 Four suspected terrorists were arraigned on Wednesday before the Chief Magistrate Court in the Isabo area of Abeokuta, Ogun State.
The Department of State Services (DSS) is in suit number MISC/15/2023, demanded that the suspects be remanded at the prison yard in the state.
The suspects are Aliu Abubakar, Abubakar Usman, Abubakar Amadu, and Adamu Aliu.
Hotnewsdrop understands that the suspected terrorists were arrested on December 9, 2022.
The DSS, however, arraigned them before the court yesterday charging them for terrorism and kidnapping.
The prosecution counsel, Emmanuel Zamba, told the court that the DSS had filed a motion ex parte dated March 15 in respect of the suit which contains a five-paragraph affidavit.
He accused the suspects of committing offences contrary to sections 2 and 3 of the Terrorism (Prevention and Prohibition) Act, 2022.
Zamba said: "We are praying for an order of this honourable court to detain the defendants in the custody of the Nigeria correctional service for 30 days pending the determination of the suit."
In her ruling, the Chief Magistrate, M O Osinbajo, granted the prayer of the DSS as pleaded by the prosecution counsel.
She, however, adjourned the matter till April 17 for further reports from the DSS.
Armed Robbers Dressed In Military Uniforms Nabbed
Meanwhile, the Police Command in Edo state has arrested four armed robbers donning military uniform who allegedly broke into the house of a woman through the ceiling around 2 a.m. on February 14.
Hotnewsdrop reports that the Police Public Relations Officer, Chidi Nwabuze, disclosed to journalists on Tuesday in Benin that the suspects attacked and robbed the woman of her money and other valuables in the Tenboga area.
The spokesman said the arrested suspects include Iyabo Victor, 35; Osas Aganmwonyi, 28; Nosa Owie, 24; and Idi Etukudo.
Allegedly led by Victor, the suspects donning military uniform and armed with guns broke into the victim's home in Teboga community and carted away phones and jewelries, police spokesman added.
The suspects were said to have forcefully transferred the sum of N447,000 from the victim's account and changed the money to foreign currency and shared it among themselves before they were arrested.
He added that the items recovered from them included an iPhone 13 worth N500,000, a N48,000 iPhone 6, and jewellery collection amounting to N850,000
"The suspects entered her house through the POP ceiling and robbed the entire family of their belongings and forcefully transferred N447,000 from the victim's account," the police spokesman said.
"They collected her phone and forcefully obtained her secret code number for them to have access to her bank details," he added.