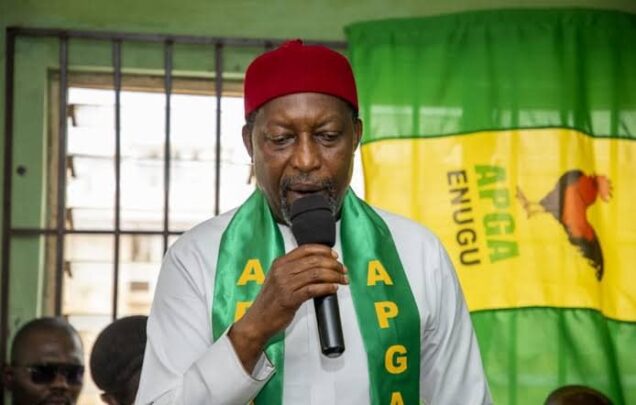 Former ward chairman of All Progressives Congress (APC) in Ozzi Edem, Nsukka Local Government Area of Enugu State, Mr. Mathew Enete, on Sunday led 500 APC members to endorse Mr. Frank Nweke Jr. as the next governor.
Nweke is the governorship candidate of the All Progressives Grand Alliance (APGA) in Enugu State for the March 11 governorship election.
Addressing the community at Afor Ozzi Market, Enete said the decision was based on the premise that APGA was their own party, adding that they would prove this at the polls on March 11.
He added that the APC members in the community would now redirect their energies into ensuring that Nweke Jr. emerges as the next governor of Enugu State.
Responding to the endorsement, Nweke thanked the community for the warm welcome accorded him and for aligning with APGA's philosophy of shared prosperity where nobody is left behind.
Nweke assured the people of his commitment to rehabilitating the major road leading to the Edem community which had remained in terrible condition for decades.
The APGA governorship candidate also pledged to ensure that all outstanding pensions were paid and further guaranteed the timely and regular payment of pensions and gratuities to retirees.
Nweke urged the people to vote massively for him and for APGA candidates at the House of Assembly election of on March 11.
He stressed that his emergence as governor would enable him to fulfill his promises to the people of Enugu State.
Welcoming the APC members into the APGA family, Nweke said he was confident that God would grant their request for good leadership if he eventually won.