Forget last election experience, support Makinde for second term – Tegbe Isa Isawade – 1 hour ago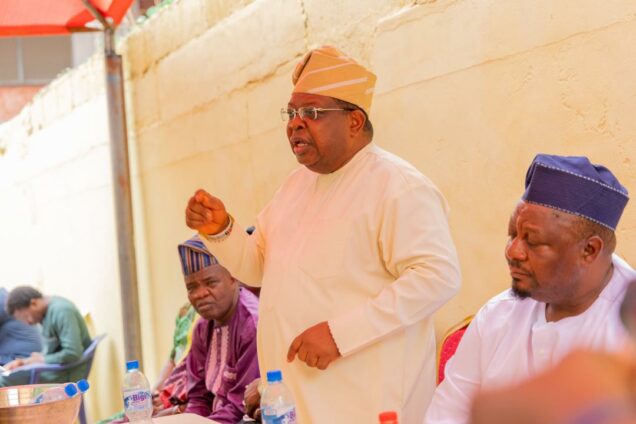 Peoples Democratic Party (PDP) candidate for Oyo South Senatorial District, Chief Joseph Tegbe, has urged his supporters to ensure the re-election of Gov. Seyi Makinde on March 11.
He made the call during a meeting in Ibadan with members of his campaign council and other supporters across the state.
The News Agency of Nigeria (NAN) reports that Tegbe lost the Feb. 25 senatorial election in Oyo South to Alhaji Sharafadeen Alli of All Progressives Congress (APC).
Tegbe, who urged the supporters to put the outcome of the National Assembly elections behind them, vowed to explore all available legal means to reclaim his mandate from Alli.
He described Makinde as a statesman who prioritised the development of Oyo State and the welfare of the people in his first term, leading to the many milestones recorded in the last four years.
Tegbe called on his supporters to ensure that they cast their votes for the governor, assuring that they had a lot to benefit from if he was returned for a second term in office.
Members of the Tegbe support group from various zones of the state took turns to eulogise the Ibadan Mogaji, restating their commitment to his cause.
They affirmed their readiness to double their efforts during the forthcoming governorship and House of Assembly elections, scheduled for March 11, in accordance with Tegbe's directive.
The PDP senatorial candidate urged his supporters not to be downcast at the result of the last election, as declared by the Independent National Electoral Commission (INEC).
He assured them that no stone would be left unturned to ensure that his stolen mandate was reclaimed.
"I, Joseph Olasunkanmi Tegbe, am assuring you that by the grace of God and with your support, I will reclaim my mandate.
"We have discovered some discrepancies and electoral fraud in some polling units across the nine local governments in Oyo South senatorial district," he said.
He encouraged his supporters to remain enthusiastic about delivering Makinde's mandate for the people of the state.