In the gubernatorial and House of Assembly elections held yesterday in Nasarawa State, Senator Abdullahi Adamu, the national chairman of the ruling All Progressives Congress, lost to the Peoples Democratic Party in his polling unit. The Independent National Electoral Commission's presiding officer, Okoh Everest, revealed that the PDP received 159 votes while the APC received 129 in his GRA (A1) Polling Unit 010 in Keffi, the administrative center of the Keffi Local Government Area.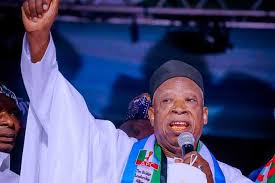 The outcome also revealed that the Labour Party received 0 votes, while the Social Democratic Party received 1 vote. However, recall that two days before the February 18 election, LP had collapsed its structure into the PDP for the governorship and State House of Assembly elections. It was also reported that PDP defeated APC in the House of Assembly election in the voting district of the APC leader. According to the INEC results, PDP received 133 votes compared to 108 for the APC, and governor Inuwa easily won the polling unit.
Meanwhile, as reported earlier, the opposition Peoples Democratic Party (PDP) floored the All Progressives Congress (APC) in one of the polling units in Sir Kashim Ibrahim Government House, Kaduna in Saturday's governorship poll.
Samogs2003 (
)