Adegboyega Oyetola, a former governor of Osun State, has said he is confident in his eventual return to the office.
While speaking briefly at Monday's memory prayers for his late mother, Alhaja Wulemot Oyetola, in Iragbiji, Osun State, Oyetola said that his mandate is very much intact and will be regained shortly.
Quote
Thank God for the blessings He has bestowed upon us. We give thanks to God for granting us victory for Asiwaju Bola Ahmed Tinubu, and I express my gratitude to the people of Nigeria for their unwavering support.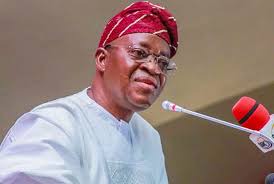 The APC is the only party that can lead us to victory, and we want you to know that. God, Himself threw this celebration just for us. There are advantages there. If you're going to vote, please vote APC all the way. If we wish to reap the benefits of the federal government, we need to send representatives from our area to the House of Representatives. When we get back into power, we'll be able to count on these individuals to help us out.
We have no faith in anything save the power of prayer. Our upbringing consisted of those beliefs. Let us keep praying so that we may finally give thanks to God," he said.
Oyetola also praised residents of the state for their unwavering backing of Bola Ahmed Tinubu, the presidential candidate of the All Progressives Congress (APC), and for voting in such large numbers for Tinubu.
DailyUpdates05 (
)