Igbos Did Nothing To Tinubu And Sanwo-Olu But You Orchestrated A Rage Against Them — Oby Ezekwesili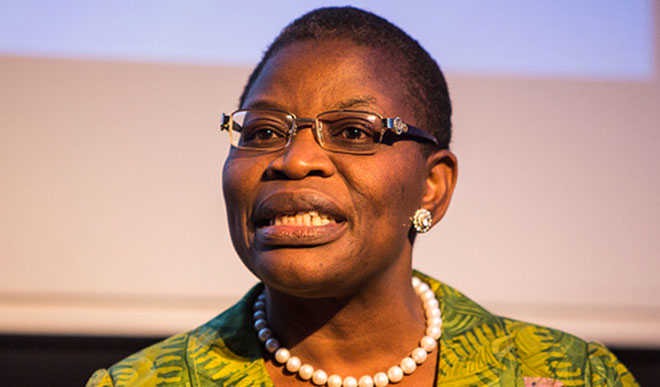 Obiageli Ezekwesili, a specialist in economic and human capital policy who goes by the online handle Oby Ezekwesili, has taken to social media to criticize both Bola Ahmed Tinubu, the incoming president of Nigeria, and Lagos State Governor Babajide Sanwo-Olu.
Her message was in response to the recent attacks on Igbos in some parts of Lagos State during the March 18, 2023 Gubernatorial and State House of Assembly election.
The former Vice President for the World Bank's Africa Region took to her verified Twitter account to condemn the attacks on voters in some parts of Lagos State.
Her message read, "Ndi Igbo did NOTHING to @officialABAT nor @jidesanwoolu but you orchestrated a rage against a people who have dwelt peaceably in Lagos ever before you both became politicians.
Today, you even disenfranchised Yorubas that your supporters said "looked Igbo".
You will account.✍🏾✍🏾"
She continued by stating that WhatsApp and social media are flooded with messages from voters who were injured by thugs because they were Igbo and stopped from voting.
In her words, "the social media and WhatsApp messages are flooded with voters who were wounded by thugs for "being Igbo" and prevented from voting.
What is that? What exactly is this brand of politics in Nigeria in 2023?
We will have to answer this question to move forward. And we shall. ✍🏾"
Recall that it was previously reported that non-Yoruba speaking voters in the Oshodi-Isolo area of Lagos State were chased away and denied the right to vote by unidentified mobs who stormed certain polling units with iron rods and sticks.
According to reports, they created mayhem in the polling units and pushed the voters to scamper for their safety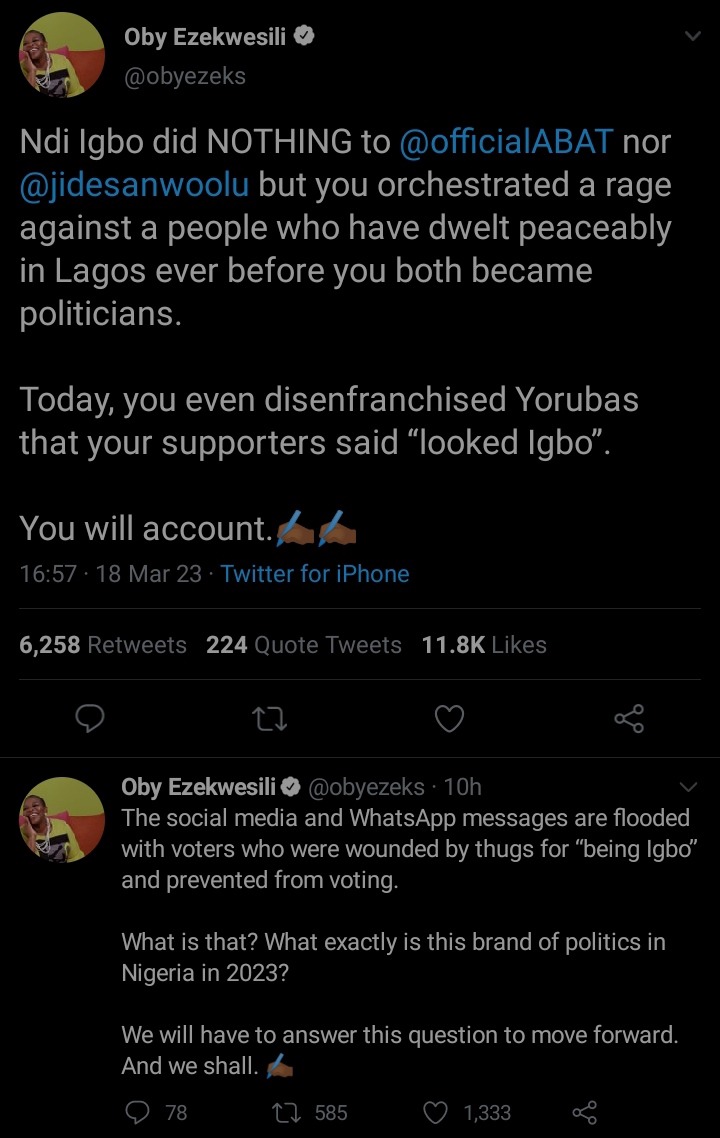 Empirewriter (
)