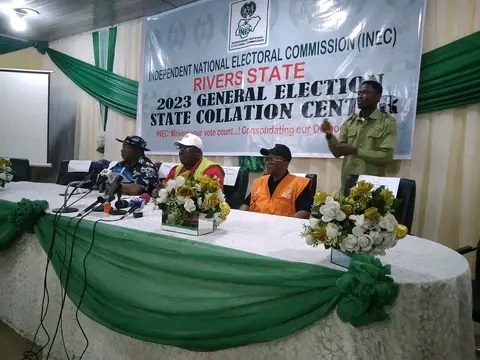 By Okafor Ofiebor/Port Harcourt
The Independent National Electoral Commission, INEC, Collation Officer for Port Harcourt City local government area, of Rivers State in the February 25 presidential and national assembly election, Professor Omiete Briggs, has been replaced over death threats.
INEC Resident Electoral Commissioner in Rivers State, Dr. Johnson Alalibo Sinikiem announced the replacement of the Collation following persistent death threats to her life.
According to him, the husband of the Professor, Dr. Amoniya Briggs, has complained that his wife has been receiving death threats from some people because she refused tamper and compromise with the results of the Saturday, February 25 Presidential and National Assembly election in Port Harcourt local government.
Prof. Briggs was supposed to continue her role as Collation Officer for Port Harcourt City local government during the Saturday March 11 Governorship and House of Assembly election, but INEC had ask her to stop for the sake of her security.
While speaking to journalists in Port Harcourt, Rivers state on Monday, March 6, Dr Lulu-Briggs, had complained that his wife has received series of death threats over her INEC's assignment.
Recall that during the collation of results of the Presidential and National Assembly elections polls on 27 February, a group of men had besieged the headquarters of INEC, accusing Briggs of manipulating and running away with the Port Harcourt City Local Government election results.
Mrs. Briggs had to be quickly escorted into the INEC premises by armed security operatives who shielded her from being attacked.
After the collation, Peter Obi won the Port Harcourt LG with 62,450 votes, while the Peoples Democratic Party (PDP) garnered 7,203 votes and the All Progressives Congress (APC) 5,562 votes.
During interview with journalists, the husband of Prof Briggs said there had been strange human and vehicular movements around their residence, adding that the threats had spiraled to the university campus where his wife teaches.
"There has been a viral video, where it emanated from, we don't know but we feel that it was something done within the confines of INEC. During the elections, she was under so much pressure to act otherwise. However, because of her belief and her faith, she stood by the results and declared what the people voted for.
"Now, in as much as we thank Nigerians for calling and commending her, on the flip side, there have been so many threats and unknown numbers calling, threatening her left, right and centre. She came to serve her country. The purpose of this briefing is to let the security agencies, especially the Inspector General of Police and INEC know what is happening.