It Hurts Me When Educated People In Ikoyi Voted Against APC, I Hope They Redeem Themselves – Osoba
Olusegun Osoba, a former governor of Ogun State, has spoken out about how disturbed he was to learn that some people in Lagos voted against the ruling All Progressive Congress (APC) in the previous presidential election. Channels TV said that Osoba questioned why people in Lagos, particularly in Ikoyi, Eti-Osa LGA, voted against the ruling party despite the party's strong performance statewide.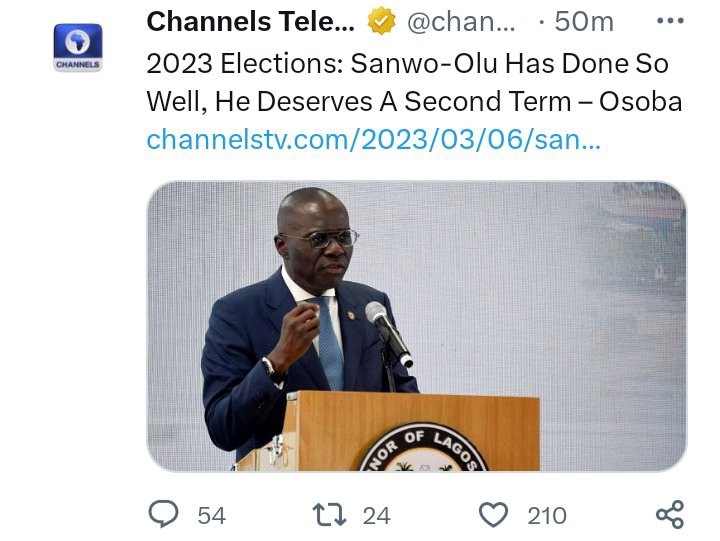 Remember that in the last presidential election, Bola Tinubu's stronghold state of Lagos was won by Peter Obi of the Labour Party (LP).
When asked for a response, Osoba remarked that Lagos has been given so much, and that the people there may make amends by supporting Governor Babajide Sanwo-Olu in the upcoming election. He went on to say that people should have access to a performance-based government and that they shouldn't be divided by things like religion and race.
"When educated individuals and others voted against APC in Ikoyi, for example, in Lagos, it pained me and it gives me sleepless nights. It's clear that Governor Babajide Sanwo-Olu has made a positive impact in the Ikoyi neighborhood. Ikoyi had fallen into disrepair and was on the verge of becoming a slum. As Sanwo-Olu arrived, he revitalized the area significantly.
You can access a government in any part of the world and cast an electoral vote based on its accomplishments. In the future, I pray that they are able to change their reputation for the better."
Loyalnews (
)