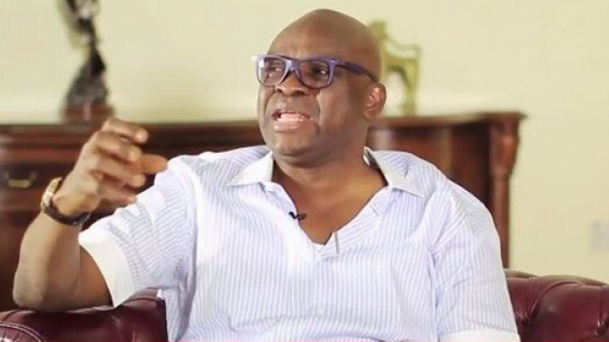 Former Governor of Ekiti State, Ayodele Fayose, has admonished the governorship candidate of the Peoples Democratic Party (PDP) in Lagos State, Abdul-Azeez Adediran better known as Jandor and his running mate, Funke Akindele (Jenifa), to forgo their 2023 ambition.
Hotnewsdrop reports that Fayose advised the PDP candidates on Tuesday morning while appearing on TVC's New programme 'Your View'.
The former Governor said it would be best for Lagosians to consider re-electing the incumbent Governor of the state, Babajide Sanwo-Olu, at the poll on March 11.
Fayose, who maintained his defence that the All Progressives Congress (APC) presidential candidate, Bola Tinubu, won the just-concluded presidential election, stressed that Lagos State could not be handed to people who are not up to the task.
According to him, the PDP candidates in Lagos state are like theatre people, and they have no capacity to rule Lagos.
A Southerner Can't Become Governor In Kano
Speaking on the ambition of the Labour Party (LP) candidate, Gbadebo Rhodes-Vivour (GRV), Fayose said the young politician could not stand against the APC's candidate in the coming election.
According to Fayose, certain things are not possible in Nigeria. He stressed that GRV could not govern Lagos the same way it can not be possible for a southerner to get to Kano State despite its cosmopolitan nature and contest to be a state governor.
Hotnewsdrop understands there have been tribal discrimination and controversies about GRV since he expressed interest in succeeding Governor Sanwo-Olu.
I Advised Atiku But He Was Misled
Speaking further on the just concluded presidential election, Fayose said people around PDP presidential candidate, Atiku Abubakar, misled him during the electioneering period.
Fayose claimed that he advised the former Vice President, amid the crisis rocking the party before elections, to visit Rivers State Governor Nyesom Wike for a resolution talk but that Atiku didn't listen.
According to him, people around Atiku disagreed with his opinion, saying the 'To Be Excellency' cannot stoop so low to beg Wike as the leader of the aggrieved five governors of the party known as the G5.
Fayose also berated the Wazirin Adamawa for failing to yield to the request of the PDP G5 for a Southerner to replace Iyorchia Ayu as the national chairman of the party.