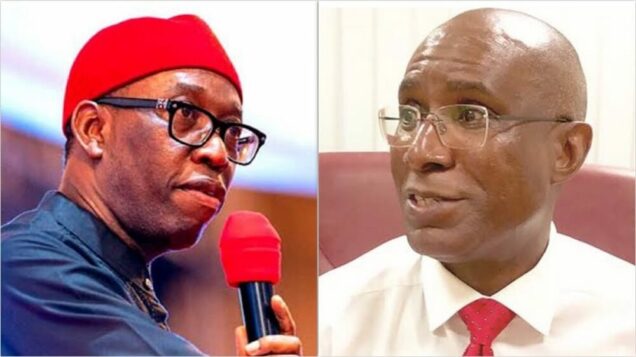 By Ifeanyi Olannye
Gov. Ifeanyi Okowa of Delta, has condemned claim by an opposition candidate for the March 11 Governorship elections in the state for alleging that his (Okowa) administration borrowed N850 billion.
Though the governor did not name the candidate, but PM NEWS can confirm that Ovie-Omo Agege, the candidate of APC has been alleging that the Okowa had embarked on reckless borrowing with nothing to show for it.
But Okowa described the claim as a lie.
The Governor spoke while playing host to executive members of Urhobo Progress Union (UPU), who paid him a courtesy visit at Government House, Asaba.
The governor, while congratulating executive members of the union on their successful emergence and inauguration, said his appointees, including sons and daughters of Urhobo nation, had worked with him to stabilise governance in the state.
"They (political appointees) have all worked hard with me to be able to stabilise this government and achieve what we have achieved.
"It is my duty to truly thank them for the various roles that they have played.
"The only thing that I find very funny is that now people are beginning to spread lies.
"Recently, one of your sons who is also a candidate in the forthcoming election, has been spreading a lot of lies about the government borrowing about N850 billion, that is a lie.
"Somebody do not need to lie to their people just to attain the office of governor.
"The office of a governor is a decent office and a position of responsibility and integrity, therefore, anyone who aspires to be there must be one who is ready to speak truth to the people.
"You do not need to lie to the people just because you want the votes of the people. Anyone who does that is not worthy to be the governor of Delta State," he said.
The governor called on various ethnic nationalities in the state to maintain peace and unity in the course of the March 11 Governorship and State House of Assembly elections in the country.
He particularly called on sons and daughters of Urhobo nation to continue to promote peace as the nation transit from one government to the other.
"We request that as we transit from one government to the other, that you do the best you can to try and call on the sons and daughters of Urhobo nation to maintain peace in the course of the elections.
"I also want to urge you to remember that as the leadership of the apex body of the Urhobo nation, the UPU, it is a strong duty of yours to relate with other ethnic nationalities to ensure that working together, we are able to protect and strengthen the peace that we now enjoy in Delta.
"In the last eight years, it has been a very good story for us. Our ethnic groups have tried to bond together and I want to urge you to do all you can to relate with other ethnic nationalities.
"Peace is very important to us. We don't wait until things get bad before we start building peace. We can work towards building peace by ensuring that there is inclusiveness in government.
"I am glad that the Urhobo House is where it is today and I thank God for the relationship that enabled us to support the project and that the funds were put to good use," Okowa said.
He, however, expressed the hope of having a good working relationship with them in the remaining two months plus.
Earlier, the President-General of UPU, Ese Owe, who led executive members of the union on the courtesy visit, said that they were in Government House to formally introduce themselves to him.
He expressed appreciation to the governor for the opportunity given to Urhobo sons and daughters to contribute their quota to the development of the state through the appointment he (Okowa) gave to them in various capacities. (NAN) (www.nannews.ng)