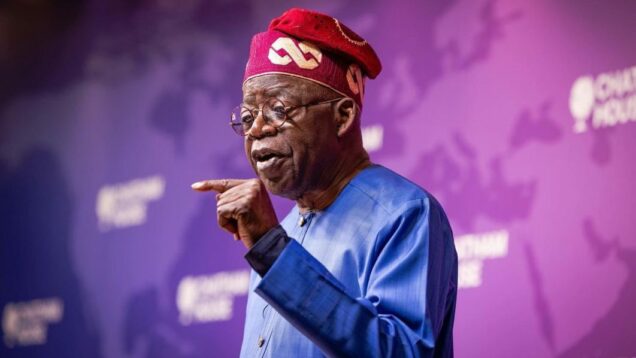 By Jethro Ibileke
The Chairman of the All Progressives Congress (APC), in Edo state, David Imuse, has attributed the success of Asiwaju Bola Ahmed Tinubu in last Saturday's presidential election to hard work and proper planning.
He disclosed this on Wednesday in Benin, during a chat with journalists.
Imuse described the APC flag bearer as the most qualified among all the candidates of the parties the featured in the election.
According to him, "In this presidential election that had just been conducted, you will all agree with me that Bola Ahmed Tinubu was the most prepared of all the candidates.
"His coming onto the race was not by accident, he has worked for it, he has planned for it, he is a pan Nigerian. That is responsible for his acceptability and victory."
Imuse also expressed confidence that the president-elect, with his wealth of experiences, would be the best Nigeria has ever had, noted that the party is optimistic of victory in the forthcoming state house of assembly elections.
He, therefore, assured that Tinubu's "renewed hope" manifesto would come to fruition across all sectors, saying that the expectations among Nigerians is quite high.
Commenting about other candidates, the Edo APC Chair described Peter Obi of Labour Party (LP) whom he commended for his effort, as a future presidential candidate.
He said: "Atiku [Abubakar] did his best for the race, but he just wanted to answer the name President.
"I must sincerely commend Obi for his effort, he did very well. All he needs to do is just to imbibe the culture of democracy, to accept his minor loss in good faith, the future belongs to him.
"Asiwaju, being the politician he is, is the most experienced politician alive, he knows what to do, he's not a winner take all, he will carry everybody along in his usual way of doing things, he is a transformational leader who knows how to identify talents, nurture them and position them.
"Even when you're not for him and he knows you have talents, he will cultivate you, bring you closer so that at the end of the day, the society will be better for it."
Commenting on 11 March, 2023 State Assembly election in the state, Imuse disclosed that the party targets to win the 24 seats in the House.
"The struggle continues ahead of March 11. We just had the national elections and what we are heading to is the local elections. We are hopeful that we will get the 24 seats in the State House of Assembly," he said.