The G5 Govs Who Couldn't Deliver Themselves For Their Senate Bid Can't Claim Glory In Atiku Loss-Dino Melaye
The former senator representing the good people of Kogi West Senatorial district, spokesperson and director of public Affairs of the PDP presidential campaign committee, Dino Melaye, has said that the G-5 governor who were demanding for the resignation of the PDP National chairman, Ayu, before the support Atiku Abubakar cannot claim the glory of Atiku loss, based on the fact that the couldn't deliver themselves for their senatorial bid.

Senator Dino Melaye made the statement while reacting on his official Facebook.
According to his statement, he states that Melaye, and I quote, "The G5 who could not deliver themselves for their senate bid cannot be claiming glory in purported Atiku's loss.
He also said that "Wike Should Bury His Head In Shame and shut up, I Warn Him To Stop Insulting Atiku, enough is enough. Last warning. G5 has no relevance in the just concluded presidential election.
Below is the screenshot of the Tweet.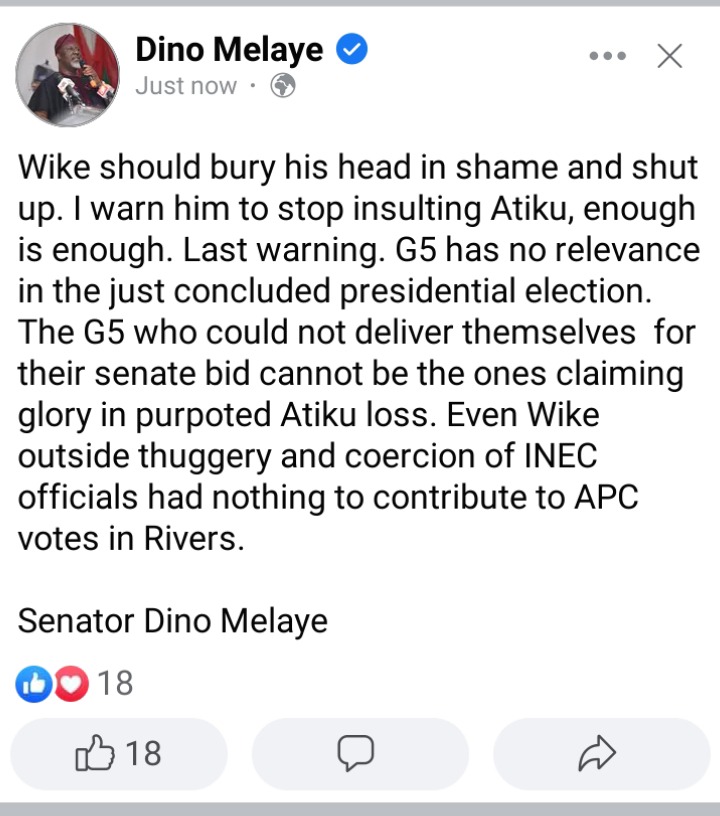 oLatest (
)