Today's Headlines: Nigerians Voted LP Because They're Tired Of PDP, APC– Bode George, Kano Monarch Shot Dead
Nigerians Voted For LP Because They Are Tired Of PDP, APC –Bode George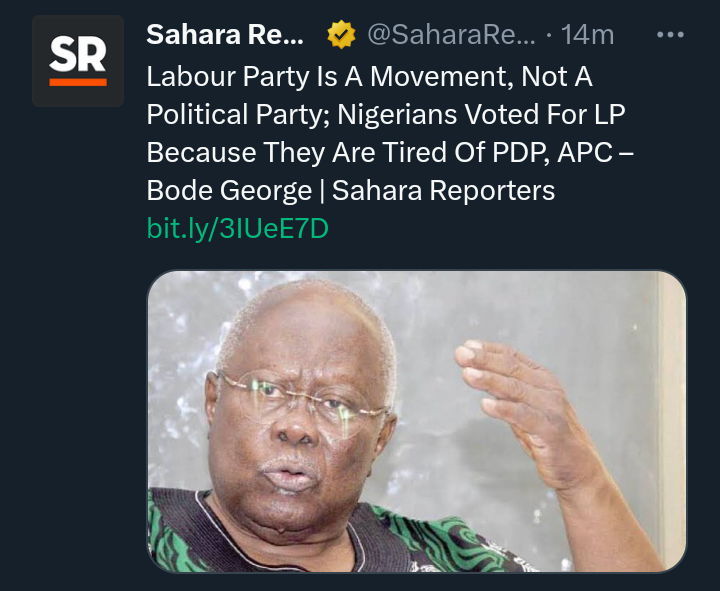 Achieftain of the Peoples Democratic Party (PDP), Bode George, has described the Labour Party (LP) as a movement and not a political party per se.
Speaking during an exclusive interview with The Punch, George said that Nigerians voted for its presidential candidate, Peter Obi, on February 25, 2023, presidential and elections because they were tired of the ruling All Progressives Congress (APC) and the Peoples Democratic Party. 
He lamented that members of PDP G5 governors – Governor Samuel Ortom of Benue State and Governor Ifeanyi Ugwuanyi of Enugu State lost their senatorial bcids because there was an attempt to kill the key figures in the battle. 
Asked how he feels about the Labour Party winning in Lagos State, in the presidential election, the former Military Governor of Ondo State said, "I don't see the LP as a party per se. It is a movement. People got tired of the lacklustre attitude of these two political parties.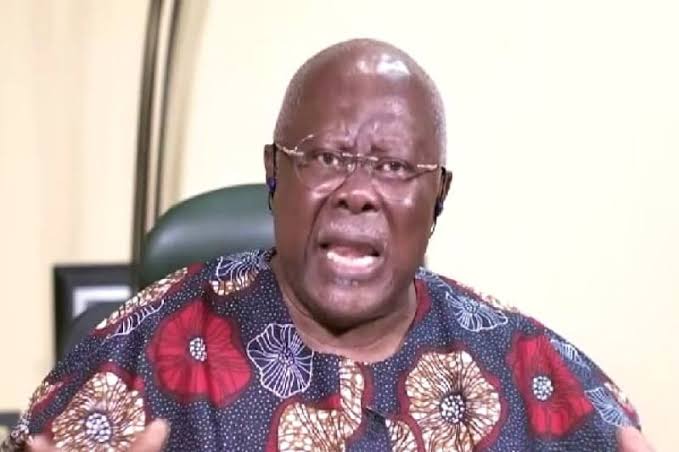 Photo credit || Google
"The younger generation including my children told me to my face that daddy I am voting for this new party. We are tired of your PDP and APC. That was what happened in Lagos. We made it clear that if you don't make a southern person the presidential candidate of our party, we are not going to work with you. It is a misery.
Kano Monarch Shot Dead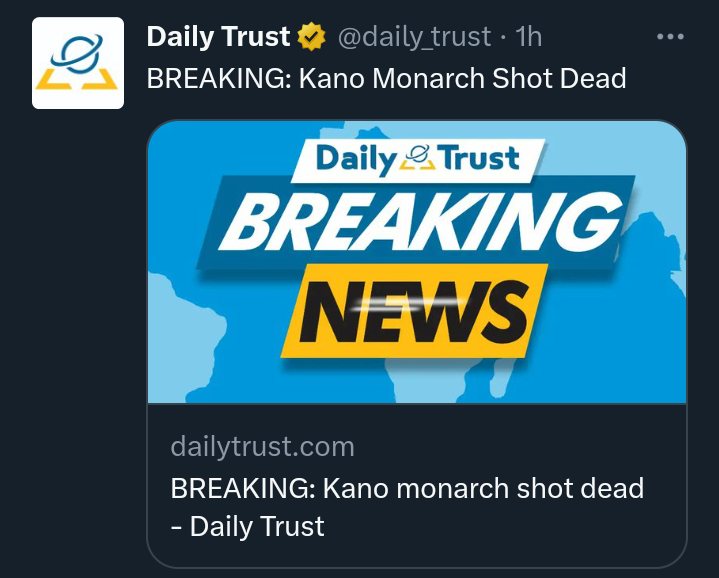 The head of Maigari village in Rimin Gado Local Government Area of Kano Atate, Dahiru Abba, has been shot dead.
His son, who is the Chairman of Rimin Gado Local Government, Barrister Munir Dahiru Maigari, confirmed the incident to Daily Trust.
Maigari said, "It happened around 2am. They came and did what they did. We are now preparing for his burial.
"We cannot say anything regarding the cause of what happened for now, but he is dead and we pray for God's mercy on his soul."
He added that the gunmen broke into the monarch's residence and assaulted him before opening fire.
He explained that the burial ceremony will be conducted at his residence in Maigari village on Sunday morning.
When contacted, the Police Public Relations Officer, SP Abdullahi Haruna Kiyawa said he was not aware of the incident but would investigate and get back to our reporter.
Kano has been relatively peaceful in the high wave of insecurity in the North West region.
Domestic worker cuts off woman's genitals for money rituals in Anambra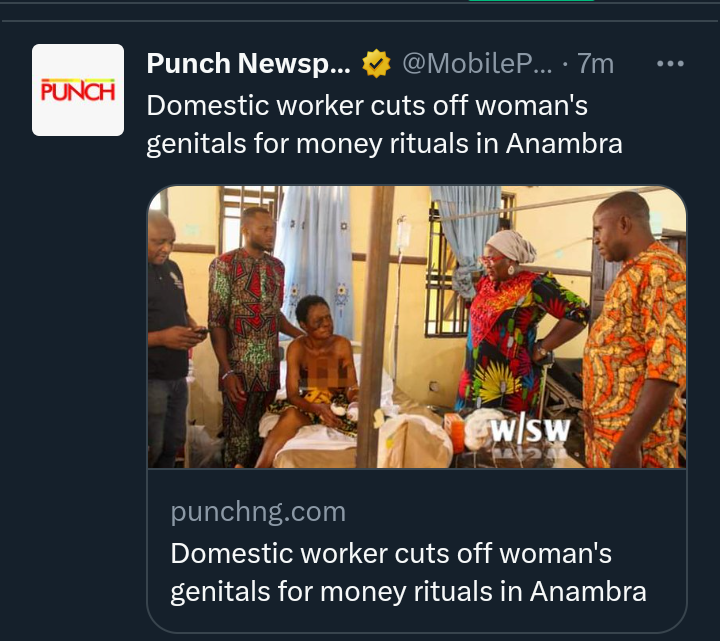 A domestic help, identified as Onyebuchi Ezeh, has cut off the genitals of a 72-year-old woman, including other parts of her body in an attempt to use it for money ritual purposes.
The incident happened in Umunze, Orumba North Local Government Area of Anambra State on Thursday.
It was gathered that the victim was rescued by neighbours who later took her to the hospital after she raised the alarm.
The suspect, who was later caught confessed that he and some others at large, committed the act on the instruction of a native doctor, who had promised to make them rich if they brought the required organs.
The media assistant to the commissioner for women affairs and social welfare, Miss Chidinma Ikeanyionwu, disclosed this to journalists on Sunday.
Ikeanyionwu said the victim was currently recuperating at the Chukwuemeka Odumegwu Ojukwu University Teaching Hospital, Amaku Awka, where the commissioner, Mrs Ify Obinabo had visited her.
Ikeanyionwu said, "The incident was discovered after the survivor raised the alarm on Thursday. One of her workers alongside two other men stampeded her in her house and cut off her genital organs including nipple, ear, fingers among others.
At Least 18 Dead, 1,300 Homeless In Indonesia's Storage Depot Fire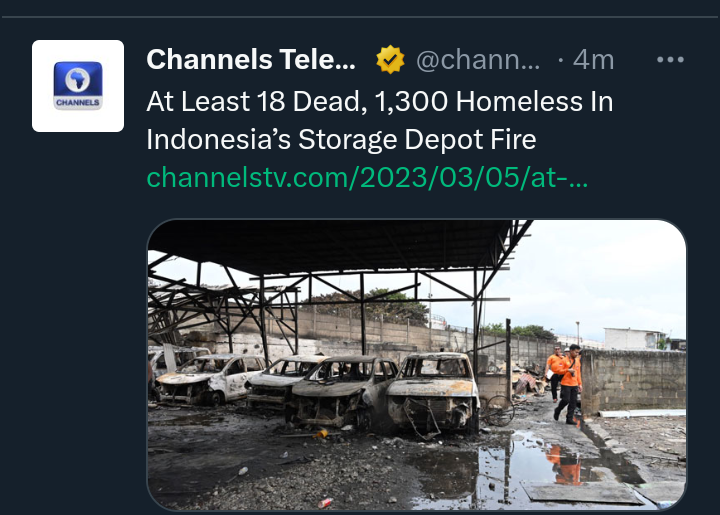 Residents searched through the remains of their charred homes Saturday as Indonesian state energy firm Pertamina apologised for a fire at a Jakarta fuel storage depot it said killed at least 18 people, including two children.
Dozens were also injured and police said three people were still missing after Friday night's blaze at Pertamina's Plumpang depot in north Jakarta. Officials called on Saturday for an audit of "all fuel facilities and infrastructures" in Indonesia.
Pertamina, which controls the majority of Indonesia's fuel and energy distribution, publicly apologised for the fire.
"The management and I would like to convey our deepest apology for this incident. None of us expected this incident to happen," Nicke Widyawati, Pertamina's director, told a televised news conference.
Thirty-five people were still being treated, with many suffering severe burns, while more than 1,300 people living in residential areas near the depot had to be evacuated. The death toll had risen by one during the day.
"What I saw was smoke travelling from the left to the right, about 10 minutes later there was an explosion and the fire spread catching the houses," witness Selamet, who like many Indonesians only has one name, told AFP.
Avoid Predecessors' Mistakes, Pa Fasoranti Tells Tinubu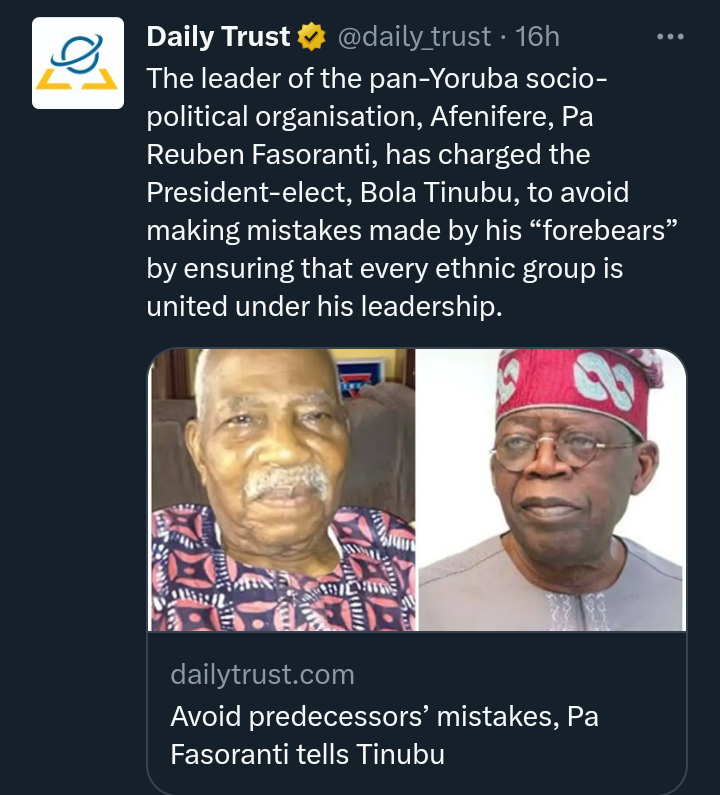 The leader of the pan-Yoruba socio-political organisation, Afenifere, Pa Reuben Fasoranti, has charged the President-elect, Bola Tinubu, to avoid making mistakes made by his "forebears" by ensuring that every ethnic group is united under his leadership.
Fasoranti, while congratulating the president-elect on his victory in the just concluded presidential election in the country, commended Tinubu for his doggedness and determination to achieve victory.
He said, "I did marvel at your doggedness, self-determination, self-assuredness, strong belief in self, ability to overcome daunting and ever surging challenges. I was, also, amazed at God's grace on you, that gave you the strength of character and such abundance of energy, that enabled you to navigate through all the ever emerging intricate problems and made it possible for you to, against the wishes of some people, traverse successfully all the States of the Federation, during the energy sapping marathon Presidential campaigns.
"I am, indeed, glad to know that your hard earned victory had a very good national spread. Amongst about 18 presidential candidates, you came 2nd in South South; 2nd in South East; 1st in South West; 1st in North Central; 2nd in North East; and 1st in North West. What a brilliant performance! You now have the opportunity. Now is time for you to prove me right. I pray God to be with you (amen).
The Afenifere leader urged other presidential candidates who lost out in the exercise to seek redress in the court and allow Tinubu to settle down to plan his government.
He said, "I now appeal to all concerned Nigerians and the International Community, who might be aggrieved, one way or the other, not to do anything that will set Nigeria on fire. We should all go peaceful, take lawful means, and thread legitimate and legal paths to rectify anything that might have, from their own point of view, gone wrong, and let Tinubu and all concerned settle down immediately to tackle the enormous Nigerian project of tackling insecurity, solving our economic downturn, restructuring the country, and rebuilding a nation never so badly divided on ethnic, religious and corrupt lines."
Gov'ship Poll: LP Denounces Alliance With PDP In Kwara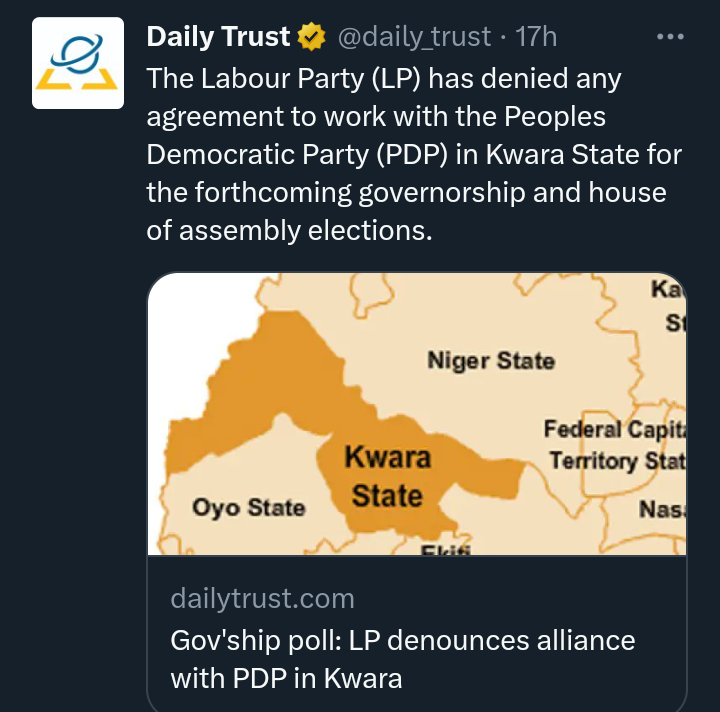 The Labour Party (LP) has denied any agreement to work with the Peoples Democratic Party (PDP) in Kwara State for the forthcoming governorship and house of assembly elections.
The chairman of the party, Mr Lanre Ajiboye disclosed this during a telephone chat with Daily Trust on Saturday.
The PDP through its chairman, Hon Babatunde Mohammed on Thursday, had said the party was "working together with other opposition parties in Kwara to form an alliance to vote out APC".
It should be recalled that the PDP failed to win a single elective seat during the last presidential and national assembly election contrary to expectations. However, the APC won the presidential, senatorial and house of representatives seat according to the announcement of the results by INEC.
According to the LP chairman, Lanre Ajiboye, the party is not forming an alliance with any political party for the election.
"We are not interested in forming an alliance or signing an agreement with anybody. What the PDP is stating is a lie, they didn't discuss it with us. We discovered that some impostors among us held meetings with them on the issue in the name of LP. But we are not part of it.
light (
)