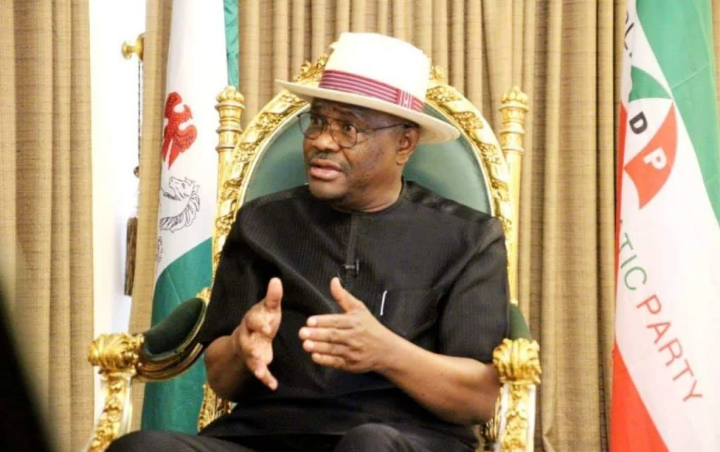 Governor Nyesom Wike of Rivers state has given reasons he did not criticise the presidential candidate of the Labour Party, LP, Peter Obi and his ruling All Progressives Congress, APC, counterpart, Asiwaju Bola Tinubu in the February 25 presidential election.
He noted that he chose not to oppose the due because he is an "apostle" of power shift to the southern region of Nigeria.
This was said by Wike on Monday at the opening of the Chokocho-Igbodo Road in the Rivers state's Etche Local Government Area.
Vanguard report that, After President Muhammadu Buhari, who is currently serving an eight-year term and hails from Katsina State in the North-West geopolitical zone, the governor of Rivers declared that he owed no one an apology for his support of the rotation of power to the south.
Wike praised the electorate for choosing a president from the south in the recently held elections.
As far as I'm concerned, everyone from the south, that is my position, he stated.
According to Vanguard Wike claims that although the Peoples Democratic Party (PDP) constitution's Section 7(3)(c) recognised zoning and a rotating president, the party's leadership disregarded the rules set down by the organisation.
"I owe nobody any kind of apology. I am one of the apostles who steadfastly believed that the centre of power must shift to the south. This is in the interests of justice, fairness, and equity.
"I have no issue with you, whether you voted for Labour or not. I don't mind if you chose to support the APC. We have maintained that the north has controlled it for eight years. The south must stay there for eight years as a result.
"As far as I am concerned, anybody from south, that is my position. We in the Integrity Group agreed that in order to ensure that the next President of the Federal Republic comes from the south.
"Every time I ran for office, no one ever overheard me criticising Obi. I've never been heard to be critical of Asiwaju. Nobody owes me an apology for the southern presidential vote.
Remember that Iyorchia Ayu's resignation was sought by Wike and four other PDP governors, collectively known as the G5, prior to the 2023 elections, claiming that northerners should not serve as the PDP national chairman and presidential candidate.
In the recently completed elections, the PDP's nominee, Atiku Abubakar, and Ayu called the governors' bluff and refused to give in to their demands.
While Atiku came up short in every G5 state, Obi took Enugu and Abia, and Tinubu won Oyo, Benue, and Rivers.
Bawage (
)