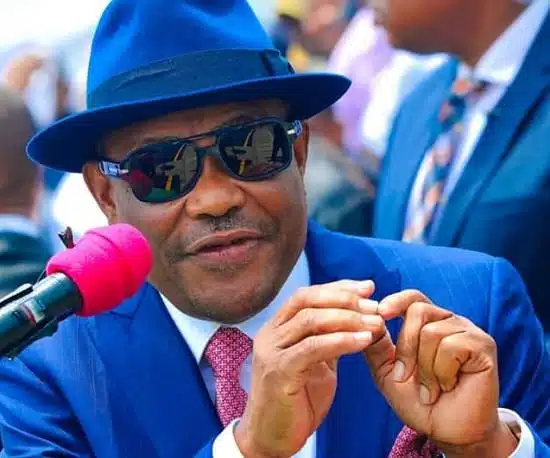 The fate of the Rivers State Governor, Nyesom Wike on the alleged planned suspension from the Peoples Democratic Party (PDP) will be decided by a Federal High Court, Abuja on the 31st of May 2023.
Governor Wike had filed a suit before the court to restrain the PDP from expelling him from the party.
The presiding judge, Justice James Omotosho fixed the date on Monday after counsel to Governor Wike, Joshua Musa (SAN), and lawyer to the PDP, Johnson Usman (SAN), adopted their processes and presented their arguments for and against the suit.
The Rivers State Governor had sued PDP, its National Working Committee (NWC) and National Executive Committee (NEC) as 1st to 3rd respondents respectively.
The governor, in the suit, marked: FHC/ABJ/CS/139/2023, also joined the National Chairman of PDP, Iyorchia Ayu; National Secretary of PDP, Senator Samuel Anyanwu, and the Independent National Electoral Commission (INEC) as 4th to 6th respondents respectively.
Wike is praying for an order directing all parties to maintain the status quo and stay all actions in the matter relating to the threat to suspend or expel him by the 1st to 5th respondents pending the hearing and determination of the originating motion.
Recall that Justice Omotosho on 2nd of February 2023 gave an interim order against PDP and others listed in the face of Wike's motion.
The judge, who extended the restraining order on Feb. 14, held that all parties should maintain a status quo pending the hearing and determination of the suit.
The counsel to Governor Wike, upon the resumption of the suit on Monday, informed the court that the matter was adjourned for hearing and he is ready to proceed.
He said that the fundamental right of his client to freedom of association was being breached due to the threat by the respondents to suspend and subsequently expel him from the party, hence, the need to approach the court.
The counsel to the PDP, however, disagreed with Musa's submission.
He argued that the case was only based on speculation as Wike had failed to provide any evidence to substantiate that the respondents intended to suspend or expel him from the party.
He said the party had not contemplated suspending or expelling members of the G5 Governors or the Integrity Group.
Usman said, "We have said that there is no threat to suspend the applicant and the onus is on him to prove this."