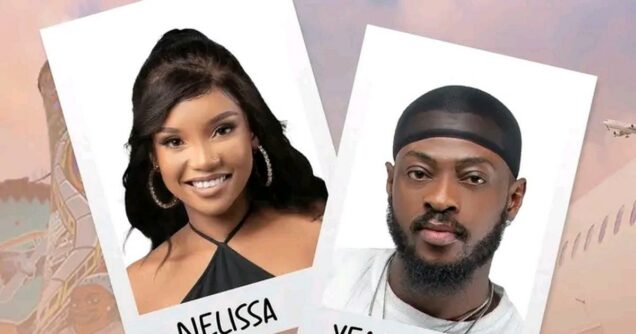 By Nehru Odeh
Yemi Cregx and Nellisa have been evicted from the ongoing BBTitans reality show. They were evicted on Sunday.
Their eviction, which came as a shocker was announced during the live eviction show on Sunday 5 February, 2023. Not many expected the eviction of the duo, known as Yellisa. This is because Yemi gave fans some vibes and content because of her liaison with Khosi. Though he couldn't move beyond that.
Still, Yemi's eviction was only a question of time as he spent most of his time in the house entangled with his girlfriend, Khosi who was smarter than he was.
Yemi was so preoccupied with Khosi, that he never had time to network with other housemates. And several times he clashed with Khosi's partner Miracle and Thabang who had soft spot for the South African lady. Yemi's confrontational attitude alienated him not only from his fellow housemates but also from BBTitans fans.
Khosi herself was not completely committed to Yemi as she also wanted to be close to Thabang. She once told Miracle to leave Yemi for her as she knew how to handle him. There was a time Khosi suggested to Yemi that they should have an open relationship. But Yemi objected to it. Yemi indeed sowed the seeds of his own elimination.
Nellisa, on her part, was not very visible in the house. She shot herself in the foot when she started a relationship right from the outset with former housemate Mmeli. Though she and Thabang later had feelings for each other, her earlier relationship with Mmeli worked against it, as Thabang wasn't really ready to commit himself.
So it was just a matter of time for Yemi and Nellisa to be evicted. Now that Yemi and Nellisa have been evicted, the coast is now clear for Khosi and Thabang to cement their relationship or for Miracle to take over from where Yemi stopped. The question now is: Will Khosi betray her heartthrob Yemi? Only time will tell.